2017 KAIDE NEW HDPE silicon microduct making machine is used to produce Microduct for telecommunication tube..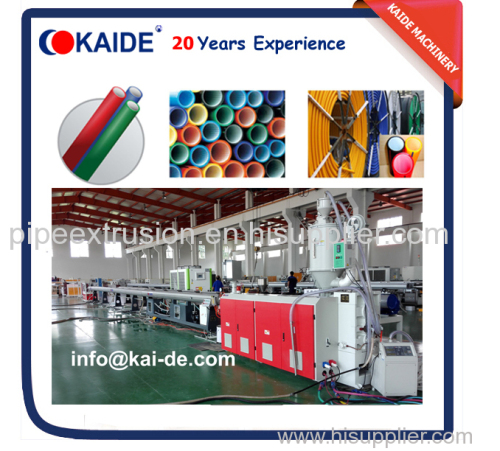 The Pipe Machine composition
1)PE Extruder+Silicon Extruder+ Stripes Extruder
2)Multilayer Co-extrusion die head
3)Vacuum cooling tank
4)Cooling tank
5)Haul off machine
6)Pipe winding machine
Details photos
High Precision Mechanical Components
(1)The screw of HDPE Extruder and Silicone core Extruder are specially precoessed, provide the excellent plasticization and high extrusion output.
(2)High precision and high speed haul-off machine,with servo motor drive, guaranteed the line stable production, specially designed for smaller pipe hauling.
Double Working Position Coiler
(1) Traversing unit is driven by servo motor, ensuring the elagant and tidy final coils.
(2) Independent Siemens PLC control, equipped with tension controller.
Any interest, pls feel free to contact us:)