WOODWARD 5501-430 Speed Pressure Switch - Used
Contact:Jessica
Skype:jessica01235483
Email:sales*mvme.cn (please change * to @)
Mobile Phone:86-18030235311(WhatsApp)
Q Q:2851195444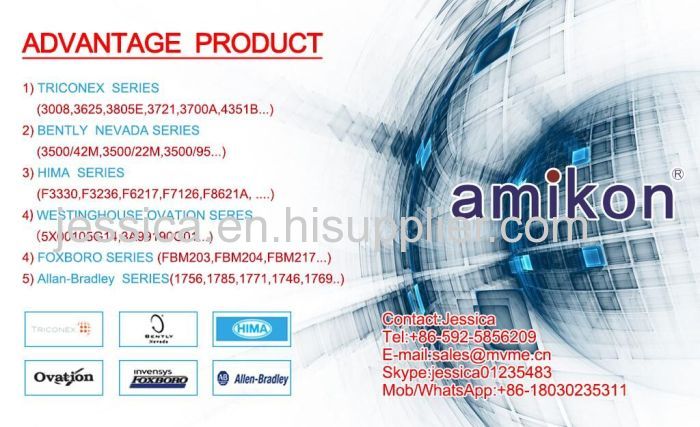 Moore Automation is a high-tech company specializing in the sales of industrial automation components dedicated to enhancing the world's supply of automation components.
No matter where your customers are, no matter how rare moles they need, accessories are available to customers all over the world, allowing them to connect closely with their products.
Moore has always been the best staff and spare parts together, a professional multilingual service team, insist on providing customers with first-class service.
Company's products cover distributed control system DCS card pieces, programmable logic controller PLC module SPS / CNC panel controller / drive / servo drives / robots and other parts.
Whether it's new spare parts, or outdated / discontinued parts Moore is committed to bringing the business back to business in the best cost and best quality possible way.
More than 100 excellent manufacturers, large spare parts inventory, adequate supply, faster customer support response
Partners across all continents and customers in 150 countries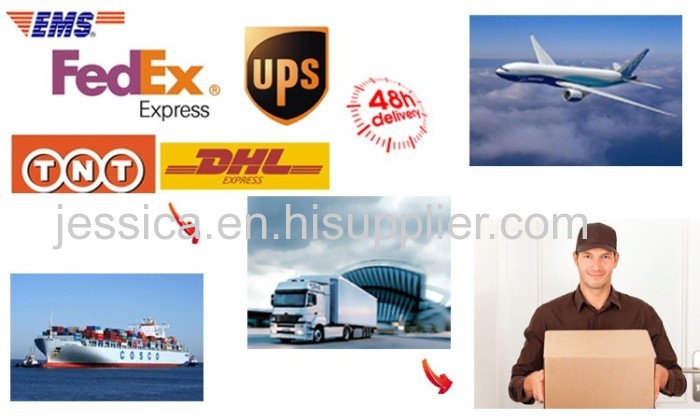 DCS Distributed Control System:
FOXBORO: I / A Series System: FBM (Field Input / Output Module) Sequence Control, Ladder Logic Control, Incident Recall Processing, D / A Conversion, I / O Signal Processing, Data Communication and Processing.
TRICONEX: Redundant Fault-Tolerant Control System, the most modern fault-tolerant controller based on Triple Modular Redundancy (TMR) architecture.
Westinghouse (Westinghouse): system, WDPF system spare parts.
Siemens: MOORE system spare parts.
Honeywell: TDC Series, QCS Series, S9000 Series Spare Parts.
ABB: ADVANT OCS, MOD30, MO300, Bailey INFI90, Master view 850, AC460, S100, S800 system spare parts.
MOTOROLA (MOTOROLA): MVME147 / 162/166/167/172/177/187 Spare Parts.
XYCOM: VME series bus board, programmable human-machine interface.
PLC programmable controller:
Allen-Bradley (Rockwell): 1756/1771/1785 series, Reliance Ryan.
Schneider: Modicon Quantum 140 processor, I / O modules, power modules, and more.
Siemens: S5 / S7 Series 200, 300, 400; 6AV / 6GK Series spare parts.
Servo control system:
FANUC (Fanuc): servo amplifier A06B, drive A06B, input and output modules A02B / A03B, PCB A16B / A20B.
Siemens: 6SN / 6FC / 6FX series, offering sales of CNC systems (810, 802D SL, 810D, 840D) and spare parts.
Yaskawa (Yaskawa): servo controller, servo motor, servo drive.
ABB Robots, FANUC Robots, YASKAWA Robots, KUKA Robots, Mitsubishi Robots, OTC Robots, Panasonic Robots, MOTOMA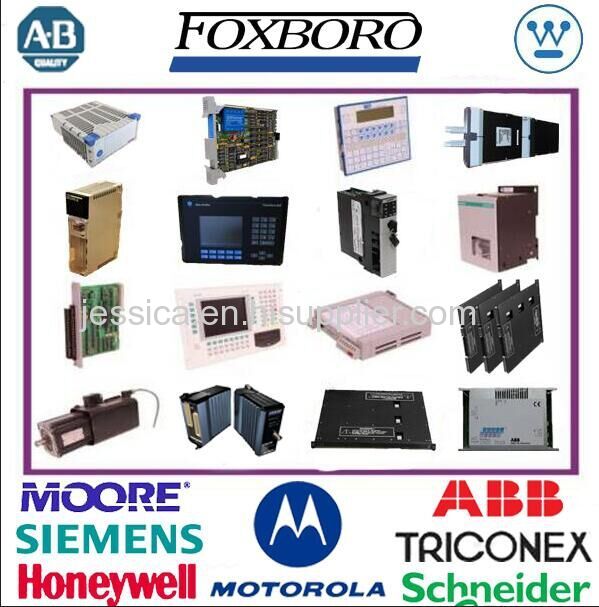 CP345-S1
RB301-S2
PW302-S4
AIP502-S1
F3BU13-0N
NFBU200 -S10
AAB841-S00
UT130-RN
F3YP18-0N
F3BL00-0N
F3PU20-0S
F3BU09-0N
F3SP28-3S
F3XP01-0H
F3XP02-0H
F3LC11-1F
F3XD64-3F
CP401-10
AAI841-S00
ADV551-P00/ATD5A00
PS31*A
F3YD64-1P
F3SP28-0S
AMM31T-S2
ADV551-P00/ATD5S-00
AAI141-S00 +ATA4S-00
F3YD14-5A
F3XD32-3F
AAI543 -S00 S1
ATA4D-00 S2
AAI143 -S00 +ATA4S-00
AAI143 -S00
AIP434-S1
CP133E-16-S3
AIP444-S1
ADV151-P00/ATB5S-00
AIP434-S1
K9403JA-02
AIP413-S1
AIP412-S1
RS71*C
RB401-S2
AIP412-S1
AIP444-S1
CP134E-00-S1
CP134E-16-S1
FC311-S1
CP334D-S3
CP133E-16-S3
CP133E-32-S3
CP133E-00-S1
CP133E-16-S1
NFDV157-S00
NFDV561-P00
NFDR541-P00
NFDV557-S00
YWP-AH /ASS9841DA-00 /S9840DA-00
NFCP100-S00 S3
NFAI135-S00
NFSB100-S00
NFPW442-10 S2
NFAI543-S00
S9610AT-01
ASS9791AT-0
AAM31 -S2
AMM52 S3
ASS9262AT-1
AIP512
AMM21 S2
AMM42T S2
AMM52T S2
AS-S9221DB /ASS9221DB-00 /S9221DB-00
EX1*A
S9940BG-02
MHC-60*A
AMM42 S4
AMM21T S2
MHM-60*A
PW402
ADM52 S2
AMM42 S2
AMM52 S2
AMM52 S4
ADM12 S2
ADM12T S2
AAM11-S2
EP1 *A
AMN32
AMM32
ADM12 S2
ADM52
AMN31
AMM32T
ADM12C
ADM52C
CP701
PW702
CP21*A
ADM11
AAM21
S9970DB-02/S9971DB
ADM51 -S4
AAT145-S00
AAV144-S00
AMM22J
AMN11
SI11*B
PS33*A
FC11*A
AAP135-S00
PS32*A
AAI543-S00 S1 +ATK4A-00 S1
CP11*C
DX11*A
S9981DE-01
EP3*A
ADM12C
AD5*D
EB501-10
PW482-10
PW482-10
EA1*A
ATD5D-00
ADV551-P00 S2 /atd5a00
SB401-10 S1
E9775BB-00
PSBCMNBN
EHO*A / EH0*A
ECO*A / EC0*A
ADV551-P00/ATD5A00
AAR145-S00
EC401-10 s2
AAT141-S00/ATT4S-00
M-1181-3
KS200-01
F3PU20 F3LR01 F3XD32 F3YD64 F3BU13
AAI143-S00 S1 +ATK4A-00
S9943AL
RM81*A
CP81B*C
NP54*C
MAC2*B
EH1*A
DP85*A
VM1*D
MX6*A
ST6 *A
DX112-1-2 6
BARD-400*A
AIP811
AMM12c/ADM52C
DV95*A
SI11*B
NC4* B
CENTUM-XL
AAM10
AAM50
ER5*B
SPW482-13 S1
AMM12/ AMM32 /AMM42/ ADM12/ ADM52
ALLEN BRADLEY 1771-DXKT
ALLEN BRADLEY 1772-SD2 REMOTE I/O
ALLEN BRADLEY 1305-RFB-8-B
ALLEN BRADLEY 1790D-T16BV0
SIEMENS 6ES7-361-3CA01-0AA0
KELLER PA-21SR/80520.1-10
ACTION INSTRUMENTS 4300-1595N
MORR CONTROL 08-600-08 REV. A PH/ORP CONDITIONER BOARD PCB P/N: 07-020-75
OMRON E3X-NH11 PHOTOELECTRIC
NIB TELEMECANIQUE LC1-D32G7
SQUARE D SYMAX 8030-CRM-115
OMRON C200H-ID217 INPUT UNIT 24VDC, 4.1mA
GE FANUC IC630MDL354A OUTPUT MODULE 32 CIRCUITS 5-12VDC
HONEYWELL 621-3552 INPUT MODULE 24VDC
PARAMETRICS 700807 CONTROL BOARD 700809C, 700808D
ALLEN BRADLEY 1771-IFE ANALOG
ALLEN BRADLEY 1771-KE COMMUNICATION
RELIANCE ELECTRIC 0-52875-1 PC
LEEDS & NORTHORUP 018484 PC BOARD REV. L/L, 196439
NIB RELIANCE ELECTRIC 76620-WE RELAY 110/120 VAC 4P BASE & COIL
GENERAL ELECTRIC CR120BP080 RELAY SERIES A WITH 55-51396G2 COIL
NIB OPCON 8212B-6501 PART N0. 101612
RELIANCE ELECTRIC 701819-19AC
STAHL INTRINSPAK 9001/01-280-110-10
SATAKE 466853-1 REV.K
HONEYWELL 30755751-001
JAY ELECTRONIQUE REF. RGP019 SENSOR V:110-220 VOLTS, P: 8
PEPPERL + FUCHS 453598 PHOTO ACCESSORY MODEL FE-BTS6M-4
NIB SCHNEIDER LC1D32BL NON-REVERSING CONTACTOR 24VDC TESYS 036183
ALLEN BRADLEY 1794-IV16 SER. A FLEXI/O 24VDC
SOLICO 2570-4-20-46320 INDICATOR
EATON CORPORATION DYNAMATIC 15-46-14 CONTROL BOARD 70-47-316
INOR MINI PAQ-L TRANSMITTER 70MQL00002
TELEMECANIQUE XCS-A713
BADGER INC METER LOOPR/T5C LOOP R/TMS7295CH
NIB SIEMENS 6ES7-321-1FF01-0AA0
LOAD CONTROLS INC PH-3A
DA ANNUNCIATOR P/N: 690 105, 12-24V, 690105
YOUNG 05631BP LINE
FANUC A03B-0801-C125 INPUT MODULE DC24V ID16D
POLYSPEDE E1508-03
FANUC A16B-1200-0150/01A PC , A320-1200-T154/01
STANLEY T801/115 ELECTRIC
STROMBERG SPS-24/6 POWER SUPPLY CODE NO.57167041-B
PROLOG 110382-004 PC
A.W. SPERRY INSTRUMENTS INC. SP-160 VOLT-OHM-MILLIAMMETER SP160
FINDER 6-967.15.0090RELAY ZU1
ALLEN BRADLEY 1771-IFE/A P/N: 966317-03, F/W REV. J
ALLEN BRADLEY 50387 MODULATOR LOGIC BOARD 118387
EFECTOR IFM ORDER NO. DN0012 AMPLIFIER MODULE N 600, TYP NO 33-I, 110V AC
ALLEN BRADLEY 1746-ITV16
NIB SICK WL4-3F3430S29 SENOR 1 043 682 1265, 1043682
NIB RELIANCE ELECTRIC 701819-19AW
AUTOMATION DIRECT D4-16TA OUTPUT MODULE U-05T
ALLEN BRADLEY 1747-DCM
ZEBRA 256-662 REV 1.9 CLOCK CONTROL 256.662
FESTO SMEO-4-K-LED-24B
FANUC A03B-0807-C104 INPUT/OUTPUT MODULES 24VDC 16PT POS/NEG LOGIC
MITSUBISHI A1SD61 HIGH
ALLEN BRADLEY 1772-LXP MINI-PLC-2/16
NIB CUTLER-HAMMER 9575H1928A TYPE BG RELAY 10AMPS RELAY NO. 852 MODEL 6-11-4
NIB AEG 140XTS00200 TERM STRIP 40P 6040100
NIB OPCON 1173A-200 PART NO. 103902
KUHNKE P83188-0075
NIB EATON CUTLER-HAMMER E51KT443
NIB MOTOROLA FRN5745A
WESTINGHOUSE TYPE A HEATER ELEMENTS FH32, FH40, FH46, FH49, FH55
ALLEN BRADLEY 634275-90 MAIN & SECONDARY
MACCOR INC. 16 CHANNEL CONTROLLER 3-94, VER 4
KURODA HI-ROTOR PRN50D-90-45-Z
NIB ASHCROFT 45-2462-SS-04L-2000 DURAGAUGE SIZE: 4-1/2'
ALLEN BRADLEY 1771-KA2
ALLEN BRADLEY 1771-IFE/A
FOXBORO B0123HD PRESSURE REGULATOR 150PSI INPUT 20PSI
KEYENCE KV-C32T TRANSISTOR
EATON CUTLER-HAMMER 1170A-000
DOLD & SOHNE OA5669.12/3033L1/61 RELAYS
FARMER ELECTRIC TR4 LOGIC
FACTS HE610VAC100A OUTPUT MODULE 115VAC
TEXAS INSTRUMENTS 500-5030 32PT LVDC ASSY. 2491347-0001
REPAIRED ISSC D-16-09-019 DC
DELUXE TORONTO 4-0 51/06 FCT
MURR ELECKTRONIK ART. NO. 54203 UFL 26 PLUG
TOL-O-MATIC 10049002 SK98 CYLINDER REPAIR KIT 10049002 14777 10049225
PC5A PLC MULTIPOINT SENSOR
NIB CUTLER-HAMMER E57SAL30A2
NIB ALLEN BRADLEY Z-13948
NIB EMERSON 83-783270-00
ALLEN BRADLEY 1771-IFE
GE FANUC IC693CBL324A
GOODYEAR HAWK 2400-8M-50
MICRO SWITCH TR5-14 LOGIC MODULE 15 VAC, 50/60 HZ, TR514
SIEMENS 505-4816 MODULE DIGITAL OUTPUT 110-220V-AC, 2586270-0002
ALLEN BRADLEY 1771-KA2 COMMUNICATION ADAPTER MODULE F/W REV F SER A
LEESON CM31T17N224A A.C. GEARMOTOR 1/15 H.P. 1725/1425 RPM M1120170.00