NIB ALLEN BRADLEY 1771-OB DC OUTPUT MODULE SER B 12-24V W/ WIRING HARNESS 1771OB
Contact:Jessica
Skype:jessica01235483
Email:sales*mvme.cn (please change * to @)
Mobile Phone:86-18030235311(WhatsApp)
Q Q:2851195444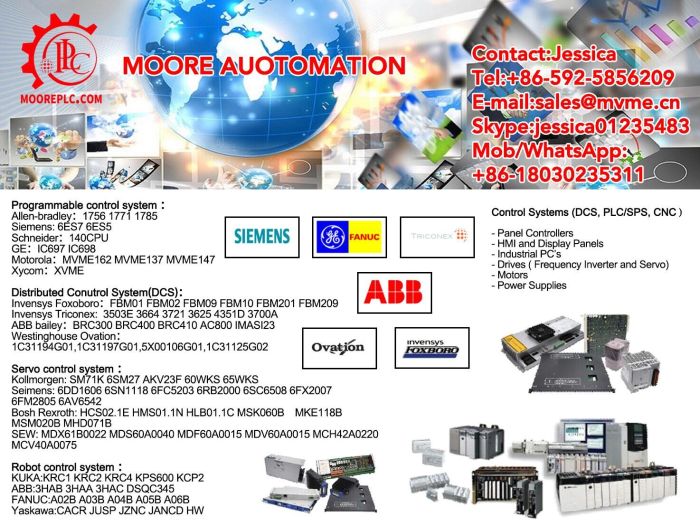 MOORE AUTOMATION LIMITED is a leading global supplier of control system components. We specialize in control systems and drives.
With many years of experience in the industrial sector, we consistently deliver the highest quality of spare parts.
We have tens of thousands of spare parts and spare parts warehouse . Products and services to serve for installing of users control system,
Distributed control systems, programmable controllers, panel controller and drive!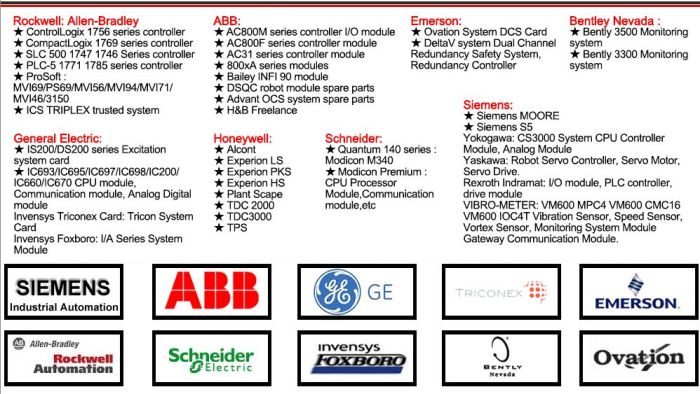 Programmable Logic Controller (PLC)
Allen Bradley Rockwell AB 1747/1756/1784/1785/2094/2098 / 1394C / 1336F / 1745 Series, Ryan Mode Reliance Series
GE Fanuc IC647 / 693/697 / IC660 series module card pieces
Schneider Schneider 140 (Quantum processor, memory card, power supply module) AS The beginning of the series
Siemens 6DD, 6DS old model discontinued series / Moore MOORE (APACS I / O modules, communication modules, power modules. Digital Controller) Series
OMRON (Omron) C500 series
Distributed Control System (DCS)
ABB Industrial Robot Spare Parts DSQC Series / procontic (BBC) DP800 Bailey Control Net90 / Infi90
FOXBORO (Foxboro) FBM series
TRICON (EX) 3503E 3805E 3604E ESD System Spare Parts
Honeywell Honeywell TDC2000 / 3000 System Spare Parts Module Leeds & Northrup MAX1000
Bosch Rexroth Bosch Rexroth Indramat, I / O modules, PLC controllers, drive modules, etc.
DCS system card YOKOGAWA DCS Yokogawa card

1756-OB32/A
1756-L55M13/A 1756-L55/A 1756-M13/A
1756-OW16I/A
NX70-BASE03-CH
1606-XL240E
1771-IAD/D
1771-OBN/B
1771-0D16/B
1747-AIC
1747-C11-A
1771-NOV/C
1771IBN C
NX70-XY32-CH
NX70-X32D1-CH
NX70-Y32P-CH
NX70-CPU70P2-CH
1492-1FM40F
1771-ORC
NX7-20ADR-6A-CH
NX70-PWRDC-CH
1771-P5EK/B
1771-WD
1771-WA
1771-IXE
1771-AL
1771-NIS
1771-OY
1771-OYC
1771-OGC
1771-IQ16/B
1771-OQ16/B
1771-NOV B
1771-OM
1771-IM
1771-IL/C
1771-IL/D 1771-1L
1746-IB32
1771-WC
1785-KE C
1771-OW16K/B
1771-IBDK/B
1762-L40BXB
1775-MSA
1746-IB16
1785-BCM
1785-BEM
1747-M12
1745-E103
1794-TB2/A
1794-TB3
1747-L40L
1747-L20L
1747-PT1
1794-ACN15
1794-OB16
1794-IB10X0B6
1771-P2
1756-CNBR
1756-A17
1746-OB32
1771-VHSC
1785-LT
160-BA02NPS1P1
1747-L542
1771-WN
1771-WG
1771-WH
1771-IBN
1746-HSRV
1791D-8B8P
1791D-16B0X
1746-IM16
1747-L531
1746-OW4
1794-TB3S
1785-L30B
1771-A4B
1746-OX8
1746-NO4V
1761-L32BWA
1771-A3B1
1771-WF
1771-WI
1771-WB
1771-P5
1771-IR
1771-IXE/D 1771-IXE/B
1747-L543
1747-L541
1746-N2B
1791D-OV16PX
1734-PDN
1746-NT4
1734-OW2
1734-IB4
1734-MB
1785-L20B /C
1747-L524
1746-NI8
1746-NO4I
1756-PA72
NX70-POWER1-OM
NX7-28EDT
1747-M13
1771-IBD
1771-OBD
1785-L11B/E
1771-A1B
1771SN
1492-CABLE025H
1756-CNBR
1756-ENET
1771-DB
1746-HSCE
1746-A13
1794-IB16
NX70 BASE03
NX70 Y32T
NX70 X32D1
NX70 CPU70
1746-OA16
1747-L40C
1746-NR4
1746-OG16
1746-NI4
1746-A10
1794-ADN
917-0050
1746-IV16
1746-ITV16
1747-L511
1771-IM/1771-OM/1771-OR
1785-ME16/A
1756-IV32
1756-OA16I
1756-N2
1746-A7
1756-OA16I
1756-IV32
1756-M03SE
1756-L1M1
1756-L1M3
1756-L55M12
1756-CNB
MVI56-BAS
1756-DHRIO
1756-DNB
1747-L511
1756-IB16
1746-OW16
1747-DCM
1771-PA
1746-NIO4V
1746-P4
1756-IR6I
1746-P2
1746-OB16
1772-LN2 1771-IA 1771-OA 1771-OYC
1771-OA / 1771-IA
1771-AR
1771-DE
1771-SN
1772-LV
1771-ASB
1771-OG
1771-OW
1771-OW
1775-A3 + 1775-P2
1775-SR5
1771-OFE1
1771-IFE
1771-OFE2
1771-ALX
1746-IB16
1746-N2
1785-L40B
1746-IA16
1747-SN
SLC500
1771-P4S
1771OAD
1771-P6S
1771-IFE
1771-OAD
1785-L40B
1771-P7
1785-L11B
1746-OV8
1746-P1
1746-A4
1771-IAD/D 1771-IAD/C 1771-IAD
OLYMPUS DBGP60CB23AEA-V
YASKAWA MINERTIA UGQMEM-02MAK0E UTOPI-020SE
PARKER GEMINI STEPPER GT6-L5-NK 1.2KVA
OMRON AC SERVO MOTOR DRIVER R88D-UA12LR88M-U20030L-BS1
PANASONIC AC SERVO DRIVE MDDCT5325B12,SP200-116 1.5KW
SAMSUNG AC SERVO DRIVER CSD3-10BX1
BOSCH SE 200 DIGITAL0 608 830-123
FANUC AC SERVO MOTORa1/3000 A06B-0371-B575
GSI LUMONICS GIDDINGS & LEWIS MOTOR NSM2302 401-30234-01 M.1015.6946 G001820
OMRON AC SERVO MOTOR DRIVER R88D-WT02H,R88M-W20030T
HD SERVO DRIVER HA-600-2,FOR FHA-32B-3016-E150
ROCKWELL SAMSUNG ACSERVO MOTOR RSMD-10BH1ATK3
SANYO DENKI BL SUPERPZ0A030AMG1S00
PANASONIC AC SERVO DRIVER MBDDT2210 MOTOR MSMD042S1T
ALLEN-BRADLEY DRIVER2098-DSD-HV050-SE PART:196467
NSK EDC-FZ175A25F1
YASKAWA AC SERVO MOTOR SGMPS-02ACA21, AB060-S2-P1
YASKAWA SERVOPACK DRIVER JUSP-WS10AA,JUSP-WSCD10AA,JUSP-WSCA10AA,JUSP-WSCB10AA
PANASONIC AC SERVO DRIVER MBDDT2210 MOTOR MSMD042S1S 400W
ALLEN BRADLEY SERVOMOTOR 1326AS-B330H-21,163570
1PCS ALLEN-BRADLEY ULTRA 3000 DRIVE 2098-DSD-HV050-SE
YASKAWA SERVOPACK DRIVER MOTOR SGDV-2R8A01A SGMJV-04ADA21
YASKAWA SERVOPACK DRIVE SGDS-04A01A, MOTOR SGMAH-04AAA2C
PARKER AUTOMATION MOTOR 1.60KW MH10575046242165M
YASKAWA SERVOPACK DRIVE SGDS-10A12A
FANUC VELOCITY CONTROL UNIT A06B-6047-H003 A20B-0009-0320/11D
YASKAWA AC SERVO MOTOR SGMPH-04A1A-YR61
OMRON AC SERVO DRIVER R88D-WTA3H 30W, MOTOR W03030H-B 30W
OMRON AC SERVO DRIVER R88D-WT02H 200W, MOTOR W20030H 200W
2TP-2A411, 2TP-2A260
YASKAWA SERVO DRIVESGDS-05A01A MOTOR SGMAS-A5ACAH761, HPG-16A-33-J605A-SP
YASKAWA SERVO DRIVESGDJ-A5CP, MOTOR SGMAJ-A5CAA2C, ATGPGX42-N-20
NIKKI DENSO NA80-10BDS-M152
NSK MegaTORQUE SERVODRIVER M-EDC-PS3015AB500
NSK MegaTORQUE SERVODRIVER EDC-PS3015AB5X0
FANUC A16B-2300-0021/03B,A320-2300-T024/04
FANUC A16B-1211-0300/02A,A320-1211-306/02
YASKAWA SERVOPACK JUSP-WS10AA,JUSP-WSCB10AA,JUSP-WSCA 10AA,JUSP-WSCD 10AA
YASKAWA AC SERVO MOTOR SGMAH-01AAAH761,HD GEARHEAD HPG-20A-33-J604A-SP
PANASONIC SERVO MOTOR MSM021A1E,KE1.5V20E R-0056
FANUC VELOCITY CONTROL UNIT A06B-6047-H003 A20B-0009-0320/12D
SIMPLE SERVO MOTOR524-20-535B
YASKAWA AC SERVO MOTOR SGMP-08A3TE21 750W
OMRON AC SERVO DRIVER R88D-WT01H 100W, MOTOR W10030H-B 100W
MITSUBISHI AC SERVODRIVE MR-C20A, MOTORHC-PQ23BK-S100
SANKYO AC SERVO MOTOR MF501NS 302KNN31
YASKAWA SERVOPACK SGDS-04A01A,AC SERVO MOTOR SGMAS-04ACA21
COPLEY CONTROLS XENUS TM XTL-230-18
SANKYO AC SERVO MOTOR MF501NS 302KNN31
YASKAWA SERVOPACK SGDS-04A01A,AC SERVO MOTOR SGMAS-04ACA21
COPLEY CONTROLS XENUS TM XTL-230-18
YASKAWA AC SERVO MOTOR SGMAH-A5AAAHC61,HD GEARHEAD HPG-16A-21-J604A-SP
RELIANCE SERVO PRODUCTS E240,0240-03-017-009,
YASKAWA SERVOPACK DR1-A5BC 100-115V
YASKAWA SERVOPACK DR2-A5BC 100-115V
YASKAWA MOTIONPACK-SG1 JEMP-SG10
MITSUBISHI SERVO MOTOR HC-KRS23 AB090-S2-P1
IAI CORP SEL CONTROLLER MODEL SEL-GS-1-AC-200-2 SUPER-SEL-1
YASKAWA CACR-PR01AD4QRY75
0026 MITSUBISHI ACSERVO MOTOR HC-SFS152
0056 PANASONIC AC SERVO MOTOR MDMA102D1H
0057 YASKAWA AC SGDE-04AP SGME-04AF12
YOKOGAWA DYNASERV SD1050A04-2SN/98S1213
RELIANCE ELECTRO-CRAFT LD-4012-L-H00AA,5441-00-802
MITSUBISHI HC-SFS152
YASKAWA SERVOPACK AC SGDA-04AS, MOTOR SGM-04A312
2TP-2B259, 2TP-2A260
SAMSUNG DIGITAL SERVO DRIVE CSDJ-04BX2,MOTOR CSM-04BB2ANT3
YASKAWA AC SERVO MOTOR SGMP-04A314C
PANASONIC AC SERVO MOTOR MSMA012A1E,GEARMSMA012A37,HD CP-16A-11-J413A-SP
SHINKO ELECTRIC AC SERVO DRIVE SSD-5030-D,
YASKAWA SERVOPACK CPCR-SF02B
PANASONIC AC SERVO MOTOR MSMA202D1D
PARKER HANN CORP AR-08SE
DANAHER MOTION S22460-SRS
SANYO DENKI SANMOTION AC SERVO QS1A03LT0U116P00
DENSO MOTOR 410622-2040 MQMA012T2U2
YASKAWA AC SERVO MOTOR SGMJV-02ADA2C
PANASONIC AC SERVO DRIVER MSD041A2XX
MITSUBISHI SERVO OF HC-SFS152G1, OSA18-130 6D4L1W A
OMRON AC SERVO DRIVER R88D-HT04
KOLLMORGEN SERVO MOTOR AKM22E-BNM22-01
SAMSUNG SERVO DRIVECSDJ-04BX1, MOTOR CSMZ-04BA1ANM3
AB ALLEN-BRADLEY ULTRA 3000 2098-DSD-HV050-SE
PANASONIC AC SERVO MOTOR MSMA082C1A
SANYO DENKI AC SERVOMOTOR BL SUPER P20B10150HXS2C 1.5KW
ALLEN-BRADLEY KINETIX 2000 3KW CONVERTER2093-AC05-MP2
YASKAWA MINERTIA MOTOR UGFMED-C9MFZ11 S09120-1 96.05
MITSUBISHI MR-J2S-70CP 750W
FANUC AC SERVO MOTORA06B-0113-B0780008,a0.5/3000
SAMSUNG DIGITAL SERVO DRIVE CSDJ-06BX1
BOSCH LTE 45 2.5 KVA0 608 750 041
MITSUBISHI HF-SP102B
KOLLMORGEN Servo Star SP PRD-P303250D-35 CP303250
LS MECAPION METRONIXAC SERVO MOTOR APM-SC06ADN
BOSCH LTE 45 2.5 KVA0 608 750 041