E42HLLB-LNK-NS-01 | PACIFIC SCIENTIFIC | DC Servo Motor
◆ Contact: Jessica
◆ Email: sales*mvme.cn (change * to @ )
◆ Skype: jessica01235483
◆ Mobile Phone: 86-18030235311(WhatsApp)
Our Mission: Make it easier for customers to buy industrial components
MOORE's goal is to become the "Standard" of the industry.
We are a global leader in B-to-B industrial components.
Globally, we enable our customers to buy components by responding quickly and effectively to their needs.
It's easier.
Whatever their business is, our goal is to provide solutions that best suit their spare parts. By me
In our global business, our goal is to become a "Standard" - standard setter in our industry.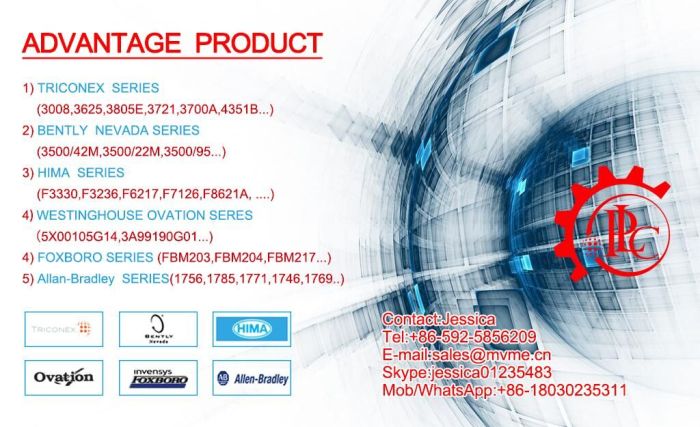 TRICONEX(3008,3625,3805E.3721,3700A 4351B...)
BENTLY NEVADA(3500/42M ,3500/22M,3500/95.3500/05...)
HIMA(F3330,F3236 ,F6217,F7126,F8621A...)
FOXBORO(FBM203,FBM204,FBM217,FMB231...)
Allan-Bradley (1756,1785,1771,1746,1769...)
ABB(OCS,DCS,BAILEY,H&B Freelance 2000,DSQC...)
GE(IC693,IC697,IC695,IS200,DS200...)
BACHMANN(CM202,DI232,MPC240,NT255,AIO288...)

Illumina 250878
ILX Lightwave LDC-3722B
NS20
IMS Vanguard
Imtec Acculine 10-000-0126
Industrial 790-054242-007
Industrial Computer AP5200IF
Industrial Control Equipment MIO-A-2-608
Industrial control equipment / Berkeley Process, MIO-A-2-608
Industrial control equipment / Berkeley Process, MIO-A-4-600
Industrial control equipment / Berkeley Process, MIO-EXP10
Industrial control equipment / Berkeley Process, MIO-IDC-32-300
Inertia 1704-0041
Inertial Dynamics 9700-9534-01
INES UNLIMITED A 21-96
Inficon 371-020
Inficon 600-1008-P15
Inficon BGP400
Inficon CDG100A
Inficon CDG100A
Inficon CPM200
Inficon CR090
inficon DN 40 ISO-KF
Inficon IPC400
Inficon VSA100A
| | |
| --- | --- |
| HONEYWELL | MTL PB-THOX12 |
| HONEYWELL | MTL BPHM64 |
| HONEYWELL | CC-TAID01 51306733-175 |
| HONEYWELL | CC-TAIM01 51305959-175 |
| HONEYWELL | CC-TCNT01 51308307-175 |
| HONEYWELL | CC-TAON01 51306519-175 |
| HONEYWELL | CC-PAIX02 51405038-475 |
| HONEYWELL | CC-PDOB01 51405043-175 |
| HONEYWELL | 51199932-200 |
| HONEYWELL | 51202330-300 |
| HONEYWELL | TK-FTEB01 |
| HONEYWELL | TK-PPD011 |
| HONEYWELL | TK-PRR021 |
| HONEYWELL | TV-FPD012 |
| HONEYWELL | CC-PWRR01 |
| HONEYWELL | MC-TAMT04 |
| HONEYWELL | MC-TLPA02 |
| HONEYWELL | CC-PAOH01 51405039-175 |