AB Allen Bradley 1746-OB16E Protected Current Sourcing Output Module SLC500
Contact:Jessica
Skype:jessica01235483
Email:sales*mvme.cn (please change * to @)
Mobile Phone:86-18030235311(WhatsApp)
Q Q:2851195444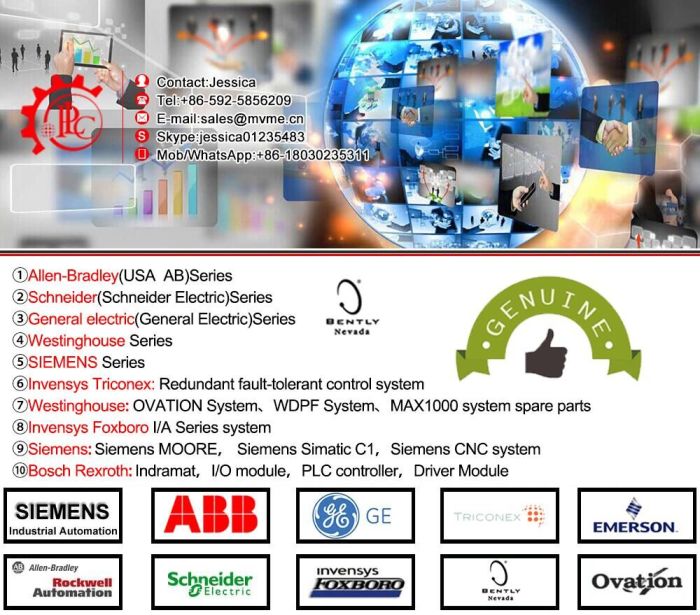 Moore Automation is China
A leading supplier of industrial automation components
Moore mission is to make your purchase of spare parts for any brand as fast and easy as possible. Our experienced sales team staff are ready to help you throughout the process. Let you save more time and money!
We provide new discontinued automation components for the factory (MRO).
Reduce your maintenance costs.
Extend the life of the control system.
We are based on a very basic but important principle;
Simplify the sales areas and distributors in the automation arena by providing impeccable, high-quality automation products!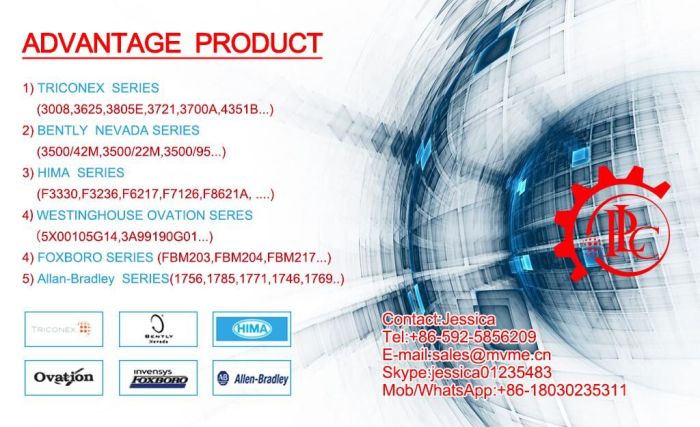 · 3300 System : 3500/15 , 3500/22M , 3500/45 ,3500/64M ,3500/94
· 3500 System : 3500/12 , 3500/20, 3500/46 ,3500/50,3500/65
· Proximity Probes : 330130-040-00-00 , 330105-02-12-10-02-00,330130-085-00-00
· Proximity Sensor : 330180-50-00 , 330180-91-05 , 330780-50-00 ,330180-91-00
· Allen-Bradley CompactLogix :1769-L33ERMS , 1769-L36ERMS ,1769-L19ER-BB1B,
· Allen-Bradley ControlLogix : 1756-L73S , 1756-CN2R , 1756-RM2 , 1756-PA75R
· Allen-Bradley Input/Output (I/O) Modules : 1794-AENT , 1783-MS06T , 1786-RPFM
· Allen-Bradley Kinetix Servo Drive :1336-QOUT-SP13A , 1336F-B015-AA-EN,
· Allen-Bradley MicroLogix : 1764-24BWA , 1766-L32BXB , 1762-L40BWA , 1763-L16BBB
· Allen-Bradley PLC-5 : 1771-P7 , 1785-BCM ,1771-DXPS , 1771-P7 , 1771-ASB
· Allen-Bradley PanelView : 2711P-T12C6D2 , 2711P-T6C20D8 , 2711P-T15C4D8 ,
· Allen-Bradley SLC 500 : 1747-L541 ,1747-L542 , 1746-IM16 , 1746-A13 , 1746-P3
· DeltaV : KJ3002X1-BB1 12P0683X082 , KJ3221X1-BA1 12P2531X132 VE4035S2B1
· Fisher : 01984-4282-0001, 01984-2518-0002
· westinghouse : 1C31132G01 , 1C31234G01 , 5X00058G01 , 5X00167G01,1C31194G01
· Rosemount : 2051CD2A02A1AS3I1M5 405PS100N065D3H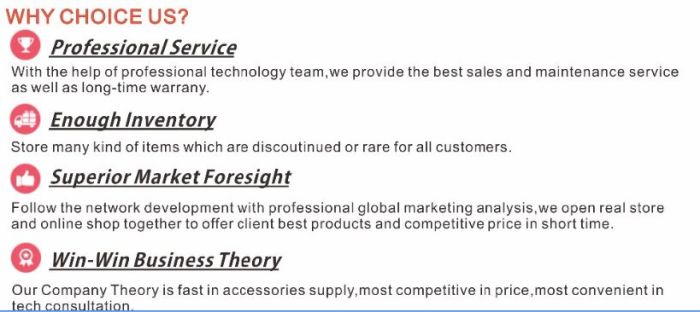 1336-L6
1336F-MCB-SP1D
A40888-340-51 /40888-085-05 A/40888-084-51
A40888-091-51 /40888-090-04
40888-061-52
42305-009
40888-081-53 /40888-082-05A
40888-088-51 /40888-087-08A
40888-313-51
40888-007-52
40888-017-52
40888-061-53
150-A97NBD
150-A97NB-NA
150-A24NBD
1305-BA09A
1201-HAS2
150-A180NBDB
150-A360NBDB
150-A135NBDB
150-A180NBD
150-B97NBDB
150-A240NBDA
150-A97NBDB
150-B180NBDA
150-B180NBD
150-B240NBDB
150-A240NBDB
03859820311A01
14857840112A03
ECI-17692 A74101-376-02
315361-A01
1336T-GT2-SP51A/74103-160-53
A74104-246-52-05
A74104-246-51-05
A74104-231-51F
1336-SN-SP1D
1336-SN-SP23A
1336-PB-SP2E
1336F-MCB-SP1L
1336-SN-SP1C
2094-bc02-m02
2094-BSP2
2094-BM02-S
1336-BDB-SP57D /74101-482-64
1336-PB-SP2C /74101-502-57
1336-GM2 /74103-116-53
150-B360NBDA
1336-L6/B
LC300-S/ SP14
42305-073-51
42305-053-51J
1201-HAS2
1336-BDB-SP2C/74103-244-52
1336S-MCB-SPI/74100-071-51
74103-090-52
1336F-MCB-SP2E
1336-BDB-SP3D
1336-BDB-SP4D
1336-GM5 /74103-119-52/74103-013-52
1336F-MCB-SP2F
1201-HA2 /CAT1201-HA2
1336-BDB-SP38D /74101-169-57
1336F-MCB-SP1G
1336F-MCB-SP1F
1336-BDB-SP30D /74101-169-54
1336-BDB-SP28D /74101-169-78
74100-301-52
40382-074-57
1336F-MCB-SP1E
1336-L8E
1336T-MCB-SP51A
74101-101-53
40382-226-51
74100-301-51
1336-SN-SP1A
1336-BDB-SP18D /74101-482-52
1336-BDB-SP18B /74101-482-52
1336-BDB-SP1C / 74103-244-51
40888-313-52
25645-021-01
1336T-GT2-SP3B +1336-GM1
1336T-MCB-SP33B /74101-774-53
1336-L5 24VAC/DC
1336-BDB-SP17D 74101-482-51
1336-SN-SP4A
80190-640-02-R
80190-220-01-R /80190-219-01G +81001-340-71-R
GU-D04/GU-DO4
81001-340-71-R/GU-D04
81000-199-53-R
1BS103
150-B360NBDB
40382-074-55
74101-109-51
1336-MOD-KB010
1336-PB-SP23B 74101-181-57
CAT-1201-HA2
1336-SN-SP3A, 74101-079-51
8019038001R
40888-313-53
40888-313-53
GU-D08
1336-L4
1336F-BRF30-AA-EN-HAS2
1336-BDB-SP31A
1336-BDB-SP30C
1336-BDB-SP17C / 74101-482-51
1336-BDB-SP29D / 74101-169-53
1336-BDB-SP29C 74101-169-53
1336S-MCB-SP1 74100-071-51
1336-BDB-SP5C / 74103-244-55
1336-BDB-SP5C / 74103-244-55
74103-244-56
1336E-MC2-SP43A 74103-193-55
1336-L7E
1336-PB-SP2B /74101-502-51
1336-PB-SP2D
1336-GM1
1336-SN-SP6A 74103-216-51
74101-367-51
1336-BDB-SP29A / 74101-169-53
1336T-B075-AA-GT2EN
A74104-231-52F
1336T-MCB-SP34B
74103-160-51 1336T-GT2-SP4B
74101-181-51
80190-240-02-R
80026-044-03
5K38PN305K
1336F-MCB-SP2D
1336-BDB-SP29D 74101-169-53
80190-100-01-R
80190-220-01-R / 80190-219-01G
GU-D04
40382-074-53
40888-490-01-B1FX
1336-L4
CAT-1201-HA2
CAT-1336S-B010-AA-EN4-L4
1336F-BRF100-AA-EN
Keyence FS-V22RP Fiber Amplifier, Cable Type, Expansion Unit, NO. 7724521
Allen Bradley 100-C09D10 A
Asco MP-C-080
Keyence FS-V22RP Fiber Amplifier, Cable Type, Expansion Unit, PNP 4753249
TURCK VBRS 4.4-2RK 4T-0.3/0.3 U0117
Molex XMC407578-F Motor
Wiremold ALAWC, PW69 Wire Clips, Steel, ALA 4800 Series
Square D Model PMD-32 Power Logic 3020
Jokab Safety E1T 0s 24DC
ALLEN BRADLEY 1492-CB2G200
Allen Bradley 700-HAX2Z24
Piab 31.16.061 Vacuum Switch W/ Cable
Allen Bradley 700-HK36Z24-3-4 SER. B Relay I4001E
Allen Bradley 1734-ARM
Westinghouse AR440AR Industrial Control Relay 766A025G09 10A
Amperite 26C5T
Bosch Rexroth R 980 024 834 STOP GATE VE/2H
SMC VVQ1000-10A-1 VALVE Blanking Plate VQ MFLD, VQ1000/VQ20/VQ30
Allen Bradley 1492-SP1C060
Phoenix Contact PSR-SPP-24UC/URM/5X1/2X2 Coupling Relay 29-63-97-0 24V AC/DC
Phoenix Contact PSR-SPP-24UC/URM/5X1/2X2
Banner ITETA13S Photoelectric Sensor Armored Fiber Cable 21745 0105
Raychem PolyMatrix PMK-LS Splice Kit, 830311
Hoffman 88LSGQR Sealing Plate and Gasket 19390
GE CR104PXG22 NEMA A600
Han Harting 09-14-002-3051 100A
Pepperl + Fuchs V1-W-10M-PVC
Bimba Stainless air Cylinder PN: 041-DXDEEE0.5 ++]
Honeywell 621-6550
GE RT1G Auto/Manual 1.0-1.5A
Keyence FS-V21RP
Banner IR2.53S Fiber Optic
Allen Bradley 871TM-BH2N12-R3
Keyence E43868 AWM Style 2464 VW-1 Cable w/ 31 Pin HRS Connector / JAE DC-C6-J13
Allen Bradley 700-TBS24
PHD 175022-06 Compact
Walker LTF48-B Multiplex Blank Faceplate M8D4-L M4L-1 M8R4-L
GE CR7G1WG 1.3-1.9A
Flat 1-1/16 IN X 2-1/2 IN X 0.129
OMEGA WTJ-10-12-TT
TURCK CONNECTOR BS71121-0/21 Mini Fast U2-03909
GUARDIAN ELECTRIC T12X13-I-24VDC A420-066054-00
GUARDIAN ELECTRIC T12X13-I-24VDC A420-066054-00
ALLEN BRADLEY 1492-CJD6-10
HARTING HAN PC-GF/20 40 PIN PLUG
Bussmann Buss BC6033PQ 30A 600V Class CC 430P
CURTIS 703DR001O HOUR METER 1248D2060A
INA KA15TNA-1-2 LINEAR
Tutco Heat Cartridge CS26600, 5" By 3/8", 200W, 120V
Turck RS 4.5T-6 - Eurofast 5-Wire 5-Pin Straight Male Conn. 6m Cordset U2186-11
BANNER ITETA13S
SMC ZSE80-N02l-P
Allen BRadley 1746-IV8 Ser A SLC 500
Allen Bradley 1492-W3TW Blue Terminal Blocks 600V IEC 60947-7-1 800V
Allen Bradley 1492-W3TW Red Terminal Blocks 600V IEC 60947-7-1 800V
Balluff BLE 18KW-PA-1PP-S4-C M18x1
GE CR104PXF12 NEMA A600
Allen Bradley 1492-W3TW Black Terminal Blocks 600V IEC 60947-7-1
Allen Bradley 1492-W3TW White Terminal Blocks 600V IEC 60947-7-1
Allen Bradley 1492-W3TW Grey Terminal Blocks 600V IEC 60947-7-1
ALLEN-BRADLEY 1485P-P1R5-MN5R1
GE Fanuc IC693MDL740C
Allen Bradley 700-HK32Z24 / 700-HN222
Turck BS 4151-0/13,5 Field Wireable Connector 6904715 U6420
Turck BS 4151-0/13,5 Field Wireable Connector 6904716 U6422
TURCK MFSS 3-0.2 U7800
Entrelec D4/6 Gray Terminal Block 029968301
NUMATICS SWITCH-ELECTRONIC PNP HPNPS31
Allen Bradley 855T-B24DN4 SER. B 24V AC/DC 0.271A
Allen Bradley 100-C43Z00 Ser. A
Turck RKC 4.4T-6 Euro Fast Cable U5301
Automation Direct CD12M-08-070-C1 Cable with 90
Siemens 3-TJ5001-0BB4 24v
Turck RSM RKM 575-0.5M Cordset U5447-505
Banner BA23SM1.38
Siemens Simatic ET 200SP F-DQ4x24VDC/2A PM
Banner Engineering LMF16 iVu Microvideo 16 mm Lens 80945
Allen Bradley 800FM – LG5
Turck PSG 3M-2/S90 PicoFast Connector Cable U0135-2
Klockner Moeller B3.1/3-PKZ2 Buss Bar 600VAC-100A
Turck PSG 4M-4 Pico Fast Cordset U99-11357
Banner ES-UA-5A
Turck BS 4151-0/13,5 5 Pin Wire-able Field Connector U6422, 6904716
Turck BS 4151-0/13,5 5 Pin Wire-able Field Connector U6422, 6904716 BL/CHR
Turck BS 4151-0/13,5 5 Pin Wire-able Field Connector U6420, 6904715 Female
Turck VB2-FSM 4.4/2RK 4T-0.3/0.3 Splitter Connector U0095
Banner Engineering ITAR.753SMRA
IFM Electric E18224 Right Angle Sensor Cable 100412B
Bosch Rexroth 3 842 530 797 Wippe Rocker CS. WI/M 3842530797
Phoenix Contact PLC-BPT-24DC/21-21 Relay Base 29 00 283
Harax M12 X 1 Stecker
Allen Bradley 1492-J3
ALLEN BRADLEY 800E-3D0
Honeywell RP971A 1015
Allen Bradley 705-HLT1Z