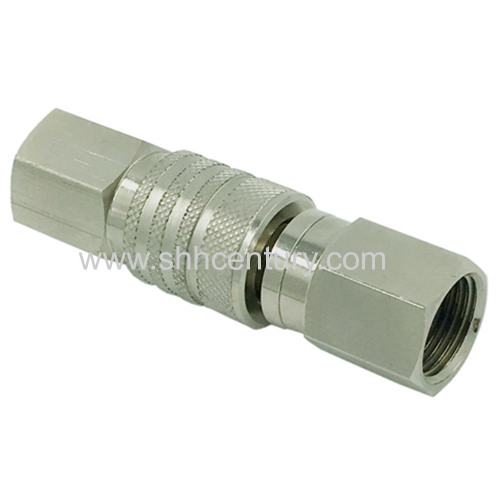 Technical Description
1/2" European industrial profile with UltraFlo technology. High flow performance. Notable for robust design and steel sleeve in use with large pneumatic consumers.
Advantages
Single handed operation. Minimal pressure drop. High flow valve. No damage to the valve body from collar design.
Interchangeability
WALTHER LP002
Working Pressure 35Bar
Working Temperature*
-20°C ~ +100°C (NBR)
-40°C ~ +120/150°C (EPDM)
-15°C ~ +200°C (FKM)
0°C up to +316°C (FFKM)
1/2" universal industrial coupling with standard European profile for use with large pneumatic consumers.
Coupling system with single-hand operation. UltraFlo valve for optimum flow and low pressure drop. The series stands out for its robust design (steel sleeve), extremely high flow and long service life even with the harshest use. The collar design minimises damage to the valve body.
Markets:
- Machinery Construction
- Trade
- Automotive
- Life Science
- Process
- Food & Beverage
- Aerospace
- Mobile Hydraulics
- Industrial
Features/Benefits:
- UltraFlo valve for optimum flow and low pressure drop
- Higher working pressure compared to competitve products
- Single-hand operation for easy and fast connection
Applications:
- Pneumatic Power Tools
- Assembly Lines
- Air compressors
- Fluid Transfer
- Labotory Gas Supply
- Cooling of Electronic Components
- Food and chemical processing
- Water and coolant lines
MINIMUM WORKING TEMPERATURE (C)
-15, -20
DIAMETER NOMINAL (DN)
10
APPLICATION
Pneumatic & Fluid Handling
BRAND
Rectus
END FITTING TYPE
Female Thread, Male Thread, Hose Barb
FLOW RATE (GPM)
238, 634
INTERCHANGE TYPE
Europe
MATERIAL
Brass / Steel, Stainless Steel
MAXIMUM WORKING PRESSURE (PSI)
500
MAXIMUM WORKING TEMPERATURE (F)
212, 392
MEDIA
Chemical Fluids, Gase, Pneumatic Media, Steam, Water
VALVE STYLE
High Flow Air, Poppet
SEAL MATERIAL
NBR, FKM
VALVING
Yes, No
LENGTH (MM)
33 up to 76
EXTERNAL HEX (MM)
17 up to 32
OUTSIDE DIAMETER (MM)
15 up to 27
MAXIMUM WORKING TEMPERATURE (C)
100, 200
MAXIMUM WORKING PRESSURE (BAR)
35
FLOW RATE (LPM)
900, 2400