AB 1788 DNBO ALLEN BRADLEY 1788-DNBO FlexLogix DeviceNet Communication Module
Our services
Packing & Delivery
1)100% full New! - Original Factory Seal !
2)Warranty: 1 year
3)Package: Original packing with cartons.
4)Delivery time: Shipped in 3 days after payment
Contact:Jessica
Skype:jessica01235483
Email:sales*mvme.cn (please change * to @)
TEL:86-592-5856209
Mobile Phone:86-18030235311(WhatsApp)
Wechat:hu18030235311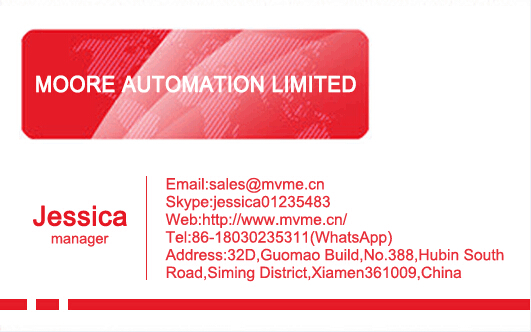 Where are the robot's trillion opportunities?
The story of serving robots is very large and everyone thinks it should be a trillion market. The common question is where the trillion level will appear. We see the demand side is very obvious, the improvement of living standards, the entire middle class purchasing power, so that everyone is willing to spend more money to buy some automated home service robots, sweeping robot is a start.
The second is the change in the demographic structure. The appearance of aging things will make the robots, including domestic services and medical services, a relatively large potential market opportunity. The third piece is the entire culture and entertainment section, including the maturity of IP copyrights. Now many of the better selling entertainment robots basically still have to be sold by IP. In the future, education and entertainment will be combined from IP to content. This robot will have a bigger chance. In the last piece, the rising labor costs will make the entire demand for education, aging, or consumption escalating.
Warranty Service:
- 1 year
Condition:
- Brand New, working in perfect condition
Package includes:
- New And Original *1 piece
Pleast note: The title picture is just for reference. If you want to check the picture of real item, please contact us.
Allen Bradley Rockwell AB 1747/1756/1784/1785/2094/2098 / 1394C / 1336F / 1745 Series, Ryan Mode Reliance Series
GE Fanuc IC647 / 693/697 / IC660 series module card pieces
Schneider Schneider 140 (Quantum processor, memory card, power supply module) AS The beginning of the series
Siemens 6DD, 6DS old model discontinued series / Moore MOORE (APACS I / O modules, communication modules, power modules. Digital Controller) Series
OMRON (Omron) C500 series
Distributed Control System (DCS)
ABB Industrial Robot Spare Parts DSQC Series / procontic (BBC) DP800 Bailey Control Net90 / Infi90
FOXBORO (Foxboro) FBM series
TRICON (EX) 3503E 3805E 3604E ESD System Spare Parts
Honeywell Honeywell TDC2000 / 3000 System Spare Parts Module Leeds & Northrup MAX1000
Bosch Rexroth Bosch Rexroth Indramat, I / O modules, PLC controllers, drive modules, etc.
DCS system card YOKOGAWA DCS Yokogawa card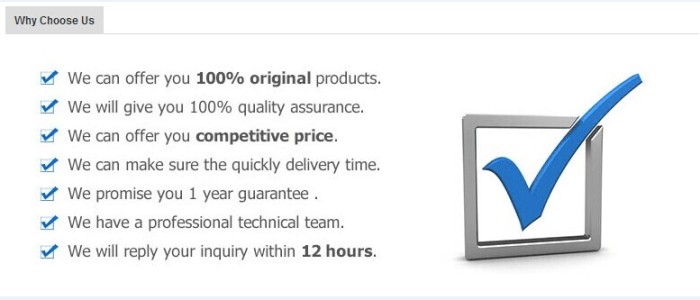 1771-IXE/D 1771-IXE/B
1747-L543
1747-L541
1746-N2B
1791D-OV16PX
1734-PDN
1746-NT4
1734-OW2
1734-IB4
1734-MB
1785-L20B /C
1747-L524
1746-NI8
1746-NO4I
1756-PA72
NX70-POWER1-OM
NX7-28EDT
1747-M13
1771-IBD
1771-OBD
1785-L11B/E
1771-A1B
1771SN
1492-CABLE025H
1756-CNBR
1756-ENET
1771-DB
1746-HSCE
1746-A13
1794-IB16
NX70 BASE03
NX70 Y32T
NX70 X32D1
NX70 CPU70
KJ2002X1-CA1 M5
KJ3001X1-BH1
KJ4001X1-CB1 12P0625X052
KJ4001X1-CC1 12P0733X042
KJ3001X1-BB1
KJ3221X1-BA1
IDA-JMB
PMCB11M1
KJ4002X1-BF2
KJ1501X1-BB1
KJ4010X1-BG1
BM11M1
KJ4001X1-BE1
KJ4001X1-NA1
KJ4001X1-NB1
KJ4001X1-CA1 12P0623X062
KJ4001X1-CG1 12p1812x042
KJ3203X1-BA1
KJ3222X1-BA1
KJ3002X1-BG2
F930GOT-BWD-006
A970GOT-TBA-CH
F920GOT-BBD5-K-C
A985GOT-TBA+A9GT-RS4
A870GOT-EW
A7GT-BUS
A870GOT-EL-B
A8GT-PWEL
A8GT-70G0T-EW +A7GT-BUS+A8GT-PWEL
F930GOT-BWD
F940GOT-LWD-C
FX0N-24MR+F930GOT-BWD-C
FX-50DU-TK-C
FX-40DU-TK-ES
C98043-A1601-L1-16
A1-116-100-507 /A1-316-200-002
A1-116-100-509 /A1-316-200-002
6RA2487-6DV00-0 /6QN5503-0BA
6RA2487-6DV62-0
6SE7031-7EE85-0AA0
6RA7091-6DS22-0
6RA2475-6DS22-0
C98043-A1206-L2
C98043-A7010-L1
A1-116-100-502 /A1-316-200-001
7SD6005-5EA00-1DA0/CC
A1-116-100-504 / A1-416-200-001
C98043-A1663-L11-08
C98043-A1604-MFB
C98043-A7002-L1
6SE7090-0XX84-0KA0
C98043-A7010-L2
C98043-A7002-L4
B00-1-10L
C98043-A1660-L1
6ES7214-1BD22-0XB0
6SE7090-0XX84-0FF5
6SE7090-0XX84-0FF5
KR-JC
KR-MCK
C98043-A1604-L3-3
C98043-A1600-L1-17 C98043-A1600-L1-15
C98043-A1600-L1-10
C98043-A1601-L4-11
C98043-A7010-L2
C98043-A1601-L1
6DM1001-0WB00-2 / E89110-F1391-L1-N
6RK9132-1BD00
E89110-B2108-L1
E89110-F2417-L1
6RA8222-UB0
C98040-A7005-C1-4
C98043-A1604-L1-5
C98043-A1603-L11
6SE7090-0XX84-2FK0
6SE7023-2EA87-2DA0
C98043-A7009-L1/C98043-A7009-C1-6
C98043-A7002-L4
6SA8252-0AC706SA8252-0AC70
C98043-A1204-L21
BANDO HTS 1190-14M-40
CROUSE-HINDS: GUAB 26 3/4in. 21, GAYESCO: 16-TE-8272
NIB IFM EFECTOR IW5054 PROXIMITY SWITCH INDUCTIVE IW-3008-APKG, 10-36 VDC
ALLEN BRADLEY 1777-CB CABLE ASSEMBLY2M PLC-2
ALLEN BRADLEY 1771-OFE1 ANALOG OUTPUT MODULE SER B, F/W REVB W/ 1771-WC
BODINE ELECTRIC 4.8V1A HY-SYNC DC STEPPING MOTOR TYPE: 23Y3FEHD, NO: 2409LF1112
NIB ATC 376A-100-Q-50RX TIMING AND CONTROL COUNTER SERIES 376 120VAC, 50/60HZ
PC POWER COOLINGPC03-00407-02 CABLE1607368, 03-0047-02
BLACK BOX DB25M-DB9F MODEMCABLES 1 FT
DYNAPAR BRAND DANAHER 2206000240
TRI-TRONICS KP-162 INPUT
FANUC A20B-1006-0290/02B PC BOARD A20B1006029002B
METRABYTE PC7032 14120 REV 5 CCV-2 94V-0REV. 8394 WH-P-40 PC
WSP B3009 7-1/2IN
BBC METRAWATT MCC25-12IO1
K. KIKUCHI T196519 BOARD R138851 009C, PST60A, DWG. NO. 331RA28693
ALLEN BRADLEY 1771-KA2 COMMUNICATION ADAPTER MODULE 1771KA2F/W REV. E
ALLEN BRADLEY 1771-IA AC
ORIENTAL MOTOR SBR32-ZP
12XL037-3FS4 TIMING BELT PULLEYS 5/16'' BORE
DAYCO SYNCHRO-COG 840H300
SMS 1361 PULL ROLL SHAFT 5/8X14 STAINLESS STEEL 5/8IN DIA. 14IN
GOODYEAR 1700H150
ALLEN BRADLEY 2750-C1
NIB IFM EFECTOR OM5005 FIBER OPTIC AMPLIFIER OMF-FCKG/US100 10-30VDC
NIB STAHL INTRINSPAK 9001/01-280-100-10
NIB IFM EFECTOR OG5068 PHOTOELECTRIC SENSOR OGELFPKG/V4A/US-100
NIB CUTLER HAMMER DS200EK1 SER. A ELECTRICAL INTERLOCK KIT 123193
SCHNEIDER MODICON 170INT11000
BECKHOFF BK3110 PROFIBUS
SIGMA-NETICS 751109E ROTARY ACTUATOR SW-1246B
NIB TELEMECANIQUE LP1 D2510BD CONTACTOR24V DC, 11KW-400V, 15HP-460V, 023393
WARNER ELECTRIC PM2005-40326 BALL SCREW 3/4INCH W/ 3IN
NIB GE FANUC IC630MDL375B
GE FANUC IC693MDL646D
NIB SQUARE D CLASS 8501 TYPE X020V02
CHIRON BO 595 100.24.01 289-139/ 001-00019/06
CONTROL CONCEPTS 1651-48-40
WSP B3010 7-3/4 IN CONVEYOR REPLACEMENT ROLLER 1/2" I.D1-1/2" O.D
BANNER SMA990LV VALU-BEAM SENSOR WIRED TO HUBBEL PLUG HBL5266C
MITSUBISHI MELSEC A62P PROGRAMMABLE 9701H
ESCORT MEMORY SYSTEMS CM1746
RELIANCE ELECTRIC 0-52875-1C PC
FANUC A350-0004-T192/02
GOODYEAR 850H300
GE FANUC IC600YB904A 115VAC OUTPUT MODULE 44B712840-002/4 REPAIRED
NIB EATON CUTLER-HAMMER E57LAL18T111
in stock
1 year warranty
Original and new packing
Delivery with DHL 3 days after payment