ALLEN BRADLEY MPL-B4540F-SJ22AA SER A AC SERVO MOTOR *NEW IN BOX*
Our advantages:
1.New and Original
2.In Stock
3.Best Price
4.Fast Delivery
5.One Year Warranty
Contact:Jessica
Skype:jessica01235483
Email:sales*mvme.cn (please change * to @)
TEL:86-592-5856209
Mobile Phone:86-18030235311(WhatsApp)
Wechat:hu18030235311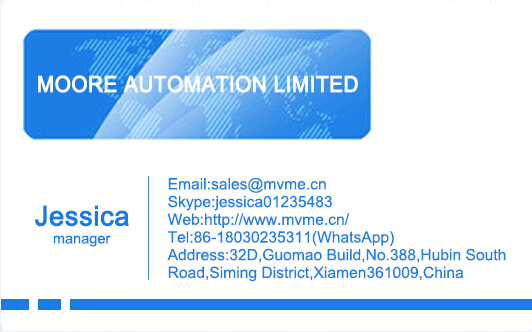 Moore global one-stop DCS PLC spare parts direct selling network] primary sources, there is no middleman to make the difference!
Common industrial automation parts and components in the country far ahead!
have advantages of price, stock and technical support
1.Best price
2.Fast Delivery
3.Large in stock
Shipping :
1. We will ship the items within 3 working days after the payment is reached.
2. All the goods will be tested before shipment.
3. Packing in professional anti-static bag.
4. We can ship to you by DHL/UPS/EMS/Fedex... Pls contact us directly and we will ship as your requirement.
Best Quality Assurance:
1. We only provide theoriginal new items, 100% make sure the best quality!
2.1 year warrant GUARRANTEE OF QUALITY (After Our Delivery Date).
Payment Methods :
We accept T/T, West Union, PayPal , Escrow payment .
Refound or Replacement:
We accept return back itmes if the goods still remain in their original condition on the warranty time .
Hope we can do more business in future ! There will become your honest cooperation partners!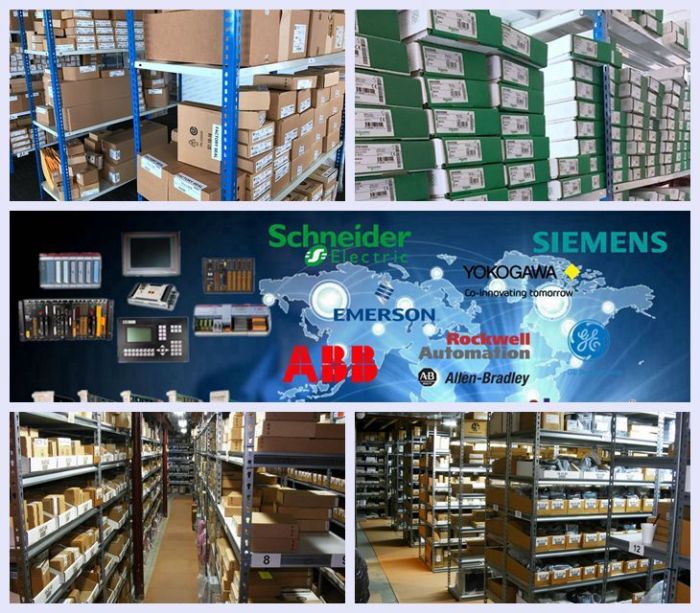 Rockwell: Allen-Bradley
1) ControlLogix 1756 series controller
2) CompactLogix 1769 series controller
3) SLC 500 1747 1746 Series Controller
4) PLC-5 1771 1785 series controller
5) ProSoft :MVI69/PS69/MVI56/MVI94/MVI71/MVI46/3150
6) ICS TRIPLEX trusted system
ABB:
1) AC800M series controller I/O module
2) AC800F series controller module
3) AC31 series controller module
4) 800xA series modules
5) Bailey INFI 90 module
6) DSQC robot module spare parts
7) Advant OCS system spare parts
8) H&B Freelance
Bentley Nevada:
1) Bently 3500 Monitoring system,
2) Bently 3300 Monitoring system,
Schneider:
1)Quantum 140 series :Modicon M340
2)Modicon Premium :CPU Processor Module,Communication module,etc
Emerson Deltav:
1) System DCS Card
2) DeltaV system Dual Channel Redundancy Safety System, Redundancy Controller
General Electric(Fanuc):
1) IS200/DS200 series Excitation system card
2)IC693/IC695/IC697/IC698/IC200/IC660/IC670 CPU module,Communication module, Analog Digital module
Invensys Triconex Card: Tricon System Card
Invensys Foxboro: I/A Series System Module
Honeywell:
1) Alcont
2) Experion LS
3) Experion PKS
4) Experion HS
5) Plant Scape
6) TDC 2000
7) TDC3000
8) TPS
Siemens (Simatic):
1) Siemens MOORE
2) Siemens S5
Yokogwa: CS3000 System CPU Controller Module, Analog Module
Yaskawa:Robot Servo Controller, Servo Motor, Servo Drive.
Rexroth Indramat:I/O module, PLC controller, drive module
VIBRO-METER: VM600 MPC4 VM600 CMC16 VM600 IOC4T Vibration Sensor, Speed Sensor, Vortex Sensor, Monitoring System Module Gateway Communication Module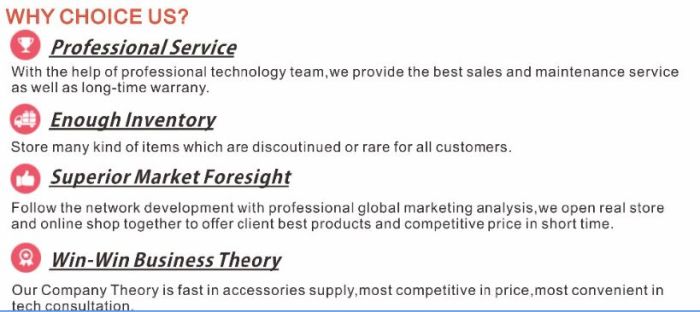 SN-64DR-A1
4314R-353
E-22N
SN32DR-A2+K2-16CDR+Z-DMY
Z-4AD2
CKE SH-32RI/SH-32R1
SH-64R2
SZ-4
D2-06B
E-01BJ
E-03B
nt631c-st153-ev3
NT631C-ST153-EV3
H5S-FB
NT631C-ST141-EV2
NT631C-ST151-EV2S
NT20S-ST121-ECV3
NT631C-ST152-EV2
NT620C-ST141
NT631C-ST151B-EV2S
NT600M-MR641
NT631C-ST151B-EV2
NT631C-ST151B-EV2
NT631C-ST151B-EV2
BCH1001O12A1C
VX5A66103
LXM23CU04M3X
BCH1001O11F1C
BCH1001O11A1C
DR-PLS4-000
DR-1020-000
Lxm23cu10m3x
AF038502
LXM15LD21M3
LXM23CU07M3X
MHDA1112N00
MHDA1056N00
AM0INE001V000
Disney Pixar Cars Wingo SUPERCHARGED P142-A5
Lucent Technologies MS1SC-SC
Lark ENG. M087-X1.5-4AA 11287-12
Tektronix P6130 Probe
HP IBN6810 0.5 10GB CX4 Cable / Gore
Disney Pixar Cars Flo & Ramone SUPERCHARGED P130-A17
Disney Pixar Cars Boost & Snot Rod Desert P130-A27
Disney Pixar Cars Leakless Desert P142-B45
Ricoh AD042071
Omega TAC-81K Thermocouple
Corcom 3EMC1 F8126 1336R
Aero Bed X09-VMU120-A / HB-151SB
CDE Cornell-Bubilier Electronics CDB3
Arra P3844-20 Attenuator
Ricoh AW110043
Artesyn NLP659629N01
Cables to go DB9 25'F/F Null Modem Cable
Electronic Hardware Corp. 407PD2K1 KNOB
Pasternack PE9506
Mini-Circuits ZFSCJ-2-4 Splitter
Tektronix P6109B Probe
Saint Gobain SG16-05
Meca 612-08-1 Attenuator
TPI P2100 compatible
Transpo M5-237A VR Motorola 12V 8RG2026
Niles SRS2W
Radiall/Larsen W030
ZyXEL 30-111-001496
Lutron SP-600 [WHITE] Spacer 600W IR
Mini Circuits ZX10-2-12
Disney Pixar Cars Wingo SUPERCHARGED P142-A17
Disney Pixar Cars DJ SUPERCHARGED P142-A44
Disney Pixar Cars Barney P142-A52
Disney Pixar Cars Kori P142-A56
Disney Pixar Cars Barney P142-A53
Disney Pixar Cars Kori P142-A48
Disney Pixar Cars Wingo SUPERCHARGED P142-A19
Disney Pixar Cars Barney Stormin P142-A86
Disney Pixar Cars Tex Dinoco & Lightning P152-A1
Disney Pixar Cars Rusty Rust-Eze & Dusty Rust-Eze P152-A2
Disney Pixar Cars Barney Stormin P152-A11
Disney Pixar Cars Kori Turbowitz P142-A57
Disney Pixar Cars Dinoco McQueen P142-B48
Disney Pixar Cars Green Ramone Desert P142-B50
Disney Pixar Cars Sally & Cruisin McQueen P130-A24
Disney Pixar Cars Mia & Tia (MOVIE MOMENTS) P152-A3
Our services
Quantity available:200 pieces per month.
Delivery time: 2-3 working days after payment.
Type of payment:T/T.
Courier partners: DHL, UPS, TNT, DPD, FedEx.
Quality assurance:1 year warranty
Technical specification, manuals and data sheets: Available on request