Product Description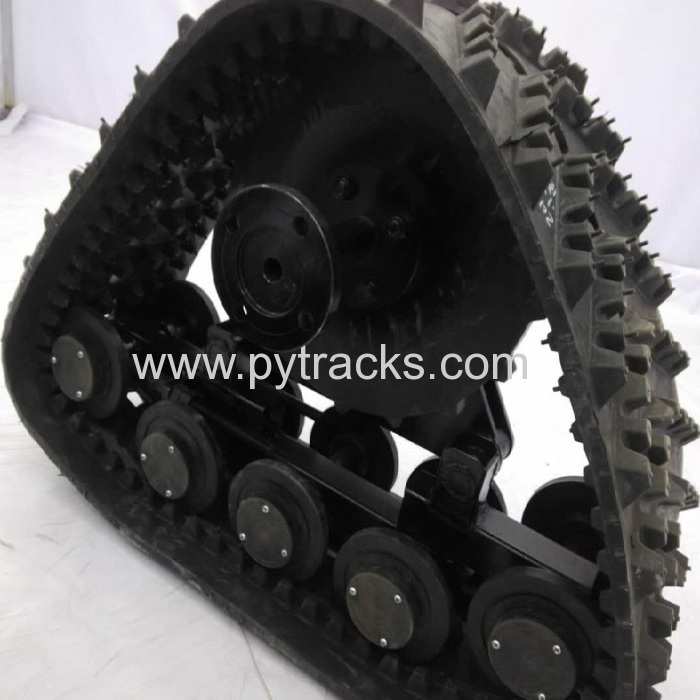 The rubber track system is mainly composed of the rubber track, triangular frame, driving wheels

Supporting wheels, guide pulley as well as connecting plated device...

It's an integrated mechanical assembly which can make your car run well at all terrain whatever is

Snow, mud, sand, loose surface, even hill terrain...

We can also design the mounting hole according to your wheel bolt pattern so that you can

Install it on your car directly without using complicated tools...

The features and advantages of the rubber track system:

1. The track system is light weight building, using lightweight wheels and structural steel frame or

Aluminum frame, that keep the track units durable, without sacrificing performance.

2. Our track system is all season tracks, molded rubber composite design provides additional stability.

The track is designed without perforated openings, preventing debris from entering through the

Track. Specially designed internal drive lugs continually work on sand, snow, mud out of the track,

Keeping Track and framework clear of debris.
Size
Length
Width
Height
Net Weight
Loading bearing
Ground contact length
Sprocket Center Distance to the Ground
Applicable Types of Vehicles
PY-255A
810mm
255mm
640mm
70kg
1.2Tons
530mm
400mm
200CC-800CC ATV etc.
PY-255B
880mm
255mm
610mm
40kg
1.2Tons
550mm
420mm
200CC-500CC ATV/ UTV etc.
PY-255C
862mm
255mm
550mm
34kg
3Tons
550mm
403.5mm
SUV /ATV /UTV etc.
PY-330A
880mm
330mm
500mm
30kg
1.2Tons
560mm
430mm
ATV/UTV etc.
PY-300A
1150mm
300mm
300mm
30kg
1.5Tons
720mm
420mm
PY-280A
600mm
280mm
1080mm
80kg
3.0Tons
700mm
420mm
SUV etc.
PY-280B
1100mm
280mm
640mm
90kg
3.0Tons
700mm
420mm