FUJI PROGRAMMABLE CONTROLLER PLC NP2L-RP1
Contact person:Jessica
WhatsApp: +8618030235311
Phone: +8618030235311
E-mail: sales*mvme.cn (please change * to @)
Skype: jessica01235483
Wechat: hu18030235311
We supply:
PLC : AB,ABB,GE,Schneider
DCS : ABB,Siemens MOORE,Foxboro,Westinghouse,YOKOGAWA
ESD : Triconex,HIMA,BENTLY,ICS
Excitation cards : ABB,GE Marke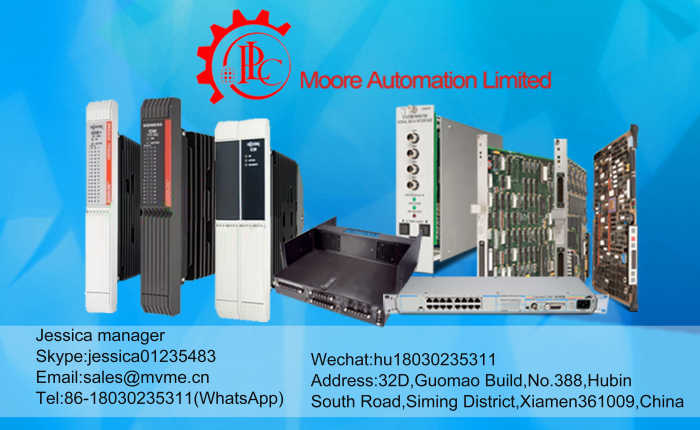 MOORE (HK) AUTOMATION LIMITED Xiamen Office is a company that professionally engaged in large system DCS spare parts supply.
We supply DCS, PLC, MOTOROLA MVME, Anybus, RTU, IPC, IPC, SCSI (50, 68, 80Pin), AnyBus (Gateway), etc.
We have different InStock products in high quality that we can supply promptly with a fair price.
We also provide safely expresses with responsibility and credit in a fast delivery period.
We look forward to cooperating with you for our beautiful future.
We currently stock over 12000+ branded products
IC200ALG620
IC200ALG630
IC200CHS002
IC200MDL740
IC200PWR102
IC3600LTGA
IC3600TUAA1
IC660BBD025
IC670MDL640
IC670MDL740
IC670PBI001
IC693ACC310
IC693ALG223
IC693APU300
IC693CBL300
IC693CBL305
IC693CHS391
IC693CHS392
IC693CPU364
IC693CPU372
IC693DSM302
IC693MDL330
IC693MDL646
2AD104C-B35OA1-CS06-C2N2 19.9A 3-PHASE INDUCTION MOTOR REXROTH INDRAMAT ID15095
BOSCH REXROTH INDRAMAT DREHSTROMSERVOMOTOR, MDD065B-N-040-N2M-095PB0 OVP
Weitere Artikel wie dieserBOSCH REXROTH INDRAMAT DREHSTROMSERVOMOTOR, MDD065B-N-040-N2M-095PB0 OVP
10 x Rexroth Indramat Ecodrive DKC11.3-040-7-FW
BOSCH REXROTH INDRAMAT DREHSTROMSERVOMOTOR, MDD065C-N-040-N2M-095GB1
SERVOMOTOR MHD093B-058-PG1-BA 6000MIN-1 REXROTH INDRAMAT ID3512
Rexroth Indramat PPC-R02.2 controller FWA-PSM01*-GP*-07VRS-MS
Rexroth Indramat Servomotor MKD090B-047-KP1-KS MNR: 911295890
Weitere Artikel wie dieserRexroth Indramat Servomotor MKD090B-047-KP1-KS MNR: 911295890
INDRAMAT REXROTH Servomotor MDD093C-F-060-N2L-110GB0/S015-used-
Bosch Rexroth Indramat Servomotor MDD071C-N-040-N2S-095GA1 R911264404
REXROTH INDRAMAT MAC 112B-0-GD-1-B/130-A-1/-101250/S05
Rexroth Indramat CLM FWA-CLM1.3-LA1-04VRS-MS
NEW Rexroth Indramat ECODRIVE DKCxx.3-100-7-FW DKC01.3-100-7-FW?+ FWA-ECODR3
Rexroth Indramat BTV06.1HN-RS-FW System200 BTV06 FWA-BTV06-DOL-01VRS-EN
REXROTH INDRAMAT MAC112C-0-ED-3-C/130-A-1
Rexroth Indramat Permanent Magnet Motor MAC090C-0-GD-4-C/110-A-1/WI524LV/S005
Shipping Term : TNT,DHL,FEDEX,ETC
Payment Term : T/T
Warranty: 12 month