Sophia STL70 series three stacks 50mm or 70mm modular led warning signal tower lights, buzzer light, indicator light ip67 waterproof, oil proof and UV stabilized, standard input dc12v or 24V or 100-240v, can use outdoor, with or without buzzer, buzzer sound adjustable randomly.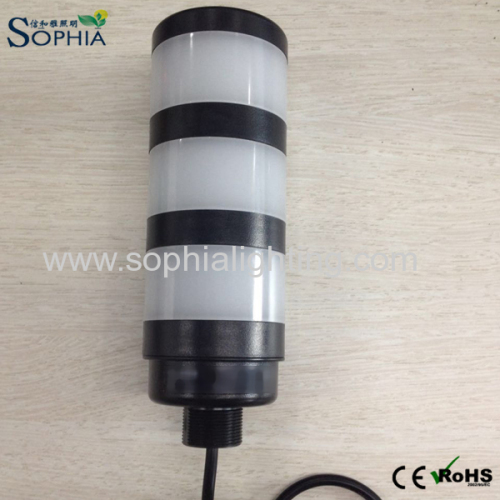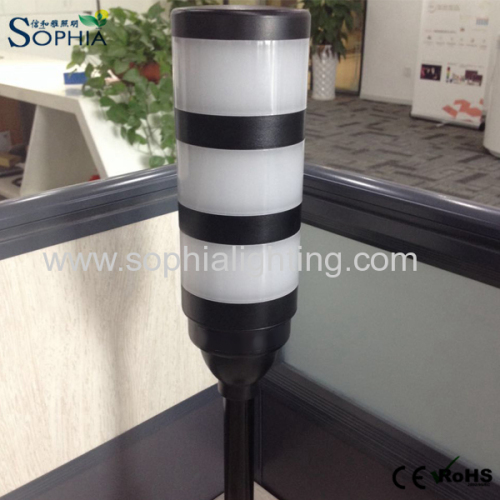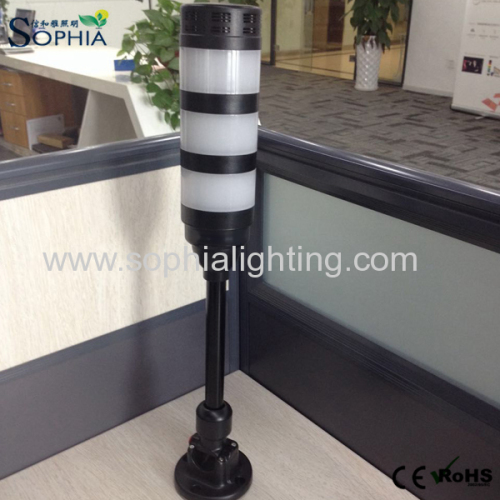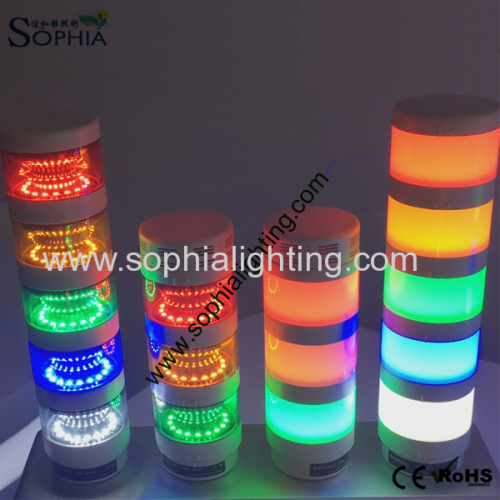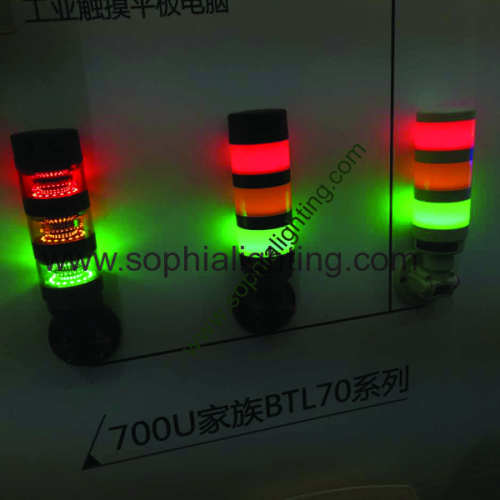 Item No.: STL70T-B-N;
Power: 5W;
Input: 100-240VAC/ DC12V/24V;
Stack: Three;
Maximum current for each color: 120mA;
Buzzer: (optional);
Color: Red/Orange/Yellow/Green/Blue/White, random combination;
Performance:a Revolving; b flash; c jump; d constant color;
Dimension:Ø70x H206mm (not include installation base, without buzzer);
IP rating: IP67;
Approval: CE, RoHS, FCC;
Warranty: Three years





Main feature:
Multi segment indicators up to 7 stacked colors available no assembly required;
Rugged and Cost effective easy to install;
Illuminated segments provide easy to see operator guidance and indication of equipment status
Bright and uniform indicator segment appear gray(optional) when off to eliminate false indication from ambient light
Water resistant and IP67 housing(without buzzer) with UV stabilized material;
Available in black or white housing, milk or transparent lighting segment;
Audible models available with standard or sealed audible element
;
| | |
| --- | --- |
| Item No. | STL70T-B-N series |
| Stack | Three |
| Input | 12V/24VDC/100-240VAC |
| Current | 12VDC 240mA; 24VDC 120mA |
| Buzzer | 30mA |
| Color | Red/Orange/Yellow/Green/Blue/White, random combination |
| Performance | a Revolving; b flash; c jump; d constant color |
| Electric protection | Protected again reverse polarity |
| Response time | <10milli seconds |
| Buzzer frequency | 2.5KHz+/-500Hz, 95db |
| Working temperature (ºC) | -40ºC~50ºC(no buzzer);-20ºC~50ºC(with buzzer) |
| IP rating | IP67 |
| LED life span (H) | 100000 hours |
| Dimension(mm) | Ø70x H226mm (not include installation base) |
| Installation accessory | Foldable base/ fixed plate/ pole with plate |
| Material | Powerful SMD LED, high transmittance and reinforced ABS and polycarbonate housing, Surface very smooth and flat, high transmittance, unique designed driver, can recognize various performance and maximum five stacks |
| Feature | Compact and patented design, waterproof. Corrosion proof, oil proof. Housing and surface is different from normal one in market, very smooth and flat, increase the brightness. Excellent driver, can make maximum five stacks with various performance. Module design, easy to maintain. Base with 30mm thread, very easy and convenient to install. |
| Approval | CE, FCC |
More similar products and shows:



Company introduction:
Shenzhen Sophia lighting Co.,Ltd was founded in 2009, which specializes in researching, developing, producing and exporting first class LED professional lighting. Our products are produced with CE & RoHS compliance which include led signal tower light, machine light, indicator light, mining lamp, high power LED Search light, etc.
Our LED signal tower light can make maximum five stacks, while most Chinese competitors can't do this.
Our IP69K indicator light are widely used in automatic workshop, customer include Banner, Das- Auto etc. Welcome you contact us at any time!