CASING HEAD ASSEMBLY FOR 9-5/8"x7"x3-1/2" EUE-3000psi
API 6A WELLHEAD CHRISTMAS TREE CASING HEAD HOUSE
Brief of the casing head
The casing head with standard designe and four way pipe is suitable for various slip type and mandrel type of casing hangers for the oil well casing. The casing head with the casing hanger is connected to casing spool, serves as the part of the wellhead Christmas tree. The casing head is designed and manufactured as per API 6A specification.

Features of the casing head
* High load capacity is realized by design of 45degree shoulder

* Pipe thread side outlet
* Threaded flange side outlet and designed with VR plug
* Various types of secondary seals are designed with VR plug.
* Standard shape of casing hanger design
* Slip type and mandrel type casing hangers are exchangeable.
* Connection type: Bottom thread, Bottom welding and bottom slip.
Specification of the casing head
1

ASSEMBLY OF SCREWED TYPE CASING HEAD HOUSING WITH HANGER

PACKER AS PER API SPE CN. 6A (LATEST EDITION), U-AA,

PSL-2, COMPRISING OF THE FOLLOWING:

THE HOUSING SHOULD

COMPRISE OF 2 NOS. OF 50.8 MM (2") API LP FEMALE SIDE OUTLETS

IN THE SAME HORIZONTAL PLANE IN OPPOSITE DIRECTION

ACCESSORY FOR ABOVE

Plug Tester having API 114.3 mm (4.1/2") IF Box Up & Pin Down Connection

with 10 sets of extra seals for each plug tester.

Assembly of Screwed type (Female, API Buttress casing thread) Casin

2

Assembly of Screwed type (Female, API Buttress casing thread) Casing

Head Housing with Hanger Packer (Slip and Seal assembly) as per API

Specification 6A (latest edition), U-AA, PSL-3, PR-2 comprising of the

following. The Housing should comprise of two numbers of 52.39 MM (2.1/16

inches) studded side outlets with API ring groove of BX-152 in the same

horizontal plane but in opposite direction.

TOP FLANGE SIZE : 346.08 MM (13.5/8 inches)

CASING SIZE : 339.73 MM (13.3/8 inches)

PRESSURE RATING: 703 Kg / Sq Cm (10,000 psi)

RING GROOVE : Stainless Steel or Alloy 625 Inlay, BX-159

HEIGHT : 508 MM (20 inches) - Tolerance +/- 2 inches

NOMINAL SIZE : 346.08 MM (13.5/8 inches)

SIZE OF CASING TO SEAL: 244.475 MM (9.5/8 inches)

NOTE: The following accessories are also to be provided along with each of

the 13.5/8 inches x 10M Casing Head Housing:

I) RING JOINT GASKET, BX-159 (Pressure energised for use on type 6BX

flanges as per API Spec 6A) - 01 (ONE) Number

ii) STUDS WITH NUTS 1.7/8" x 17.3/4" (Alloy steel full threaded stud bolt,

material ASTM - A193, Grade B7 or EN19 with two (02) heavy hexagonal

nuts, material ASTM - A194, Grade 2H or EN19; Thread designation for stud:

1.7/8"-8UNC-2A and for nut: 1.7/8"-8UNC-2B) - 20 (TWENTY) Numbers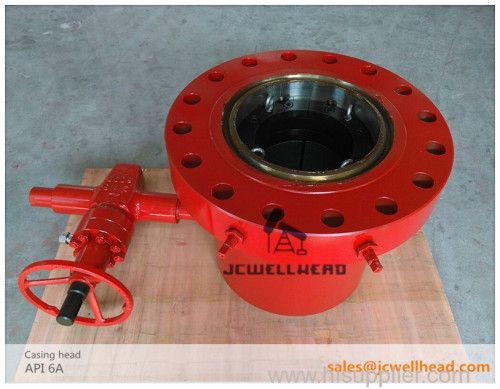 JC Petroleum Equipment Factory manufactures and supplier the various wellhead manifold and
related parts to meet different requirement in oilfield service operation. The wellhead manifolds
are conformed with API 6A and API16C specification, and applied for high pressure and high
temperature working condition. The wellhead manifold include choke and kill manifold,
fracturing manifold, testing manifold, drilling floor manifold etc. And we can design the wellhead manifold as per the customers' requirements