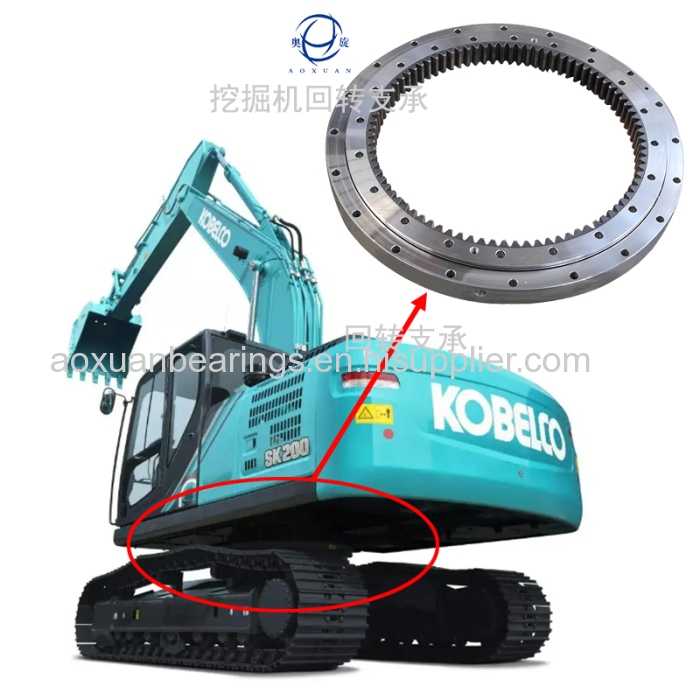 Slewing ring: QNA720.25.B17, QNA720.25.B1, QNA675.20.B2, QND1007.25.B3, QND1202.28.B12, QND1210.30.B14, QND1212.30.B4, QND1212.30.B5, QND1212.28.B6, QND1212.28.B6A, QND1295.38.B7, QND1294.35.B9, QND1477.38.B11, QND1420.45.B10, 014.50.1543.B16
for:
KOBELCO SK60-3,KOBELCO SK60-5,KOBELCO SK60-8,KOBELCO SK100,KOBELCO SK07-1(*),KOBELCO SK07N2,KOBELCO SK350-8,KOBELCO SK200-1/200-3/200-5,KOBELCO SK200-6/210-6/200-6E,KOBELCO SK200-8/210-8,SK330-6E,KOBELCO SK450-6E,SK200-8/SK210-8,KOBELCO SK220-3/SK230-6E/250-6/250-6E,KOBELCO SK250-8/SK260-8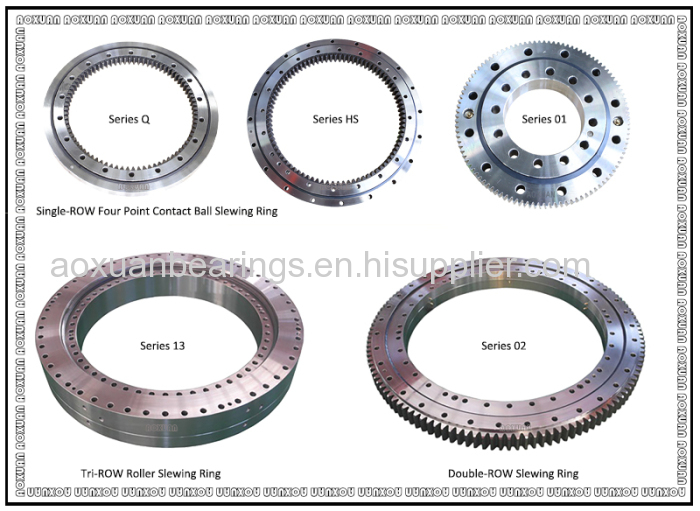 The single row four point contact ball slewing bearing is composed of two seat rings, which is compact in structure and light in weight. The steel ball is in four point contact with the circular arc raceway, and can bear the axial force, radial force and tipping moment at the same time. Rotary conveyors, welding operators, small and medium-sized cranes, excavators and other engineering machinery can be selected.
Changzhou Aoxuan Heavy Bearing Co., Ltd. is located in the beautiful and rich Yangtze River Delta region, with convenient transportation and obvious industrial advantages. The company covers an area of 33000 square meters, with a building area of 23000 square meters. It has more than 150 sets of production and processing equipment and testing equipment. The main products are: Single-ROW Four Point Contact Ball Slewing Ring (Series Q, Series HS, Series 01), Tri-ROW Roller Slewing Ring (Series 13), Double-ROW Slewing Ring ( Series 02), Crossed Roller Slewing Bearing ( Series J), slewing drive and precision grade cross roller bearing. It is mainly used in engineering machinery, industrial robots, port machinery, construction machinery, truck cranes, metallurgical machinery, single and double axis tracking systems for solar photovoltaic power generation systems and small wind power stations.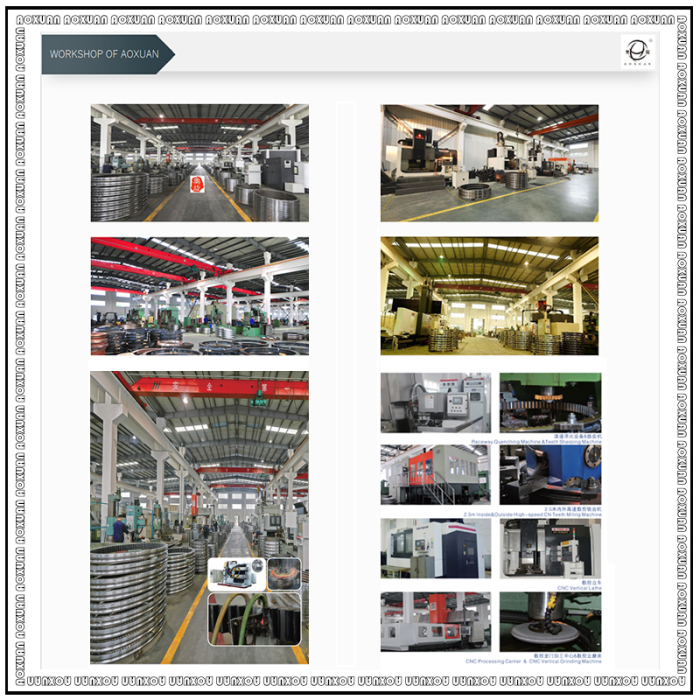 Name of production equipment: CNC Vertical Lathe, CNC Horizontal Lathe, CNC Machining Center ,CNC Vertical Machining Center, Gear Sharping Machine,Gear Hobbing Machine, CNC High Speed Gear Milling Machine, CNC Gear Chamfer Machine,CNC Raceway Quenching Machine, CNC Gear quenching machine,CNC All-gear Single Shot Quenching Machine, Inspection Equipment, Well Type Tempering Furnace, Chamber Type Tempering Furnace, CNC Raceway Grinding Machine, CNC Surface Grinding Machine, Radial Drill Machine, Special Boring Machine and so on.
1) Are you a trader or a manufacturer?
We are professional slewing bearing manufacturer with more than 20 years' experience, and our factory is located in Jiangsu Province.
2) What are the terms of payment?
We usually accept T/T or L/C.Other terms are negotiable.
3) What is your minimum order quantity?
It depends on what you buy. Under normal circumstances, our minimum order quantity is 1 piece.
4) What's your delivery time?
Our lead time is only 3-7 days if stock is available. If it is our standard type, the delivery time is about 25 days, if it is not standard type, the delivery time is 45~50 days.
5) What about quality control?
We have a perfect quality management system to produce perfect products.Responsible for the careful testing of product quality and specifications, monitoring each production process until packaging is completed to ensure product safety into the container.
6) Can you provide special customization according to the working conditions?
Sure, we can design and produce the slewing bearings for different working conditions.