Operating Conditions:
Temperature: ≤150oC
Pressure: ≤0.3Mpa
Speed: ≤ 6000r/m
Materials:
Stationary Ring: Cast Iron/304/Ceramic
Rotary Ring: Carbon
Secondary Seal: NBR/HNBR
Spring: A3/304
Punched Parts: 65Mn/304/316
Applications: For mats nl/sa,mits fx105v,sd505/575/507mini,sd tr 70/90/105,compressor

TSK1 Air-Condition Compressor Seal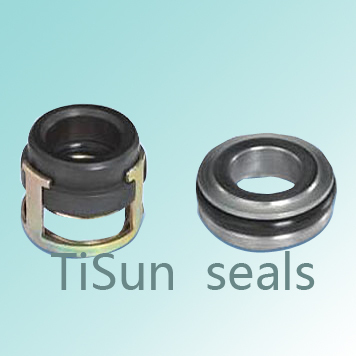 We are professional various kinds of mechanical seals. such as Pump seal, Industrial pump seals, Auto Cooling pump seals, Silicon Carbide Seal Ring, Tungsten Carbide Seal Ring, Alumina Ceramic Seal Ring, O Ring, packing and gasket, etc. Manufacturer and factory in China. We can
produce various kinds of mechanical seals. such as Pump seal, Industrial pump seals, Auto Cooling pump seals, Silicon Carbide Seal Ring, Tungsten Carbide Seal Ring, Alumina Ceramic Seal Ring, O Ring, packing and gasket, etc ,if wanted, please contact us right now!

APPLICATION
Mmechanical seals are used in pumps, blowers, agitators, compressors, and other rotary shaft equipment.
FAQ On Placing An Order
1. Quantity: MOQ: 5 Sets on one order, do not required same size.
2. Delivery:All of them in stock, will be shipped out same day as we received your funds.Tracking Number will be provided.(All delivered by DHL, FEDEX, UPS AND TNT ETC).
3. Payment Method: We accept T/T;Paypal; Credit Card; Escrow; Western Union; Money Booker; Money Gram or Your Advice.
4. Price:All prices listed above, manufactuer directed price, no middle profit. Please do try one time.
Seal storage precautions:
1. Seal storage at room temperature under 30 ℃, best avoid seal produce high temperature aging;
2. The seals must be stored in a sealed package, avoid dust and moisture in the air or contact;
3. The seal must avoid glare and avoid the seals by ozone in the air of erosion or early aging.
The factors affecting sealing performance is different, such as mechanical seal (packing, etc.) influence factors are temperature, medium, wear, under pressure, etc.