Polyester printing silk screen mesh
Brief introduct
With the high quality material,our produces superior quality polyester bolting cloth for screen printing. We also have the most advanced testing instruments and technicians well trained to guarantee a reliable quality.
PFM screen Printing Mesh is high-precision screen printing mesh , polyester mesh, rang from 6T to 165Tmesh count(15-380). It is made of imported material from Germany, woven by Switzerland technology, with optimize screen-printing performance. PFM mesh can meet the demanding needs of different industries, such as PCB, Ceramic, Waist line, Flower paper, Advertisement, Shoe, Plastic, Glass, Scutcheon, Craftwork, Handbag and Textile printing, etc.
Polyester Silk Screen Printing Mesh Applications:
Textile Printing,Graphic Screen Printing, Package Printing,Glass Printing,Ceramic Decorating,
CD/DVD Printing, PCB Printing,Electronics Printing,Solar Cell Printing,etc.
Specification of polyester printing silk screen mesh
Material:100% polyester
Monofilament Screen Printing Mesh Specifications

Model

Mesh/cm

Mesh/inch

Aperture
(micron)

Thread Dia.
(micron)

Open Area
(%)

Thickness
(micron)

Theoretical Ink
(cm3/m2)

10-250

10

25

743

250

55

495

274

12-140

12

30

686

140

68

277

189

13-150

13

33

619

150

64

300

128

16-140

16

40

461

140

58

238

139

21-80

21

55

296

80

69

120

79

21-150

21

55

326

150

46

260

118

22-80

22

56

356

80

66

136

90

24-80

24

60

320

80

63

136

86

24-100

24

60

316

100

57

170

65

28-140

28

70

217

140

40

195

76

32-55

32

80

257

55

67

103

67

32-64

32

80

248

64

63

95

56

32-100

32

80

212

100

46

170

73

36-90

36

92

183

90

44

150

65

39-55

39

100

177

55

56

88

55

43-80

43

110

149

80

41

130

53

47-55

47

120

152

55

51

88

48

48-70

48

122

133

70

41

115

47

53-55

53

135

133

55

50

86

42

54-64

54

137

115

64

39

100

39

54-70

54

137

109

70

35

116

40

61-64

61

155

90

64

31

101

30

64-55

64

160

98

55

38

98

36

64-64

64

160

85

64

30

115

34

68-55

68

175

85

55

34

85

28

68-64

68

175

78

64

28

105

30

72-48

72

182

90

48

36

78

33

72-55

72

182

85

55

30

90

27

80-48

80

200

72

48

33

74

25

90-48

90

230

56

48

25

78

19

100-40

100

255

58

40

33

63

21

110-40

110

280

48

40

27

64

17

120-31

120

305

49

31

35

49

17

120-34

120

305

45

34

30

55

16

130-34

130

330

40

34

27

55

15

140-31

140

355

36

31

26

48

12

140-34

140

355

31

34

20

53

10

150-31

150

380

32

31

23

49

11

150-34

150

380

23

34

13

55

6.5

165-31

165

420

23

31

15

48

7

Note:The above theoretic data is for reference only,and thickness tollerance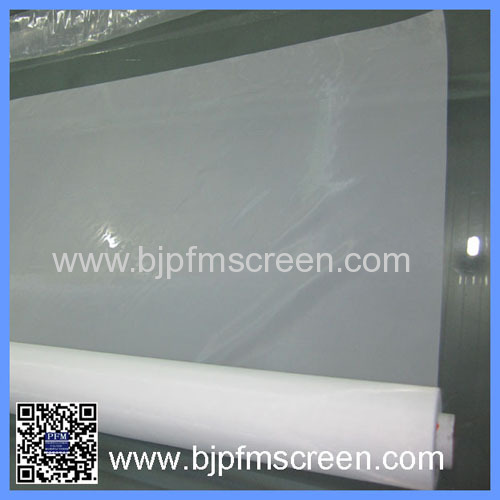 Polyester Printing Silk Screen Mesh Characteristics:
1.Faster tensioning without damage to the threads
2.Improved fabric strength
3.Faster tension stabilization
4.Higher tension threshold and breaking point
5.Less tension loss during the stretching process
6.Faster turnaround time from the screen room to the pressroom
7.Improved registration due to stable tension
8.Faster Print Speeds