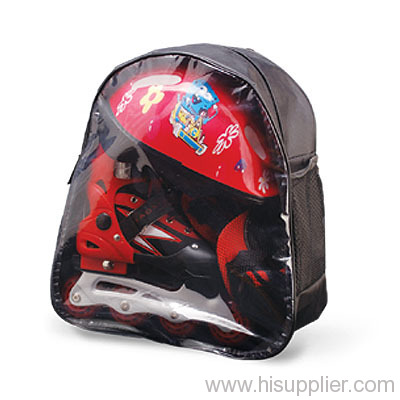 Outer packing: 6prs/carton
roller skate shoes, popular skate shoes, adjustable inline skate shoes, inline skate shoes, in-line skates,skateboard shoes, roller shoes, skateboarding shoes, skate board shoes, inline skate, tracking shoes, wheel shoes, roller skating, men's skateboard shoes.\,roller blade,roller skate,inline skate,skate wheel,skates.
A parallel or slalom turn is slightly more difficult to do, but can be great for activities such as roller hockey. To begin, stagger your skates using a narrow scissors stance, with one skate nearly in front of the other. Assuming that you'll be turning left, keep your back, right knee slightly bent, and most of your weight on the back leg. Straighten your body and lift your left toe up, as if you were using the brake on the skate. (Eventually you will not need to lift your toe, but when you're practicing, lifting the front toe can make the turn easier.) Lean your back knee slightly to the left, and look over your left shoulder at the same time. Your body will follow your eyes through the turn.
Aggressive inline and hockey
Once you are comfortable turning and stopping, you can begin developing other skills. It is essential to wear a helmet for aggressive skating because performing tricks puts you off balance even more than recreational skating. The same goes for hockey, where players tend to be forceful.
Aggressive inline requires that you master several techniques each for turning, falling, spinning, jumping and stopping. You should be able to skate both forward and backward. Once you can perform these maneuvers, you're ready to begin practicing aggressive inline.
There are three types of aggressive skaters: park, street and vert. Park skaters perform tricks in skate parks, which may also be utilized by BMX bikers and skateboarders. Skate parks consist of ramps, bowls, rails and other elements that simulate objects you may find on the street. Street skaters stick to what they find in their neighborhoods and cities: stair railings, stairs, benches, curbs and walls. Vert skaters can be found on a vert ramp, which is a half pipe with a vertical slope.
Inline hockey requires that you be able to put into practice a couple of starts, including the crossover start and a V-start. You should be comfortable with the S-stop and a glide turn, and you should practice pivoting from front to back and back to front.
Inline skating is a great way to participate in a fitness activity that benefits both your body and your mind. So, if you have inline skates, get them out of the closet. If you need inline skates find some starter options and strap them on for healthy fun. Regardless of your personal fitness needs, inline skating is a great way to fulfill them.
Inline skating an excellent aerobic activity for people of all ages. Six important health benefits will result from a regular program of inline skating activities. Muscle endurance and strength will improve, flexibility will increase with a little help, body composition will change due to calories burned, cardio and respiratory endurance will increase, balance and coordination will improve and mental clarity and connectivity will get better. These improvements will carry over to other activities in your life, too.

Inline skating provides aerobic benefits that compare to running and biking and delivers a better cardiovascular workout than stair-stepping equipment. The anaerobic benefits are actually better than running or biking, because it provides a natural and smooth side-to-side movement that exercises adductor (inner thigh) and abductor (buttocks) muscles that may be ignored by other activities. Just 20 to 30 minutes of additional inline skating activity each day will help your body become physically stronger and lower the risk of heart disease. It also has low impact advantages and generates up to half the impact shock to joints, ligaments and tendons that running creates.
You can skate your way to improved mental health, too. Consider your skating exercise activities as an opportunity for much-needed mental quiet time. Choose scenic skating locations or good company to help brighten your mood, and let your workout shift your body's chemical balance for a naturally induced feeling of well-being.

Since it's fun and provides opportunities for socialization and networking, most fitness and recreational inline skaters roll for longer periods of time than participants in other similar activities. This extra skating time will increase the effectiveness of all of the fitness and mental health benefits listed below.
: