We are the AlNiCo Permanent Magnets,alnico permanent magnets,alloy magnets factory!

AlNiCo permanent magnet.
1. Many Grades: AlNiCo2/5/8/9
2. High working temp: 450-550 degree
3. High energy and relatively low coercivity
4. Excellent ability to withstand extreme temperatures stability
5. Widely used in instruments and meters: volt-amp meters; watt bour meters; medical instruments.
6. Products manufactured according to ISO9001 quality system.
7. The magnetic properties are very stable in chance of the temperature (-0.02%/°C for Br)
8. The max operation temperature is 550 degree centigrade.It is ideal for the high temperature applications.
9. The magnet has good corrosion resistance.
10. High mechanical strength
11. Various shapes and sizes or according to customers' request
12. High quality with competitive prices.
13. Used in different applications,such as speaker,mobile odometer,eletricitymeter,watermeter,eletricity motor switch adhesion sensors and so on.


Quick Information
Permanent magnet alnico is an alloy magnet. We have sintered permanent magnet and cast alnico permanent magnet.
Related attributes of alnico permanent magnet:Place of Origin: Zhejiang China (Mainland)Brand Name: CREMModel Number: alnico 2, alnico 5, alnico 8Type: PermanentComposite: alnico permanent magnet materialShape: customizedApplication: Industrial Magnetmagnetization: magnetized
Packaging & Delivery
Packaging Details:air packing, sea packing, standard export packing.Delivery Time:depend on quantity
Detailed Description
Detailed introduction to alnico permanent magnet:
alnico permanent magnet:
Alnico magnet has remarkable resistance against corrosion and high temperature, we usually produce alnico permanent magnet without coating, alnico magnets are mainly used in certain precision instruments.
If you are interested in our alnico permanent magnets, please tell us the information below:
Material: permanent magnet alnicoShapes and sizes: Various such as block, disc, cylinder, ring, ball, arc, segment, can custom permanent magnet as per your drawingGrade of sintered alnico magnet: FLN8-FLNGT42 (or alnico2-alnico9)Grade of cast alnico magnet: LN9-LNGT72 (or alnico2-alnico9)Magnetization direction: Through thickness etc.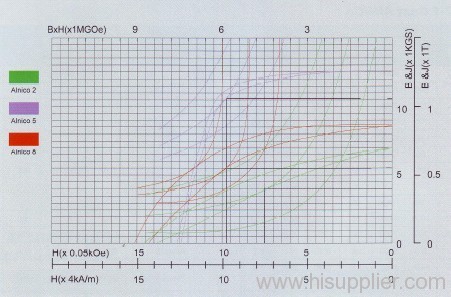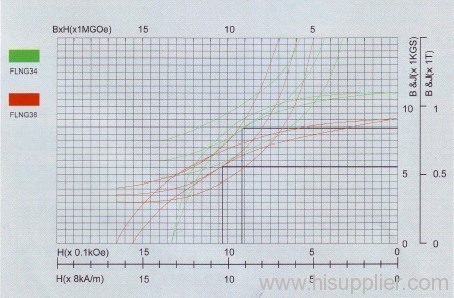 MAGNETIC CHARACTERISTICS AND PHYSICAL PROPERTIES
Sintered AINICO Permanent Magnets(alnico permanent magnets)

Grade
(BH)max
Br
Hcj
Hcb
D
α Br
Tc
Remark
KJ/cm3
MGOe
mT
Gs
KA/m
Oe
KA/m
Oe
g/cm3
%/k
℃




FLN8
8-10
1.0-1.25
520
5200
43
540
40
500
6.7
-0.020
760
Isoropic
FLNG12
12-14
1.5-1.75
700
7000
43
540
40
500
7.0
-0.014
810
FLNGT14
14-16
1.75-2.0
570
5700
78
980
76
950
7.1
-0.020
850
FLNG28
18-22
2.25-2.75
600
6000
107
1350
95
1200
7.2
-0.020
850
Anisotropic
FLNG34
28-33
3.5-4.15
1050
10500
47
590
46
580
7.2
-0.016
850
FLNGT28
34-38
4.3-4.8
1100
11000
51
640
50
630
7.2
-0.016
890
FLNG38J
38-40
4.75-5.0
730
7300
163
2050
151
1900
7.2
-0.200
850
FLNGT38
38-42
4.75-5.3
800
8000
126
1580
123
1550
7.2
-0.020
850
FLNGT42
42-48
5.3-6.0
880
8800
122
1530
120
1500
7.25
-0.020
850
Cast AINICO Permanent Magnets

Grade
Equicalent
MMPA Class
KJ/m3
MGOe
mT
Gs
KA/m
Oe
g/cm3
%/K
Tc
Tw
Remark
LN9
AlNiCo1
9.0
1.13
680
6800
30
380
6.9
-0.03
760
450
Isoropic
LN10
10.0
1.20
600
6000
40
500
6.9
-0.03
760
450
LNG12
AlNiCo2
12.4
1.55
720
7200
45
500
7.0
-0.03
810
450
LNG13
13.0
1.60
700
7000
48
600
7.0
LNG34
AlNiCo5
34.0
4.30
1200
12000
48
600
7.3
-0.02
860
525
Anisotropic
LNG37
37.0
4.65
1200
12000
48
600
7.3
LNG40
AlNiCo5DG
40.0
5.00
1250
12500
48
600
7.3
LNG44
44.0
5.50
1250
12500
52
650
7.3
LNG52
AlNiCo5-7
52.0
6.50
1300
13000
56
700
7.3
LNGT28
AlNiCo6
28.0
3.50
1000
10000
58
720
7.3
-0.025
860
550
LNGT36J
AlNiCo8H
36.0
4.50
700
7000
140
1750
7.3
-0.025
860
550
LNGT32
AlNiCo8
32.0
4.0
800
8000
100
1250
7.3
-0.025
860
550
LNGT40
40.0
5.0
800
8000
110
1380
7.3
LNGT60
AlNiCo9
60.0
7.50
900
9000
110
1380
7.3
-0.025
860
550
LNGT72
72.0
9.00
1050
10500
112
1400
7.3