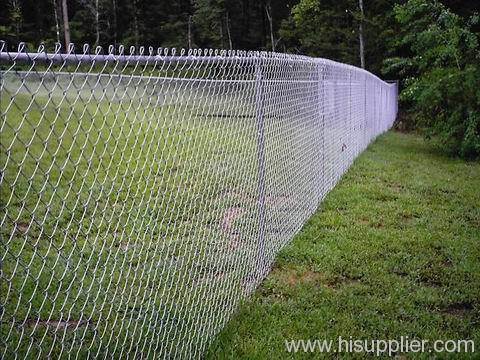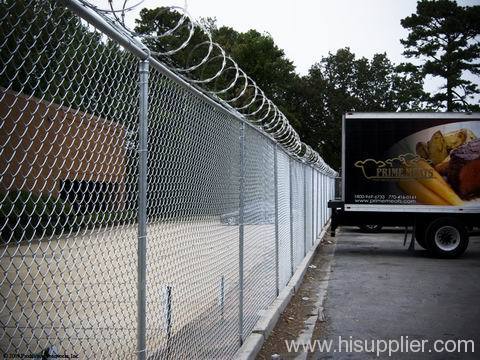 We can supply various
chain link fences
for customers, mainly
galvanized chain link fence
, stainless steel chain link fence and PVC coated iron chain link fence.
Galvanized chain link fence is the most popular and economic cost type.
Material for Galvanized Chain Link Fence: First-class galvanized iron wire.
Applications: Chain link fence is mainly used as fences for playground and gardens, super highway, railway, airport, port, residence, etc. Chain link fence is also used in breeding of animals
Features and Benefits:
Galvanized chain-link fence systems are commonly used because they're durable and easy to install.
All steel components of a galvanized chain-link fence system are hot-dip zinc coated and guaranteed with a 12 year coating warranty.
Zinc is an element that's applied to steel in molten form, creating a coating that protects the steel from rusting.
Many of the fittings used in commercial fence systems are made from malleable steel and cast iron for durability.
Ties used to attach the chain-link fabric to the framework between terminal posts are made from aluminum, resulting in maintenance-free security.
Mesh Opening of Chain Link Fabric

Wire Gauge (BWG)

Fence Weight
(kg/m2)

1/2"

14

4.4

3/4"

12

6.0

3/4"

14

3.3

3/4"

16

1.9

1"

12

4.0

1"

14

2.4

1"

16

1.4

5/4"

12

3.2

Mesh Opening of Chain Link Fabric

Wire Gauge (BWG)

Fence Weight (kg/m2)

5/4"

14

1.92

3/2"

10

4.0

3/2"

12

2.7

3/2"

14

1.6

2"

8

4.16

2"

10

3.0

2"

11

2.5

2"

12

2.0