Air fitness stepper/ air climbing stepper (HJ-712)
CE approved, ROHS
The Brand New Air stepper Climber makes Exercise Fun!!
Now get cardio, weight loss and tighter abs and core while you step on air with new Air stepper Climber System. It's the fun workout that uses air to eliminate impact, while each step lifts and shapes toned legs while you burn crabs. Plus, exciting workouts combine fat burning, total body toning and an ab workout, for even faster results!
Packing: 1pc/ctn
N.W. /G.W: 8.0kg/10.0kg
Carton dimensions: 64 x 53.5 x 28cm
Assemble Size: H58xL58.5xW25.5cm
Container:
376pcs/20' FCL;
800pcs/40' FCL;
880pcs/40' HQ
Main Fetures:
The Air Climber is an aerobic stepper that uses air to provide low-impact resistance.
The Air Climber system comes with an eating and workout plan.
It will gives you a good leg and can exercise your shoulders and arms at the same time,with the the stepper, as well as the fact that your heart rate stays up throughout the entire workout.
The Air Climber can also be used with resistance bands for upper and lower body exercise.

The AirClimber is proven to use up to more than 950 calories an hour!
The AirClimber reduces stress and impact even when compared to powerwalking.
The AirClimbers advanced, air-powered design eliminates the pounding, jarring impact your body feels when power walking and running.

Maximum User Weight: 300lbs

Each package includes:
1. Air climber Machine
2. Rubber Ropes
3. English User Owner' s Manual
4. Weight Loss Meal Plan
5. Reduced Fat & Calorie Eating Plan
6. DVD Guider in English

Packing:1PC/CTN
Carton Size: 58.5 X 49 X 26.5cm
G.W.: 8.0kgs
N.W.: 7.0kgs

Delivery Time: 7-10 days
Conveyance:
Qty/20' FCL: 370 pcs
Qty/40' FCL: 765 pcs
Qty/40' HQ: 895 pcs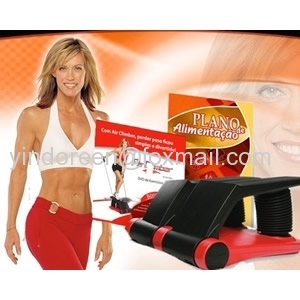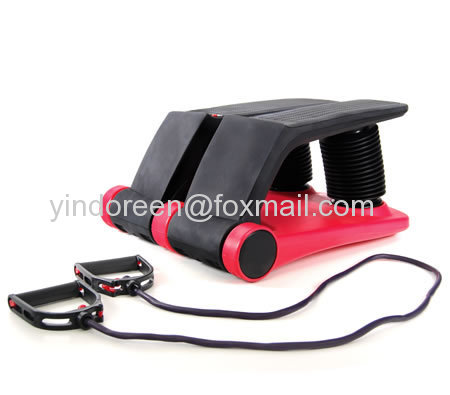 ·Step and climb your way to fitness with the Air Stepper Workout Climber Machine. This fitness equipment is the fun workout solution providing an easy air workout in a small and compact size. Combined with a healthy eating plan you will see results and weight loss in as little as 20 minutes a day.
Utilising air power technology the Air Stepper minimising impact on joints and muscles while providing a high energy workout that firm and tones your body for sleeker and sexier thighs and buns. The air power helps to lift your legs during workout for an effective, lower impact workout. Every step on the Air Stepper inflates the bellows which reduces impact on joints compared to conventional stepper machines. What it means is you can train for longer periods without the tired and sore painful feeling afterwards.
The Air Climber tones up to seven of the most important muscles groups of your body that firms and burns while combining toning and an ab workout together. Use the ab fitness exercises that combine cardio with unique upright ab moves that will slim down your waistline and give you a rippling six pack without the need to get down on the floor for boring and painful crunches.
The Air Stepper has an adjustable control that lets you select your ideal resistance making it great for beginners and intermediate alike. Stepping resistance can be adjusted with the dial from 1-5. The greater the number, the higher the stepping resistance. The Air Stepper is also easy to inflate, simply press down on the button and gradually lift the step to fill with air.
The Digital Training Computer (included) lets you monitor your workout and tracks your workout statistics. The included hand cords offer resistance for upper body toning. Exercise machine comes with an owner's manual and training guide. Get in shape today easily and effortless with the Air Stepper Climber today!
*Note: Please make sure that the air climber is on a flat stable non-slip surface when being used. Air Climber has a max weight capacity of 300 lbs (pounds). Always remember to train within your fitness limit for a safe effective workout.