stainless steel braided brake hose
SIZE: 3.2MM*7.5MM
Material: stainless steel wire braided ptfe inner tube brake hose
---Product Display---: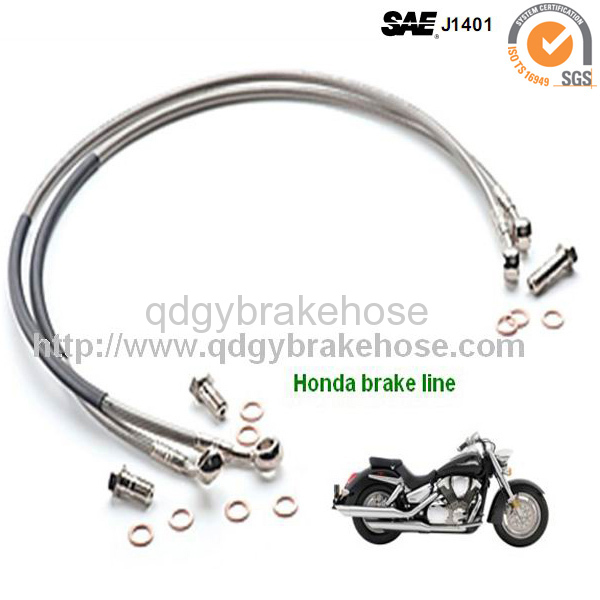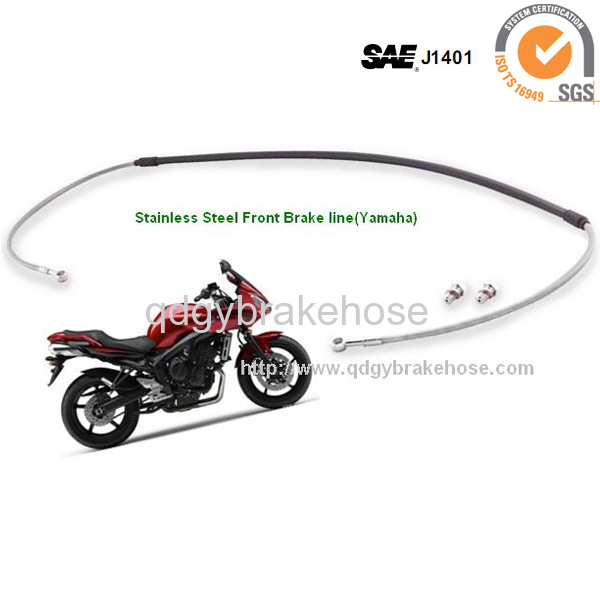 ---Product Description---

Stainless steel braided Teflon brake hose Specifications:
QDGY Part NO.

Inner Diameter

Outer Diameter

Outer layer

Stainless steel braid

Inner layer

GSG020

1/8"(3.2mm)

0.413"(10.5mm)

PVC

304 stainless steel

Teflon/PDFE

GSG026

3/16"(4.8mm)

0.492"(12.5mm)

GSG028

1/8"(3.2mm)

0.255"(6.5mm)

no covering

GSG024

3/16"(4.8mm)

0.3"(7.6mm)
Stainless steel braided Teflon brake hose Features:
304 stainless steel braid reinforced hose

Meets FMVSS-106 and SAE J1401 specifications

Every brake hose pressure tested to 3000 psi( 207 bar or 20.7Mpa )

Burst pressure:minimum 7250 psi ( 500 bar or 50Mpa )

Temperature range -73°C to 232°C

Compatible with DOT3,DOT4 and DOT4+ brake fluides

Avaliable PVC color covering :




Application:

For use in braking system of the vehicle.

These Hoses are teflon lined and are compatible with all brake fluids and feature a braided stainless outer covering to resist abrasion and corrosion. These lines are designed to withstand high pressure and are very flexible and can be used in the tightest of situations. These hoses can be used for many other applications such as gauge, turbo and vacuum lines
--Main Products---
brake hose,brake hose assembly
brake line ,brake line kit
rubber brake hose,fitting,assembly
Teflon/PTFE S.S braided brake hose
Teflon/PTFE S.S braided brake line
Teflon/PTFE S.S braidd brake line kits
Air brake hose,air brake hose assembly
bundy steel tube and assembly
Female & male fitting ,banjo fitting,bolts & nuts.etc
Related matel accessory & rubber accessory
brake hose fittings,male fitting,female fitting,banjo fittings,banjo bolt,
hose connector and joints
For a quick respon and quotation,kindly tell your OE Number,quantity,material request in your mail.
Any market request,any logo acceptable ,free sample,leave an inquiry to know more details about Price,Packing,Shipping and Discount.
Company Website:http://www.qdgybrakehose.com,http://qdgybrakehose.en.alibaba.com explore for more product information.
---Packing & Shipping---
QDGY common package: PVC bag in carton box with QDGY logo
Welcomed special package request,single packing,tasteful degined package are ok.Only little cost of special package.
Lead time:
For fitting: common fitting within 30 days;special fitting within 40 days.
For brake hose: wihithin 20 days.
For brake hose assembly: within 40 days.
Please noted: Exact lead time is based on details order ,please contact with us for the details information.
Shipping:
Qingdao port(Chingtao port) is only about 30 minitues from our factory.
Qingdao airport is only about 40 minitues .
Conveniently by air or by ocean with cheaper freight fee.
--Our Service---:
Sample:
Free samples are available by freight collect within 7 days.
Warranty:
1.Quality:All products confirm SAE J1401 standard,and 100% teseted before shipping .Safe for user.
2.Guarantee:3 years.Any technical problem will under maintenance.
Market:
Delvery:
| | |
| --- | --- |
| Qty/pcs | Delivery Time/day |
| 500~1,000 | Within 30 days |
| 1,000~10,000 | Within 15 days |
| More than 10,000 | Within 20 days |
---FAQ---
Q1: Waht kinds of main rubber hose can product?
A: Rubber brake hose,EPDM brake hose,Hydraulic brake hose,Hydraulic hose,water hose,fuel& oil hose,Brake hose,Stem hose,SAE J1401 brake hose,DOT 1/8" brake hose,stainless steel braided brake hose,teflon brake hose,teflon s.s braided brake hose,OE No. brake hose,Flexible brake hose,Performance competition brake hose...
Q2: What size of brake hose can you supply?
A: common size: 3.2x10.5mm(1/8");4.8x12.5mm(3/16")
Special size: 3.2x11mm...or your request size
Q3: Can you print the words(line) as our requirement?
A: Yes,we do provide embossed and printing marking with different color ,as your requirement.
Q4: What kinds of fitting can product?
A: All kinds.Female fitting,male fitting,banjo fitting,adepter brake hose fitting,bolts and nuts,steel with zinc ,chrome,nickle...stainless steel,brass...
Q5: How many types of brake hose do you product?
A: Brake hose,Teflon braided brake hose,PTFE stainless steel braided brake line,Steel tube,Bundy tube,Steel tube assembly,Brake hose assembly...
Q6: What is my order's delivery date?
A: It usually takes 5-40 days,which generally depends on your order quantity and our storage.Details information ,kindly please feel free to contact with us,or visit our website www.qdgybrakehose.com,we will reply you within 24 hours.

---COMPANY INFORMATION---

Qingdao Guosong Machinery Parts Co.,Ltd first began brake hose & fitting & assembly operations in China in 1996.The premier OEM's rely on the service ,quality and performance of the brake hose assemblies.QDGY has the capability to design and provide complete validation testing to the customers requirements.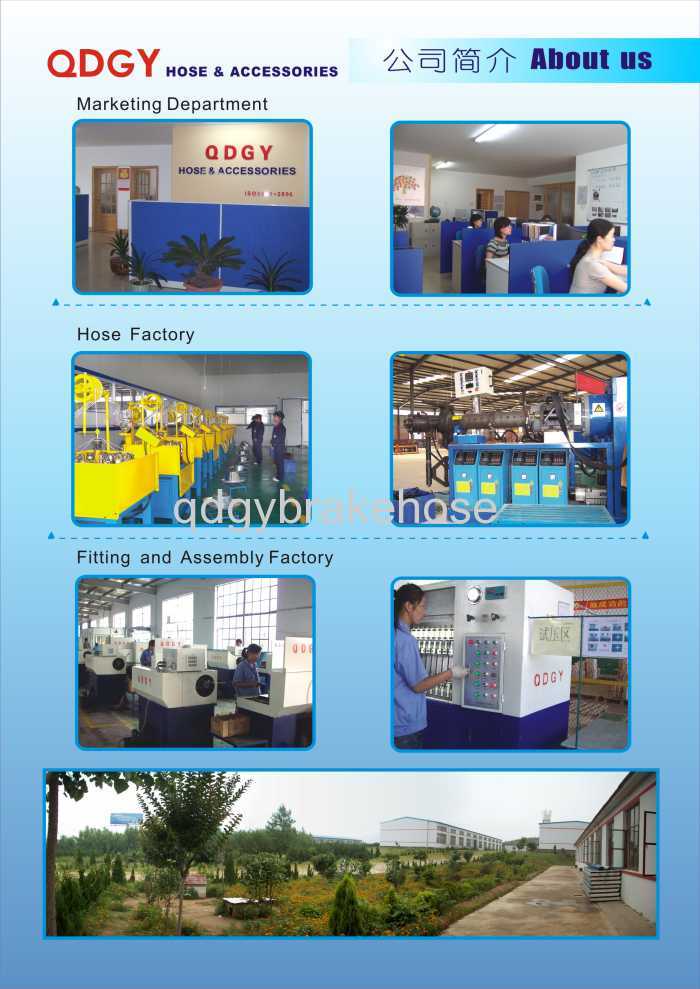 Welcome to visit our website:
--CONTACT US---
Best Regards,
Rita He
Sales Manager
empolder(at)qdgybrakehose.com

Qingdao Guosong Machinery Parts Co.,Ltd
#16-1-301 Huada Mansion,
No.6 Yaner Dao RD,266071,
Qingdao China
Tel: +86-532-85779141 Fax: +86-532-85760225
MSN: qdgy_rita(at)hotmail.com Skype: qdgyrita
Website:http://www.qdgybrakehose.com
alibaba website: http://www.qdgybrakehose.cn
QDGY is resourceful for brake hose,brake hose fittings and banjo bolts and nuts ! welcome you to visit our company website or Alibaba homepage !

--------------------------------------------------------------------------------
To supply safety&credit to all the customers