Euro Welded Fence




Euro Fence is also called holland fence or eurofence is a type of welded fencing.

1.Euro Fence Material:Low carbon steel wire, PVC coated wire.
2.Euro Fence Processing:PVC coated after welding of steel wire. Electro galvanizing, hot-dip galvanizing or PVC coating can be done separately.
3.Euro Fence Application:Euro fence is used as fencing, decoration or protection for various facilities in industry, agriculture, infrastructure, transport, etc.
4.Euro Fence Property:Good corrosion resistance, antiaging, nice appearance, easy and quick installation.
5.Benefits:

High rigidity
Heavy welded mesh panels with rectangular meshes and horizontal reinforcements guarantee a very high level of rigidity
Complete system
The system consist of panels in various heights supported by several types of posts, each with a specific fixing system.
All types are available with adapted accessories.
Long life time
The coating technology of welded panel assures an extra long life.
Fast installation
All components have been developed to provide a professional product of high quality that can be installed efficiently and rapidly.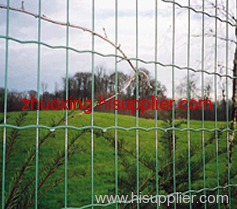 Special specifications can be produced by clients' requests.