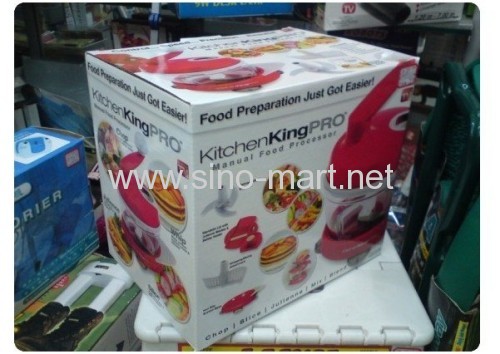 Easy to clean
Dishwasher safe
Suction cup base
Comes with 7 additional add-ons
The Suction Cup Base makes it stable on all surfaces and countertops, Easily make salads, chop and dice vegetables, and slice fruit.
The revolutionary new Kitchen King Pro Manual Food Processor makes food preparation fun and easy!
The bowl locks in to the base which gives you unbelievable leverage when you chop, dice, and or spin your food. Make salads, chop onions, even cut apples! Use it as salad spinner to even clean your fruits and vegetables.
The kitchen king pro is easy to clean.
Replace your bulky kitchen appliances with this compact and versatile 5-cup manual food processor. It chops, slices, dices, spins, and mixes just about everything--all for an incredible price.
Chop all your ingredients in one step using the tri-blade. Fit the blade in the bowl, fill the bowl with ingredients, and lock the lid into place. To turn the blade, spin the angled handle.
In about 10 to 12 spins, you can dice onions, tomatoes, and peppers, for fresh salsa--even make egg salad, tuna salad, and more. You control the texture, so food doesn't get pulverized. Plus, your fingers are away from the blade.
Slice. Switch between a built-in mandolin and julienne slicer using the revolutionary mandolin lid. There are no sharp blades to change or store. Just lock the lid on top of the unit and choose your setting. The food goes right into the bowl--no cutting board or countertop to clean.
Thin slice cucumbers, radishes, and other salad or casserole ingredients; medium slice lemons and garnishes; and thick slice tomatoes. Every piece is uniform for even cooking and professional-looking presentation.
Use the julienne setting for grating carrots or making perfect fries. The included hand guard helps protect your fingers.
Spin. Place the salad spinner in the bowl. Add lettuce, herbs, or berries, then lock the lid into place. As you turn the handle, the spinner draws water out toward the sides of the bowl.
Mix. Combine pancake and waffle batter to the right consistency. You can even use the built-in egg separator to whip up a healthy egg-white omelet. It's also great for dips and sauces. Use the included spoonula for tasting, scraping, and serving.
You can also prep your food the night before. Fit the bowls with the storage lids, and stow them in the fridge for use the next day.
The unit is compact enough to use at home, in your RV, or on your boat. The nonslip suction-cup base keeps it secure. Prep, store, and serve your favorite dishes this season and all year round. From Kitchen King.
The unit is easy to clean and easy to use, making it the perfect cooking companion!

Includes:
1 Kitchen King Pro Unit
1 Stainless Steel Tri-Blade
1 Whipping Blade
1 Mandolin Lid
1 Safety Holder
1 Wiping Blade
1 Saftey Suction Cup Base
1 Gourmet Recipe Book