High-Tensile Barbed Wire

high tensile barbed wire can be single twist high tensile barbed wire and reverse twist high tensile barbed wire.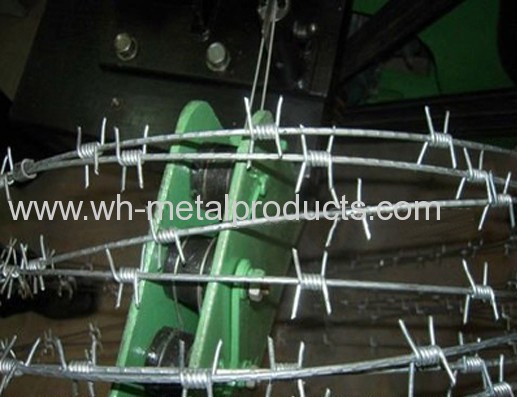 single twist high tensile barbed wire, which is mainly woven with high-tensile steel wire, belongs to a kind of popular modern security fencing material.
Line wire: 2.5mm-3.0mm high tensile round steel wire, tensile strength of 1350MPA-1550MPA. Mild steel wire single twist barbed wire also can be supply.
Barb wire: 2.0mm-2.5mm mild steel wire, four sharp points.
barb space: 75mm+/-5mm,100mm+/-5mm.
as the customer request, concertina barbed wire coil with clips, ground Pin, carry handle all can be offered.
Most popular High tensile strength barbed wire is manufactured from 2 strands of 1.6mm/1.8mm high tensile steel wire with a medium zinc/class3 heavily galvanized coating for improved durability and extended life.
High tensile strength barbed wire, sustainable and light weight .
15.5g (1.70mm)high tensile barbed Wire is directly comparable to 12.5g (2.50mm) low carbon steel barbed wire, but it requires less maintenance and is more cost effective.
Our Barbed Wire is made of high tensile steel wire. This means we can use a smaller diameter wire while maintaining the same strength as conventional barbed wire. this product is also is made with Class 3 galvanized coating which is proven to last three times life longer than class 1.
The reverse twist design reduces sagging, eliminates the need for pre-stretching and allows for increased post spacing. All of which will save you time, money and maintenance headaches.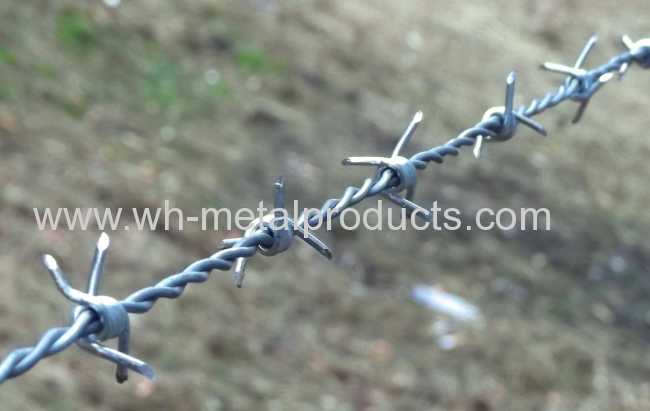 high tensile barbed wire specification:
wire diameter: 15GA,15.5GA,16GA ,17Gauge,4" barb space,5" barb space
2 strand,4 points, minimum breaking load 1000kgs(1000-1350N/MM2)
heavy galvanized, Class 3 zinc-coated,
Packing: 200meter/roll, 250meter/roll, 500meter/roll
reverse twist barbed wire application:
For use in cattle and livestock fencing, land fencing, crop protection, and home and business security fencing aid. Features extra and uniformly zinc-coating, heavy-duty galvanized, extra sharp wires, Class 3 zinc-coated. No stretching required when installing. Barbs fixed between wires. Extreme weather-resistant. Easy-to-install on any kind of surface. Resistant to cattle impact. Meets ASTM-A-121. Class 3 (corrosion-resistant).