storage rack is used in Industrial warehouse and cold store drive in pallet racking.
Dongguan Shinestar storage rack, is also called the drive-in racking (drive-through racking), which is composed of upright frame group, arm, pallet support rail, top beam, and connecting top haul, back haul etc. The forklift can drive into the storage area. Since only the main aisle is laid out, the usage rate of the warehouse is rather high, especially it is widely used in the low temperature cold chain logistics, drink, milk products and other fields.
The plane layout type is divided into one-way direction and two-way direction layout, generally for the single item layout, it is appropriate not to exceed 6-7 depth positions. The guide rail can be set up. The weight bearing shall not exceed 1000-3000kg/pallet location, and the height shall not exceed 10 meters, the storage layers shall not exceed 6.
The transport type shall adopt the forward moving type forklift or counterbalance forklift, also the electrical pallet truck can be adopted, the adoption of this type shall not be limited by the depth amount or the pallet specification, therefore the usage rate of the warehouse can be greatly increased.
Detailed description of storage rack (drive in racking) and necessary information from customers
1, very high utility ratio of warehouse;
2, goods can be first in first out or first in-last out;
3, structural steel constraction for durality.
4, pallet position configure from 2-7 deep and 2-7 high to roofing.
5, Finish: powder coating;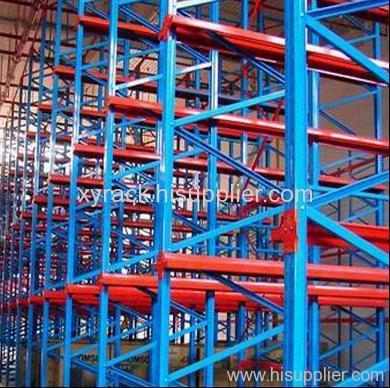 Required information from customers for quick quote:
1, the AUTOCAD drawing or draft drawing of warehouse or racking;
2, the size of the warehous, length, height, and width,
3, how many layers of the racking?
4, your pallet size
5, max weight of pallet with cargo on
6, special color requirement.