LED lighting pick up magnet flashlight
Not only used to be a flashlight,but also could help you to pick us stray pins,screws,key rings and others.

Extendable Magnetic Flashlight
Its bright, 3-LED light illuminates dark areas, and its powerful magnet picks up stray pins, screws, key rings, and other metal objects in hard-to-reach spots. Extends to up to 22 5/8 feet. Made of sturdy aluminum alloy. A perfect gift for construction workers, crafters, and hobbyists.
Material: Aluminum alloys
Size
Overall size:D22*170mm
Length of Handle:120mm
Length of antenna:310mm
Length of neck:60mm
Length of head:60mm
It could to extend to 550mm
Component
Magnets:There is a ring magnet at the head of the flashlight, and a disc magnet at the bottom of the flashlight. It could lift up to 5 pounds about 2.2 kgs
3 LED bulbs (11000-13000mcd)
4 LR44 batteries
Rubber press-button at the head part (OFF/ON button)
Weight: 98g (including the batteries weight)
Characteristics:Beautiful apperance,lightweight.
Convenient operation and being portable.
Not only used to be a flashlight ,but also could help you to picks up stray pins, screws, key rings, and other metal objects workshop,warehouse... ... such in hard-to-reach spots.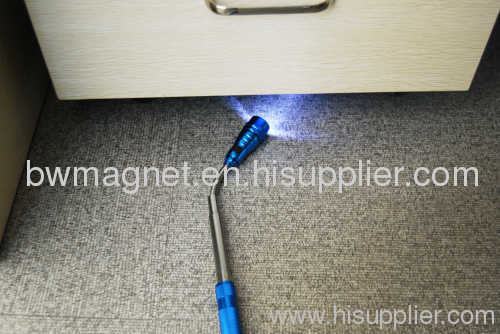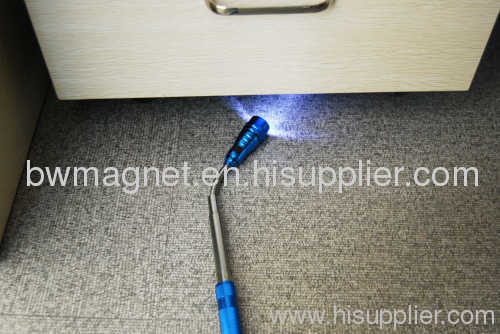 Welcome to contact us to know more .

Ningbo Bestway Magnet Co., Ltd. is located in Ningbo, China, and was established in 2000. We manufacture various of magnets. We specialize in: magnet balls (Neocubes), sintered NdFeB magnets, bonded NdFeB magnets, alnico magnets, SmCo magnets, ferrite magnets, rubber magnets, and some magnetic machinery.