Model No.: EMK-LH41SSLE
Model Name: 6 LEDs Linear Lighthead
The EMK-LH41SSLE is a compact, surface-mounted warning light which utilizes generation III LINEAR LED technology. Each light is powered by six 1-watt diodes. Meanwhile it has multiple flash patterns which selected by user via a control wire located on the rear of the light.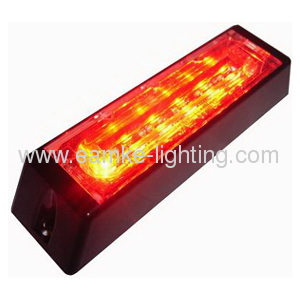 Specifications
Voltage: 12/24 VDC
Current: 0.7 Amps/Max.
Patterns: 25
Fixed Form: surface-mounted and screw-mounted
Functions: pattern, hi/low power, sync switch
Waterproof designed
Colors: Red/Amber/Blue/White/Green or combination
Connector: 4 wires (red/black/yellow/white)
Can be synchronized to work together with other LUMINOUS STAR lights