Product name: high power outdoor LED Wall Washer Lighting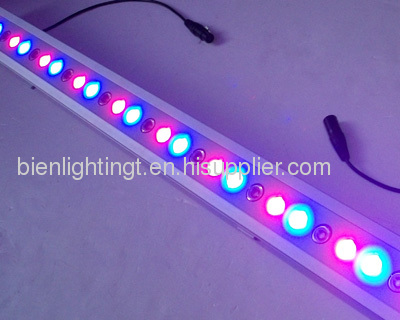 Application of this
induction wall washer light
:
——
Product name: high power outdoor LED Wall Washer Lighting

Input voltage: 24VDC
Power: 18W, 36W or 72W
Rows of LEDs: two row
LED Qty: 72pc 1W; 36pc 1W or 18pc 1W high power LED
Color: R/G/B/Y/CW/WW/RGB
Beam angle: 15, 30, 45 DEG
IP rate: IP65
Features:
1. RGB Color Mixing (256 Gray Scale) or Single color
2. 5 Channels DMX512 and 31 Preset Programs
3. Material: Oxidized Aluminum, Die-casting Cover
4. RGB color mixing (256 Gray Scale) or single color
5. Powerful Ventilation
6. High precision Constant Current Adapter to last the life of LED
7. Digital Display
8. Waterproof: IP 65
9. Easy for installation and maintenance
10. Solid-state, high shock or vibration resistant
11. Lower power consumption, energy saving.
12. No UV radiation.
13. No mercury
Application:
1. Bars, restaurants, clubs, hotels, stages
2. Road, Bridge
3. Historical and modern buildings
4. Museums, art galleries
5. Sculptures and plastic arts
6. AD board, architectural lighting, garden, street and civilization plaza etc.