Product name:Elaborately Hand Painted Large Square Purple Silk Scarves for Women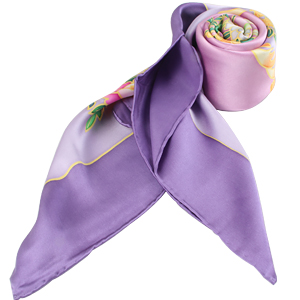 1. Feature:All of our pure silk scarves are made by 100% MULBERRY SILLK which is nature fibrin,soft and comfort,caring skin and strengthen body merits.The procedures of producing silk scarves in modern times have became much more complicated and elaborate. For example, a silk scarf has to go through theme designing, pattern designing, color arranging, painting,and many other procedures before it enters the market.(Tips:In order to maintain the adventage of pure silk fibrin ,please using warm water and mild scour to knead when washing.Never insulate under the sun or hightemperature,and iron when dried.)
2. Material: 100% Natural pure silk
3. Size: About 108*108cm
4. Shape: Square
5. Craft:Elaborately Hand Painted;
6. Design:Painted Floral;
7. Style:unisex;
8. Season: any season is ok;
9. Hemming:Machine hemmed;
10. Delivery by DHL, TNT, EMS etc, delivery time is 3~15 days.

The More ways usage of silk scarves:
Normally,you can tie it as the type of the neck wrap,the ascot wrap,the bow tie, the butterfly wrap, and the casual knot,that is just random,casual and sometimes maybe it will the Natural beauty and can be make you the trendy of fashion. Novel ways of using silk scarves including decorating them onto clothes, using them as kerchiefs, watchbands and even accessories on handbags.
Follows are the The detailed picture of Pure Silk Scarves 108×108cm Printed Medium Square Silk Scarf Shawls
Products Category

1. Fashion Designer Jewelry,Jewelry Sets,Earrings,Necklaces, Pendants, Bracelets, Bangle,Rings,Charm Beads,Eyelashes, Masks, Feather Hair Extensions, Hair Band/Clip,Other Jewelry;
2.CostumeJewelry,European Jewelry,Basketball Wives Jewelry ,Shamballa Bracelet Jewelry, 925 Sterling Silver Jewelry,Crystal Jewelry,Pearl Jewelry,Alloy Jewelry,Wood Jewelry,Leather Jewelry,Feather Jewelry,Handmade Jewelry,Korean silk necklace Etc;
3.Cell Phone Accessories,Cell Phone Cases,Earphone Jack Plug Charm,Phone Speaker Amplifier Etc;
4.Silk Scarves,Pashmina Scarves,Shawls Etc
Hair Extension Kits, Jewelry component ,Jewelry supplies.
Customization Is Welcome!