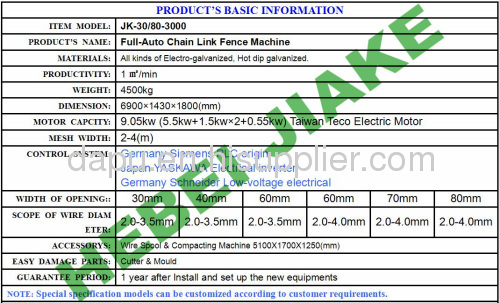 Diamond fence machine (Perfect Quality)
The popularity of chain-link fence is due to its relatively low cost and easy of installation. A further advantage is that due to the open weave, chain-link fences are transparent, and do not obscure sunlight from either side of the fence. If a semi-opaque fence is desired, this can be achieved by the insertion of slats into the mesh. Chain Link Fence are widely use in animal husbandry, sports place, road greening defense, highway barrier, airport, port, residence, etc.
Full Automatic Chain Link Fence Machine's features are using International famous brand fittings, to realize full-automatic production. The raw material consumption is low, also saving manpower and time. One person can operate few machines.
Chain link machine for machine for manufacturing chain link fences of different sizes. The wire is taken in from the payoff stand and passed through the dies where the DIAMOND SIZE takes place. Different gap sizes. After passing from the die the diamond pattern wire is automatically thrown on the winding shaft in the stitching process. Once the stitching is complete the woven is manually glided down to enable the next stitch to take place.