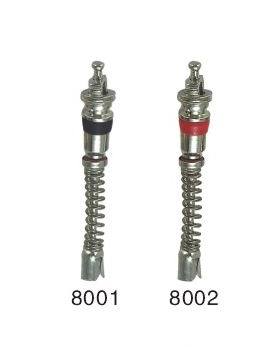 tire brass valve core

Specifications:
1.Tire valve accessories: tire valve core
2.we will offer your the best quality with reasonable price.
3.fastest delivery time

We have a full range of auto / automobile air condition (A/C) products for GM, Chevrolet, Buick, Cadillac, Ford, Dodge, Jeep, Chrysler, Honda, Toyota, Nissan, Hyundai, Acura, Daewoo, Geo, Isuzu, Kia, Lexus, Lincoln, Mazda, BMW, Mitsubishi, Volkswagen, Volvo and so on. Please let us know your specific requirements, I will send you the correct products.

And also, we carry one of the most complete and comprehensive line of replacement car / automotive air condition (A/C) parts, including condensers, evaporators, compressors, expansion valves and control valves, pressure switches, radiators, accumulators and receiver driers, evaporator assemblies, hose assemblies and fittings, orifice tubes, air filters, electronic fans, blower motor, clutches and bearings, compressor oil seal, orings and gaskets, resistors, etc. If you need any auto A/C parts, please feel free to reach us.