Beam Clamp With Ring

1. Robust all-steel contruction with safety operation. Compact size with light, easy to install with minimum headroom.
2. 1-ton to 10-ton capacities.
3. For construction, commercial and industrial vertical or horizontal rigging operations.
Mount hoists or lift beams with portable lightweight clamp.
4. Adjusts with ease to fit a broad range of wide-flange H or standard I beams.
5. Clamp jaw designed to distribute the load away from beam flange edge.
6. Low headroom with built-in suspension rod.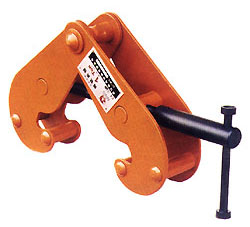 steel beam clamp
1. alloy steel
2. high quality
3. Easy and simple to install
4.Safe beam clamp
Precaution:
(1) Over loading is strictly forbidden.
(2)If the beam clamp is used as lifting machines, while lifting the load, passing or working under a lifting load is strictly.
(3)The direction of lifting or towing load must be perpendicular with base I-beam.
(4)Leading screw fastener screw etc. should be regularly.

Beam Clamp
1.Tiger beam clamp is suitable for the attachment to steel beams as a semi
permanent lifting point to be used in conjunction with hoist blocks, tirfors and
ratchet hoists etc.
2.The clamp can also be used for the lifting and transfer of steel beams and as a
pulling clamp.
3.The beam clamp is fitted with a screw spindle which allows easy adjustment and high
clamping force to the various flange sizes within its capacity.
4.The safety factor up to 5 times of S.W.L.
5.Low headroom because of the built-in suspension bar.