Product name:2W/2S (UW) 2 way brass (stainless steel) water normal open solenoid valve (larger aperture)
Modle number:2W160-15NO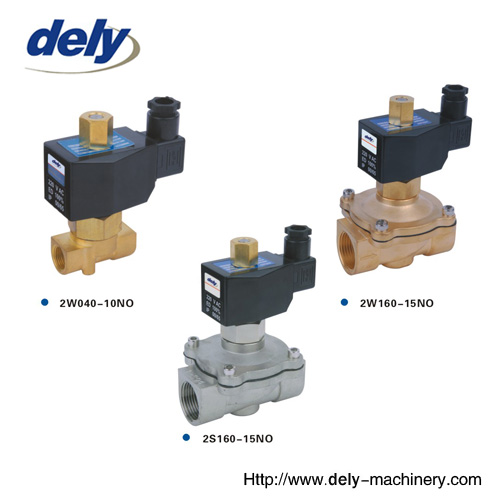 Symbol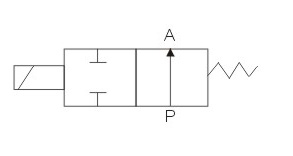 Ordering Code

| | | | | | | | | | |
| --- | --- | --- | --- | --- | --- | --- | --- | --- | --- |
| 2W | 160 | - | 10 | - | NO | - | AC110V | - | D |
| | | | | | | | | | | | | | | | |
| Specification Code | | | | | | | | | | Standard Voltage | | Wiring Form |
| 2W:Two-position two way solenoid valve(direct type) | Aperture of Flow Rate | | Joint Pipe Bore | | NO:Normal Open | | DC12V DC24V | | Blank:Lead Wire Type |
| 2S:Stainless steel two position two way solenoid valve(direct drive type) | 040:4.0mm 160:16mm 200:20mm 250:25mm | | 10:3/8 15:1/2 20:3/4 25:1 | | | | AC24V 50Hz/60Hz AC110V 50Hz/60Hz | | D:Join Connector E:Blast-proof Coil G:Water-proof Coil |
| | | | | | | | AC220V 50Hz/60Hz AC380V 50Hz/60Hz | | |

Overall Dimension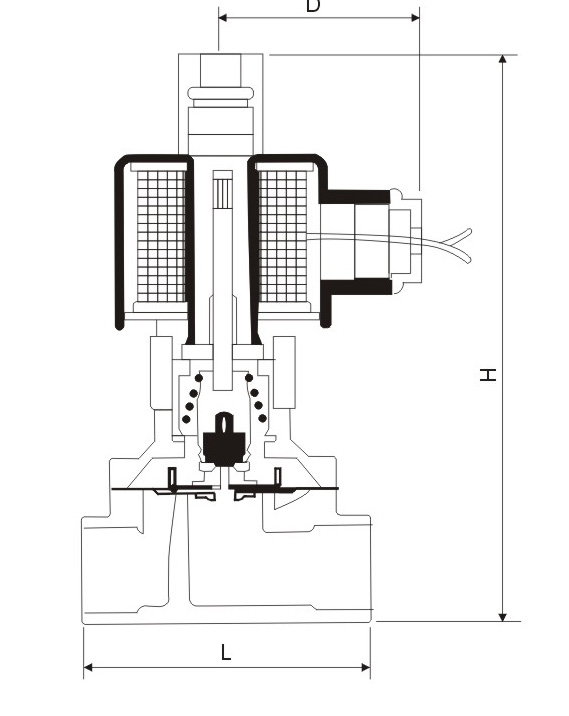 | | | | |
| --- | --- | --- | --- |
| Model | L | H | D |
| 2W040-10NO | 53 | 105 | 54 |
| 2W160-10NO | 69 | 116 | 62 |
| 2W160-15NO | 69 | 116 | 62 |
| 2W200-20NO | 73 | 127 | 62 |
| 2W250-25NO | 99 | 135 | 62 |

Specification

Model
Working medium
Motion Pattern
Type
Aperture of Flow Rate
CV Value
Joint Pipe Bore
Operation Fluid Viscosity
kgh/cm²Working pressure
kgh/cm²Max. Pressure Resistance
Operating Temperature
Voltage Range
Material of Body
Material of Oil Seal
2W040-10NO
Air Water Oil Gas
Direct Drive Type
Normal Open Type
4
0.6
3/8"
20 CST Below
Water Oil: 0~5MPa Air Gas: 0~7MPa
10.5MPa
'-5~80℃
±10%
2W: Brass 2S: Stainless Steel
NBR, EPDM or VITON
2W160-10NO
16
4.8
3/8"
2W160-15NO
16
4.8
1/2"
2W200-20NO
20
7.6
3/4"
2W250-25NO
25
12
1"

Company Profile:

FENGHUA KAIYANG ELECTROMECHANICAL CO.,LTD. specailly manufacturer and market hydraulic ball valve,hydraulic fitting,pneumatic control element,air source units,pneumatic execute element and pneumatic assistant element.We have passed ISO9001:2000 quality system authentication.With advanced technology and equipment,good quality,our products sale far to many countries.In order to meet more and more customer's requirements.
We always stick to the enterprise spirit"Quality First,Good Serivice,Mutal Benefit"