We specialize in the development and manufacturing of micro-motors. Our products are widely used in Home Appliances,
High performance, low mechanical noise, high output torque, and long life
Product Specification/Models
Model: 49TYJ-C-1
Rated voltage; 220/240V
Power consumption: <4W
Input current: <25mA
Rated frequency: 50/60Hz
Torque: >3.5kgf. Cm
Speed: 5/6R. P. M
Starting voltage: <176V
Insulation resistance: >100MΩ
Dielectric strength: 1500VAC/1min
Noise: <40dB(A)
Coil temperature rise: <60K
Insulation class: E CW, CCW, Free Application
Mainly used for wind guiding partof Air-condition, hand moving part of
Electric fan and heater, all kinds of craft work, lamps and lanterns and toys etc. All our products are qualified for certification of CCC, UL, VDE etc...
Other Information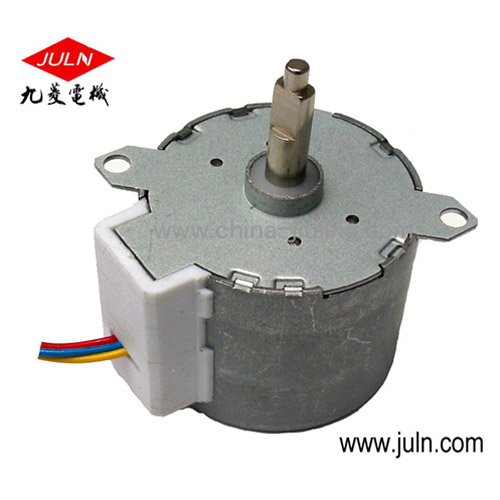 Working voltage & frequency, rotate speed, The output shaft and colour & length of conducting wire can be produced according to clients request. Special specifications & OEM orders are welcomed.
Welcome to our product page of Synchronous Motor, in which you can find detailed information of Synchronous Motor. Our Synchronous Motor is good in quality and competitive in price. We are manufacturer and supplier of Synchronous Motor. We export Synchronous Motor. We supply OEM service of synchronous motor for you. We would manufacture Synchronous Motor following your specific requirement. We are looking forward to your E-mail and establishing cooperative relationship with you! We would provide professional Synchronous Motor with good services for you!