LED dynamo flashlight with radio & alarm
1.WB/AM/FM Band
2.LED Flashlight
2.Hand Crank Powered,Solar Powered,USB Powered

Item No: BT-3208
-LED dynamo self-powered flashlight with FM radio.
-With hand cranking dynamo, it requires no batteries, no charge time. Simply wind it up for instant light.
-Built-in FM radio with volume control and earphone socket.
-It has blinking and siren function.
-Ideal for emergency, home, auto, camping & much more.

Specifications
1.WB/AM/FM Band
2.LED Flashlight
2.Hand Crank Powered,Solar Powered,USB Powered
3.Cell Phone Charger

Functions & Features:
. AM/FM radio with frequency display
. Extended antenna
. 2pcs super bright white LED
. Mobile phone charger
. Stereo amplifier
. MP3 player interface
. Real time clock display
. Can be powered three ways: DC/Cranking/Solar
. Battery type: LIR123A/3.7V/Lithium 600mA
. Brushless AC motor (more reliable and durable than normal DC motor)
. US made high quality digital radio IC
. Cranking 1 minute supports 30 minutes continuous lighting
. Non stop play in full sun
. Low power and charging indicator
. Blue LCD backlight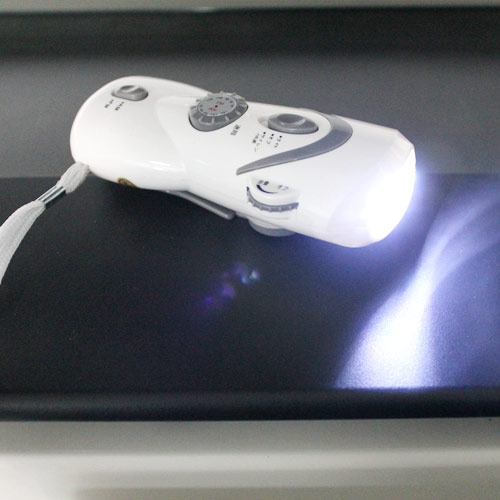 LED dynamo flashlight with radio & alarm