JIS F7354 Cast Iron Screw-Down Check Angle Valve 5K

Product Introducton
The products are used for controlling the medium to open and colse, preventing refluence in fuel oil, lubricating oil, water and steam piping at or under the Temperature of 205° C. The flange dimensions are according to JIS B2220 standard of steel pipe.

TECHNICAL SPECIFICATION
Manufactured in accordance to JIS F7400
Flanges as per JIS B2220 - 5K

If you are interested in our products and want to know more, please contact with us. We will reply as soon as possible.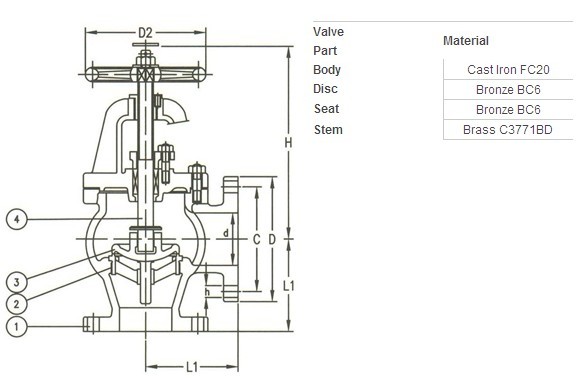 Overall&Structure Dimensions

IMPA
CODE
DN

L1
D
C
No. of Bolt Holes
h
t
H
D2
Kg
75 11 16
50
100
130
105
4
15
16
240
160
12.9
75 11 17
65
115
155
130
4
15
18
255
180
18.2
75 11 18
80
130
180
145
4
19
18
265
180
23.4
7511 19
100
150
200
165
8
19
20
310
224
33.7
75 11 20
125
170
235
200
8
19
20
330
250
46.2
75 11 21
150
190
265
230
8
19
22
380
280
63.4
75 11 22
200
220
320
280
8
23
24
450
315
105
75 11 23
250
275
385
345
12
23
26
540
355
166
75 11 24
300
310
430
390
12
23
28
610
400
243
75 11 25
350
360
480
435
12
25
30
690
500
327
75 11 26
400
395
540
495
16
25
30
770
630
459
75 11 27
450
440
605
555
16
25
30
835
630
618
75 11 28
500
485
655
605
20
25
32
915
710
800