JIS F7410 Marine Bronze Screw-Down Check Angle Valve 16K

Product Introducton
The products are used for preventing refluence in fuel oil , lubricating oil, and water piping at or under the temperature of 120ºC. The flange dimensions are according to JIS B2220 standard of steel pipe.
TECHNICAL SPECIFICATION

Manufactured in accordance to JIS F7400
Flanges as per JIS B2220 - 5K
If you are interested in our products and want to know more, please contact with us. We will reply as soon as possible.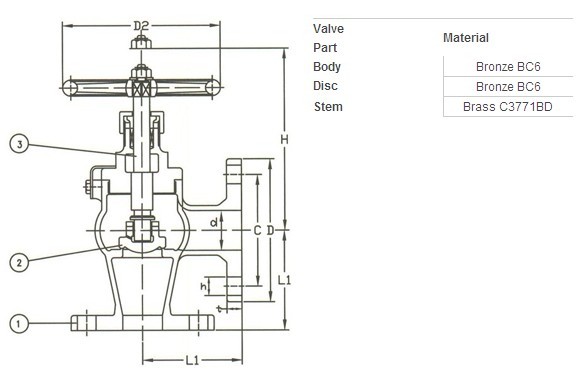 Overall&Structure Dimensions


IMPA
CODE
DN

L
D
C
No. of Bolt Holes
h
t
H
D2
75 10 81
15
70
95
70
4
15
12
120
80
75 10 82
20
75
100
75
4
15
14
130
100
75 10 83
25
85
125
90
4
19
14
145
125
75 10 84
32
95
135
100
4
19
16
150
125
75 10 85
40
100
140
105
4
19
16
165
140