I.V. Cannula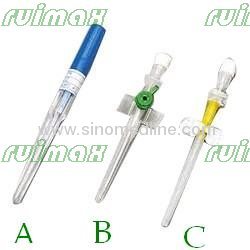 Specification:
A: Pen type
B: With injection port & wings
C: With wings
Size: 14G-24G
Size Color Needle Length(mm)
14G Red 2.0x55mm
16G Grey 1.6x55mm
18G Green 1.2x45mm
20G Pink 1.0x33mm
22G Blue 0.8x25mm
24G Yellow 0.7x19mm
Needle:
Stainless steel needle is bevelled, back cut ground and siliconized for smooth and painless venipuncture.
Needle Hub:
Specially designed needle hub to prevent destabilisation and for better grip and control during cannulation.
Special thumb radius for proper grip during insertion.
Needle protector:
Protects the needle and catheter from contamination as well as from accidental damage.
Catheter:
Most biocompatible material known to mankind P.T.F.E. (Poly Tetra Fluro Ethylene) is used for catheter, which has lowest coefficient of friction and reduces the chances of thrombophelebitis and sticking to vascular walls.
P.T.F.E catheter is special tapered, bevelled tip and siliconized. The improved tip design minimizes the resistance during insertion.
Thin walled catheter allows maximum flow rate.
Optimum distance between needle bevel & catheter tip.
Flash Back Chamber:
Unique air vented hub for higher flow rate and quick easy confirmation of correct vascular access.
Avoids blood spillage.
Prevents formation of air bubbles.
Threaded Stopper:
Each I.V. Cannula is provided with a threaded stopper.
BLISTER PACKING
Each I.V. Cannula is individually packed in rigid blister sealed with peel open type Medical Grade Paper or Tyvek.
Application:
used for clinical peripheral vascular system insertion, repeated infusion / blood transfusion, parenteral nutrition, emergency rescue, etc.
Features:
intravenous catheter system casing is made of advanced biological material with soft casing, rough diameter and toughness, and easy to operate and fix but not easy to damage vessel wall to caused extravasations
1) Intravenous supply of infusions and transfusion of blood and its components
2) Recommended where infusions have to be given more than once or in emergency medicine
3) Types with ports suitable for injections of medicine without additional puncture
4) For use with all kinds of infusion and transfusion sets
I.V. Cannula has been designed specially with wings and an injection port, for continuous Peripheral Intravenous infusion.
General Features
Feature:
1.I.V. Cannula has been designed specially with wings and an injection port, for continuous Peripheral Intravenous infusion.
2.6% luer taper for compatibility with any international product.
3.It ensures pain free smooth penetration.
4.Non-toxic, biologically acceptable, Teflon made radiaopaque shaft with metallic stillete.
5.Injection port with one way valve with flange attached to the catheter/shaft.
6.Standard size hub attached to the distal end for intravenous line attachment.
7.Injection port with color coded cap.
8.Color coding for different sizes.
9.Transparent blister packing with medical coated paper.