7inch HYUNDAI ix35 Car Navigation DVD Player
7 inch HD touch screen, high definition 3D Graphic UI, PIP , with full function include GPS,IPOD, Radio, Bluetooth hand free,TV,steering wheel control for original car.
The appearance design is same asoriginal car CD, fit your car same as original
Function:
1. In-dash DVD player with built-in amplifier (22 watts RMS/45peak x 4 channels)
2. Fit 2-Din size.
3. Multi-angle adjustable front panel;
4. 7& quot; LCD video screen with touch screen controls;
5. Compatible with DIVX/DVDs, DVD-RS/RWS DVD+RS/+RWS, CDs, CD-RS/RWS, MP3/WMA discs, JPEG, and MPEG1 and 2 files;
6. Compatible with PAL/NTSC/SECAM /SECAM _L TV System; 100 stations preset;
7. Compatible USA/EUROPE/Russia/Japan Radio system;
8.SupportSDCard /USB/IPOD/AUX port.
9. Manifold preset audio/video effect;
10. AUX audio input from front panel;
11. 1 Way video input
12.1 Way Rear-view camera input;
13. 2 way Audio output;
14. 2 way video output;
15. 1 way super-woof audio preamp output;
16. Wireless remote control;
17. 18 FM/12 AM presets;
18. RDS built-in
19.Compatible with Bluetooth adapter for hands-free calls with compatible cell phones, Phone-book Manage function.
Special function:
1) Built-in GPS navigation of outside connection, windows CE 6.0 system.
2) Built-in CAN BUS car connection control.
3) Set external remote or steering control function.
4) Built-in DVB-T digital TV (optional)
5) built-in TMC function(optional).
Technical parameters:
• Voltage: DC 12V
• Standby Current: 2 mA
• Output power: 4 * 50 W
• LCD pixels: 800 * 480
• Operating temperature: -30 degrees - 60 degrees
• FM frequency :87.5-108MHZ
• Japan :76.0-108 .0 MHZ
• Russian 65.0-108MHZ
• AM frequency :522-1710KHZ
• Analog TV: PAL / NTSC / SECAM
• Digital TV: DVB-T/ISDB/ATSC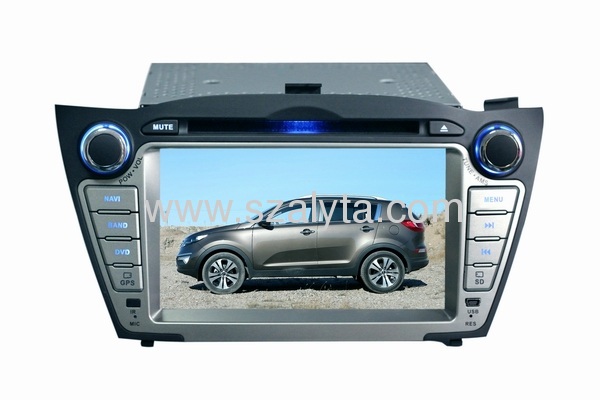 7inch HYUNDAI ix35 Car Navigation DVD Player