Four-way Hand Vavle

1.ISO9001:2008
2.Good quality:100%tested
3. aluminum alloy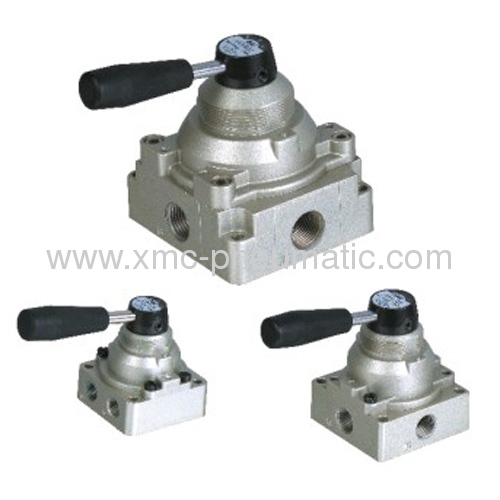 common specifications
working medium
filtered compressed air
ensured pressure resistance
1.5mpa(10kgf/cm²)
maximum working-pressure
1.0mpa(10kgf/cm²)
ambient and medium temperature
5~60℃
lubrication
not required
operation angle
90℃
Features:
This series products be mounted by three different types.
The material of value core is ceramics, it is very different to be abrasived, and it has a long term life circle.
Note:
The valve core and body of this series products' are clearance seal when it is being turned, they are sensitive to the dust, and impurity, and so on. So it must be used together with air filter or filter regulator with 5 micron filtration.
model
place number(l/min)
port size(g)
effective section area
HVH200-02
three-position(center closed)
1/4
7.5
HVH201-02
three-position(center opened)
HVH202-02
two-position
HVH300-03
three-position(center closed)
3/8
20
HVH301-03
three-position(center opened)
HVH302-03
two-position
HVH400-04
three-position(center closed)
1/2
55
HVH401-04
three-position(center opened)
HVH402-04
two-position
HVH400-06
three-position(center closed)
3/4
HVH401-06
three-position(center opened)
HVH402-06
two-position