Seamless Oxygen Cylinder/Medical Oxygen Cylinder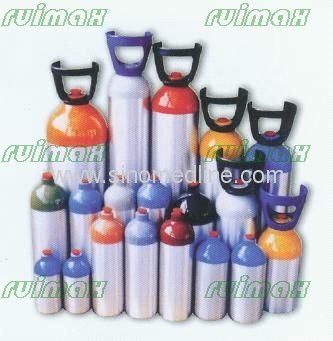 Specification:
Material: Aluminum Alloy, Steel
Capacity: 1L, 1.4L, 2L, 5L, 6L, 7L, 8L, 10L, 12L, 14L, 18L etc
Service Pressure: 15Mpa, 20Mpa, 21Mpa, 30Mpa etc
The seamless oxygen cylinder are all made of high quality steel or aluminum alloy, and are supposed to be used repeatedly for keeping oxygen. Healthcare oxygen cyliner(oxygen bottle) adopting design of combi-nation of pressure-reducing valve and safety valve.Compact in structure.It is manufactured through the procedures of punching, drawing, heat treatment, CNC flow forming spinning, anodic oxidation treatment to the inner surface, etc. Cyliners are leightweight, easy-to-use and safe,an ideal choice for home oxygen theray, emergency medical services(ems),pre-hospital care and hospitals,nursing homes and medical institutions.
Features:
1.One-piece made by more than 20 process including cool extrusion
2.It is lightweight. It has no welding and can be reused.
3.Technique Data:
Service pressure: 13MPa
Test pressure: 22MPa
Blow / burst pressure: ≥32 MPa
4.Used in medical, dives, fire fight, food and so on, especially fit for old men to breath oxygen
5.Easy to take
6.Common capacity: Less than 2000ml