Brief introduction:
The 400bar/5800psi High Pressure JRB Lubrication Foot Operated Grease Pump is a new product based on the development of manual lubrication pump structure. A single lubrication pump treadle reciprocating action of the piston to discharge lubricant small, lightweight mobile casters car structure design, exceptionally strong applicability, can direct a small, single-line centralized lubrication system with single-line distributor.
The JRB-3 Series is particularly suitable for metallurgy, mining, heavy machine stand-alone small devices and ports, ports and transportation equipment and construction machinery equipment lubrication can also wear the pump the glib attachments and hose assembly connected directly to the lubrication cycle longer or more dispersed lubrication of lubrication points.
The 400bar/5800psi High Pressure JRB Lubrication Foot Operated Grease Pump is made up of oil storage, piston pumps, pump operating device as major components. When the foot manipulation pedal moves up and down and driven reciprocating, oil tank grease pressed into the action of the piston and the pressure forced the suction port of the plunger constantly reciprocating plunger suction pressure grease process outside the carriage of grease.

Ordering code:
JRB – 3
JRB= Foot Lubrication Pump
3= Grease feeding: 3mL/ time
Technical data:
Model

Pressure rate (bar)

Grease feeding (mL/time)

Reservoir

volume (L)

Grease storage pressure (bar)

Dimensions(mm)

Weight

(kg)

JRB-3

400

3

9

3

630×292×700

18.5
The use of media for the cone penetration 250 to 350 ( 25 ° C, 150g ) 1/10mm grease (NLGI0 # ~ 2 #) can also use the viscosity grade greater than N100 lubricants , working environment temperature of -10 to 80 ° C.
400bar/5800psi High Pressure JRB-3 Lubrication Foot Operated Grease Pump Dimensions:

How to use the JRB-3 Series Foot Lubrication Pump:
1. Before release the gas folder , open the cylinder cover and remove the cylinder piston will be filtered through the filter clean grease loaded barrel ( Do not use grease without filtering ) , with manual or electric pumps , piston pressure and clamping cylinder cover .
2. Inflatable folder on gas folder to the barrel, inflation pressure must not exceed the specified value 0.4MPa; do not need piston and inflatable use of lubricants and open the gas needle valve.
3. The pressure does not allow more than the nominal pressure of the pump.
4. If the tank without lubricant oil, not allowed to manipulate the running board action.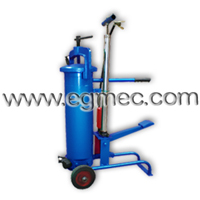 Common Troubleshooting of 400bar/5800psi High Pressure JRB Lubrication Foot Operated Grease Pump:
Breakdown

Reason

Elimination method

No grease output

1. The lack of inflation pressure

2. Mixed with air within the piston pump

1. Check the sealing of the inflation system and oil storage, and re- inflated

2. Open the bleeder valve at the oil port

The grease pressure insufficient

1.Check valve malfunction

2.Long service life, seal the aging failure or plunger excessive wear

1. Check the sealing of the inflation system and oil storage, and re-inflated.
2. Open the bleeder valve at the oil port