product name
:1/4" Pneumatic air units SMC FRL AC 2010-02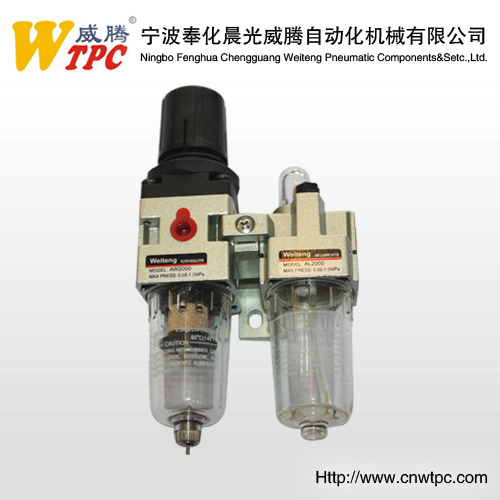 1/4" Pneumatic air units SMC FRL AC 2010-02

feature

| | |
| --- | --- |
| Filter Precision | 25µ |
| Highest Working Pressure | 1.0MPa |
| Ensured pressure Resistance | 1.5MPa |
| Operating Temperature Range | 5-60℃ |
Ensured Pressure Resistance

1.5Mpa(15.3kgf/cm2)

Highest Working Pressure

1.0 Mpa (10.2kgf/ cm2)

Ambient and Fluid Temperature

5 ~60℃

*Filter Precision

25 um

Recommended Oil use

Turbine No.1 Oil ISO ISO(VG32)

Container material

Pilycarbonate

Protective cover

Availabae AC2500~5000

Pressure Regulating Range

AC1000: 0.05~0.7MPa(0.5-7kgf/cm2
AC2000-5000: 0.05~0.85MPa(0.5~8.5 kgf /cm2)

Drain Function

Differential Srain,Automatic Drain

Valve Type

With Overflow
Ordering Code/Mode

Specifications

Acessories

Components

Rated Flow

(L/MIN)

Joint Port Size

(g)

Pressure Gauga Size(g)

Weight

(KG)

Bracket

(2)

Pressure Gauge

Filter with pressure reducer

Lubricator

AC1000-M5

AW1000

AL1000

90

M5×0.08

1/6

0.22

Y10T

G27-10-R1

AC1010-01

AW2000

AL2000

500

1/8

1/8

0.66

Y20T

G36-10-01

AC2010-02

1/4

AC2010-02

AW3000

AL3000

1700

1/4

1/8

0.98

Y30T

AC3010-03

3/8

AC3010-03

AW4000

AL4000

3000

3/8

1/4

1.93

Y30T

AC4010-04

31/2

AC4010-06

AW4000-03

AL4000-06

3000

3/4

1/4

1.99

Y40T

G46-10-02

AC4010-06

AC5010-10

AW5000

AL5000

4000

3/4

1/4

3.20

Y50L

1
| | | | | | | | | | | | | | | | |
| --- | --- | --- | --- | --- | --- | --- | --- | --- | --- | --- | --- | --- | --- | --- | --- |
| Ordering Code/Model | Caliber Size | A | B | C | D | E | F | G | H | J | K | L | M | N | P |
| AC1010 | M5X0.8 | 58 | 109.5 | 50.5 | 25 | 26 | 25 | 29 | 20 | 4.5 | 7.5 | 5 | 17.5 | 16 | 38.5 |
| AC2010 | 1/8-1/4 | 90 | 164.5 | 78 | 40 | 56.8 | 30 | 45 | 24 | 5.5 | 8.5 | 5 | 22 | 23 | 50 |
| AC3010 | 1/4-3/8 | 117 | 211 | 92.5 | 53 | 60.8 | 41 | 58.5 | 35 | 7 | 11 | 7 | 34.2 | 23 | 70.5 |
| AC4010 | 3/8-1/2 | 154 | 262 | 112 | 70 | 70.5 | 50 | 77 | 40 | 9 | 13 | 7 | 42.2 | 33 | 88 |
| AC4010-06 | 3/4 | 164 | 267 | 114 | 70 | 70.5 | 50 | 82 | 40 | 9 | 13 | 7 | 46.2 | 36 | 88 |
| A5010 | 3/4-1 | 195 | 338 | 116 | 90 | 75.5 | 69.8 | 69.8 | 50 | 12 | 16 | 10.5 | 55.2 | 40 | 115 |
feature :1.simple assemble,instructure simple ,use to all kinds of automatic equipment .
2.sugest oil : VG32
3.pay attention to the temperation range and pressure range .
advantage: 1.new oil cap to ensure the oil will not come out .
2.new adjust pressure cap ( when pressure high will not come out)
3. bigger flow rate and less noise .
production ability : 1. one month 10000pcs
2. 150 workers
3 .advanced machine ,professional technician team
4. 4.delivery date :normally 15-20days .