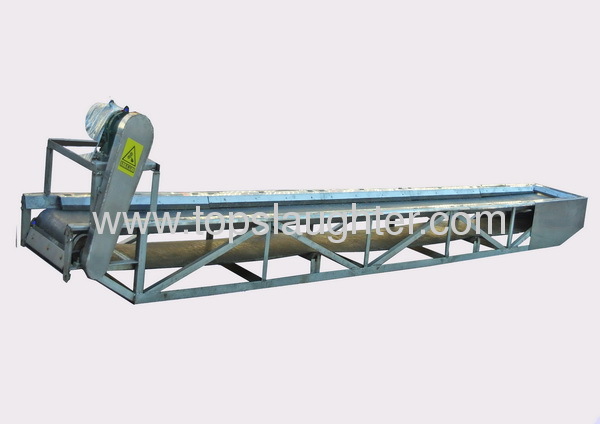 Rendering Plants Equipment Feather Meal Machine Belt Conveyor
Poultry Rendering Plants Belt Conveyor



1. Bearing 308 2. Spindle 219*5 3. Chain wheel 12A-28/18 4. Chain 12A 5. Motor 2.2kw Transmission ratio(17) 6. RollerΦ76
Equipment components:
1. Bearing 2. Spindle 3. Chain wheel 4. Chain 5. Motor
Product advantage:
Large conveying capacity, simple structure, easy maintenance, standardized components.

Product Introduction
It is widely used to transport loose materials or items according to the conveyor process requirements. It can be a single conveyor and also be composed with other transportation equipment to form horizontal or inclined conveyor system to meet different layout pattern of the operating line The conveyor can be used within the ambient temperature range of -20 ° C to +40 ° C, transported material temperature is below 50 ℃.
We can provide users with project design, process design, standard and non-standard product design and production.

Specification:
| | | | |
| --- | --- | --- | --- |
| Model | B300 | B400 | B500 |
| Production | 2t/h | 5t/h | 10t/h |
| Total power | 1.1kw | 1.5kw | 2.2kw |
| Bandwidth diameter | 300 | 400 | 500 |
Technique Parameter
1. Model: B500X7000
2. Outer Casing δ = 2.5mm, made of SUS304 stainless steel
3. Uniformly conveying raw material
4. Belt with 4 layers anti-skid nylon
5. Conveying capacity: 5000Kg / h;
6. Dimensions: 7000X600X600