J-513 Brass Pressure reducing valve
1.Brass Pressure reducing valve
2:High quality,low price
3:100% leakage test
4:Woking Medium: Water,Oil,Gas
5: ISO9001
Model suitable to reduce pressure,especially for domestic use in flat or single house.
Max pressure upstream :10bar-16bar-25bar
Downstream pressure setting range: 1-6bar
Max temperature(water): 80°C
Threading for waterworks: ISO 228/1
Gauge connection :ISO 228/1
Stainless steel seat: AISI 304
Quality and inspection:
Regular checking on line from production in each workshop, one special inspector inspect the products in random during the period time of production. we are able to provide you test certificate and mill certificate if required.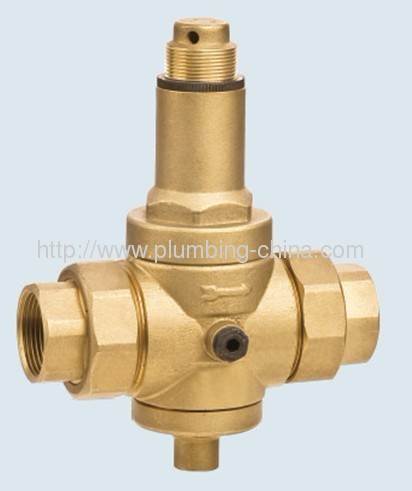 | | | | | | | | |
| --- | --- | --- | --- | --- | --- | --- | --- |
| Code | Dn | Dn1 | L | D | H | h | B |
| J-513 | 1/2" | 1/4" | 114 | φ50 | 125 | 45 | 65 |
| J-513 | 3/4" | 1/4" | 131 | φ64 | 150 | 61 | 75 |
| J-513 | 1"\iight | 1/4" | 154 | φ64 | 150 | 61 | 75 |
| J-513 | 1" | 1/4" | 189 | φ71 | 210 | 71 | 93 |
| J-513 | 1 1/4" | 1/4" | 171 | φ71 | 210 | 71 | 93 |
| J-513 | 1 1/2" | 1/4" | 172 | φ71 | 210 | 71 | 93 |
| J-513 | 2" | 1/4" | 200 | φ71 | 245 | 81 | 112 |