Pneumatic cylinders
(sometimes known as
air cylinders
) are mechanical devices which utilize the power of compressed gas to produce a force in a reciprocating linear motion.
Like hydraulic cylinders,
pneumatic cylinders
use thestored potentialenergy of a fluid, in this case compressed air, andconvert it intokinetic energy as the air expands in an attempt to reachatmosphericpressure. This air expansion forces a piston to move in thedesireddirection. The piston is a disc or cylinder, and the pistonrodtransfers the force it develops to the object to be moved. Engineersprefer to use pneumatics sometime because they are quieter, cleaner,anddo not require large amounts or space for fluid storage.
Product Name:
SC40X100 Standard Air Cylinder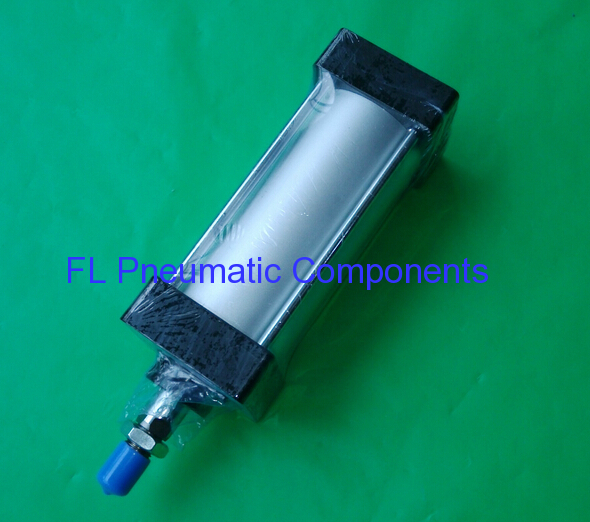 ---------
SC40X100 Pneumatic Air Cylinder

Symbol of FL Standard Air Cylinder: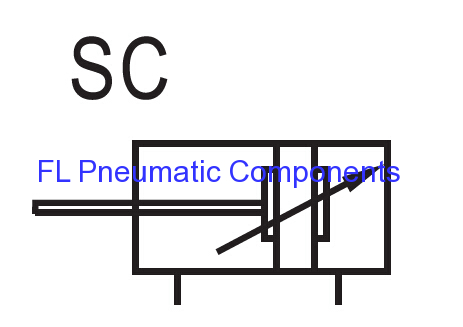 Specification of
SC Series Air Cylinder
:
Bore
32
40
50
63
80
100
125
160
200
250
320
Operation Type
Double Acting
Working Medium
Air
Pressure Range
0.05Mpa--0.85Mpa(7.3--123Psi)
Proof Pressure
1.35MPa(217psi)
Working Temperature
0--70℃
Working Speed Range
50--800 mm/s
Cushion
Adjustable Cushion
Adjustable Cushion Stroke
20mm
26mm
45mm
52mm
66mm
Port Size
G1/8
G1/4
G3/8
G1/2
G3/4
G1
Mounting Accessories
SC
BASIC, FA, FB, CA, CB, LB, TC, TC-M
SCD,SCJ
FA, FB, CA, CB, LB, TC, TC-M
Stroke of
SC Series Pneumatic Cylinder
:
| | | | |
| --- | --- | --- | --- |
| Bore | Standard Stroke | Max. Stroke | Allowable Stroke |
| 32 | 25 50 75 80 100 125 150 160 175 200 250 300 350 400 450 500 | 1000 | 2000 |
| 40 | 25 50 75 80 100 125 150 160 175 200 250 300 350 400 450 500 600 700 800 | 1200 | 2000 |
| 50 | 25 50 75 80 100 125 150 160 175 200 250 300 350 400 450 500 600 700 800 900 1000 | 1200 | 2000 |
| 63 | 25 50 75 80 100 125 150 160 175 200 250 300 350 400 450 500 600 700 800 900 1000 | 1500 | 2000 |
| 80 | 25 50 75 80 100 125 150 160 175 200 250 300 350 400 450 500 600 700 800 900 1000 | 1500 | 2000 |
| 100 | 25 50 75 80 100 125 150 160 175 200 250 300 350 400 450 500 600 700 800 900 1000 | 1500 | 2000 |
| 125 | 25 50 75 80 100 125 150 160 175 200 250 300 350 400 450 500 600 700 800 900 1000 | 1500 | 2000 |
| 160 | 25 50 75 80 100 125 150 160 175 200 250 300 350 400 450 500 600 700 800 900 1000 | 1500 | 2000 |
| 200 | 25 50 75 80 100 125 150 160 175 200 250 300 350 400 450 500 600 700 800 900 1000 | 1500 | 2000 |
| 250 | 25 50 75 80 100 125 150 160 175 200 250 300 350 400 450 500 600 700 800 900 1000 | 1500 | 2000 |
| 320 | 25 50 75 80 100 125 150 160 175 200 250 300 350 400 450 500 600 700 800 900 1000 | 1500 | 2000 |
Dimension of
Airtac SC Series Air Cylinder
:

| | | | | | | | | | | | | | | |
| --- | --- | --- | --- | --- | --- | --- | --- | --- | --- | --- | --- | --- | --- | --- |
| Bore/Symbol | A | A1 | A2 | B | C | D | E | F | G | H | I | J | K | L |
| 32 | 140 | 187 | 182 | 47 | 93 | 28 | 32 | 15 | 27.5 | 22 | 17 | 6 | M10 x 1.25 | M6 |
| 40 | 142 | 191 | 185 | 48 | 93 | 32 | 34 | 15 | 27.5 | 24 | 17 | 7 | M12 x 1.25 | M6 |
| 50 | 150 | 207 | 196 | 57 | 93 | 38 | 42 | 15 | 27.5 | 32 | 23 | 8 | M16 x 1.5 | M6 |
| 63 | 153 | 210 | 199 | 57 | 96 | 38 | 42 | 15 | 27.5 | 32 | 23 | 8 | M16 x 1.5 | M8 |
| 80 | 183 | 258 | 243 | 75 | 108 | 47 | 54 | 21 | 33 | 40 | 26 | 10 | M20 x 1.5 | M10 |
| 100 | 189 | 264 | 249 | 75 | 114 | 47 | 54 | 21 | 33 | 40 | 26 | 10 | M20 x 1.5 | M10 |
| 125 | 226 | / | / | 104 | 122 | 55 | 70 | 34 | 33 | 54 | 40 | 10 | M27 x 2 | M12 |
| 160 | 291 | / | / | 123 | 168 | 62 | 93 | 40 | 50 | 72 | 55 | 18 | M36 x 2 | M16 |
| 200 | 347 | / | / | 167 | 180 | 80 | 112 | 55 | 50 | 72 | 55 | 18 | M36 x 2 | M16 |
| 250 | 389 | / | / | 189 | 200 | 90 | 122 | 67 | 54 | 84 | 65 | 21 | M42 x 2 | M20 |
| 320 | 436 | / | / | 216 | 220 | 110 | 126 | 90 | 65 | 96 | 75 | 24 | M48 x 2 | M24 |
| | | | | | | | | | | | | | |
| --- | --- | --- | --- | --- | --- | --- | --- | --- | --- | --- | --- | --- | --- |
| Bore/Symbol | M | N | O | P | Q | R | S | T | V | W | Z | X | Y |
| 32 | 9.5 | 13.5 | G1/8 | 3.5 | 7.5 | 7 | 45 | 33 | 12 | 10 | 21 | / | / |
| 40 | 9.5 | 13.5 | G1/4 | 6 | 8.2 | 9 | 50 | 37 | 16 | 14 | 21 | / | / |
| 50 | 9.5 | 13.5 | G1/4 | 8.5 | 8.2 | 9 | 62 | 47 | 20 | 17 | 23 | / | / |
| 63 | 9.5 | 13.5 | G3/8 | 7 | 8.2 | 8.5 | 75 | 56 | 20 | 17 | 23 | / | / |
| 80 | 11.5 | 16.5 | G3/8 | 10 | 9.5 | 14 | 94 | 70 | 25 | 22 | 29 | / | / |
| 100 | 11.5 | 16.5 | G1/2 | 11 | 9.5 | 14 | 112 | 84 | 25 | 22 | 29 | / | / |
| 125 | 15.5 | 16.5 | G1/2 | 10 | 10 | 11 | 140 | 110 | 32 | 27 | / | / | / |
| 160 | 17.5 | 25 | G1/2 | / | / | / | 180 | 140 | 40 | 36 | / | / | / |
| 200 | 17.5 | 25 | G3/4 | / | / | / | 220 | 175 | 40 | 36 | / | / | / |
| 250 | 25 | 31 | G1 | 18.5 | 5 | 40 | 270 | 220 | 50 | 46 | / | 90 | 10 |
| 320 | 28 | 31 | G1 | 35 | 15 | 35 | 350 | 270 | 63 | 55 | / | 110 | 10 |
Structure of
China SC Series Air Cylinder
: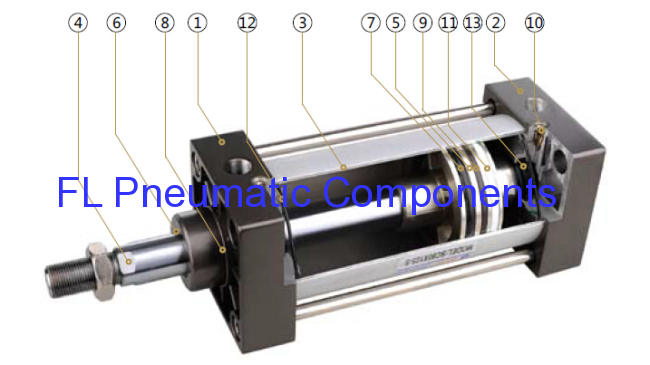 | | | |
| --- | --- | --- |
| No. | Name | Material |
| 1 | Front Cover | Painted Aluminum |
| 2 | Back Cover | Painted Aluminum |
| 3 | Barrel | Anodised Aluminum |
| 4 | Piston Rod | Chromed Carbon Steel |
| 5 | Piston | Aluminum |
| 6 | Piston Rod Seal | NBR |
| 7 | Piston Seal | NBR |
| 8 | Bearing | Non-lub Bearing |
| 9 | Magnet | Plastic |
| 10 | Cushion Screw | Brass |
| 11 | Anti-frintion Ring | PTFE |
| 12 | End Cap Seal | NBR |
| 13 | Cushion Seal | NBR |