Solenoid valves are an efficient method of converting electrical signals into pneumatic functions. Applying electricity to the solenoid quickly directs air through the valve and into the circuit.
Valves can be designated as internally piloted or externally piloted. Externally piloted valves use an external source of air pressure. Internally piloted use an internal source of air pressure.


Product name: 4V110-06 Solenoid Valve
Model Number: 4V110-06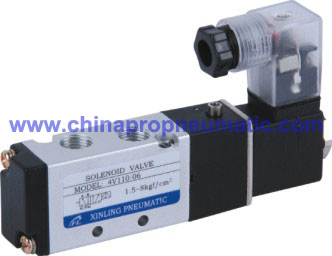 ----- 4V110-06 Solenoid Valve

Specification of 4V110 Series Solenoid Valves:

Model

4V110-06

4V120-06

4V130C-06

4V130E-06

4V130P-06

Operation Type

Inside Pilot Type

Fluid Medium

40 Micron Filtered Air

Position and Way Number

Two-Position Five Way

Three-Position Five Way

Working Pressure

0.15--0.8Mpa(21--114psi)

Proof Pressure

1.2MPa(174psi)

Working Temperature

5--50℃

Port Size

Air Inlet=Air Outlet=Exhaust=G1/8″

Material

Aluminium Alloy

Highest Action Frequency

5 Cycles/second

Effective Sectional Area

12mm2(Cv=0.67)

9mm2(Cv=0.50)

Shortest Excitation Time

0.05 Second

Weight

120g

175g

200g

4V110-06 solenoid valve is a two-position five way type solenoid valve, with port size of G1/8 inch and main material aluminium alloy. 4V110-06 solenoid valve's main application is in agriculture industry such as Chicken Egg Inoculators, Mobile Hydraulics, Dairy Parlor Automation Systems, Climate Control Systems.

Ordering Code of 4V110-06 Series Solenoid Valve: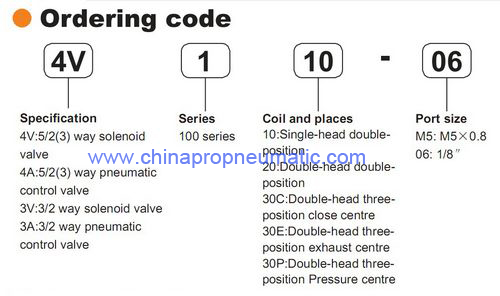 Symbol of 4V100 Series Solenoid Valve: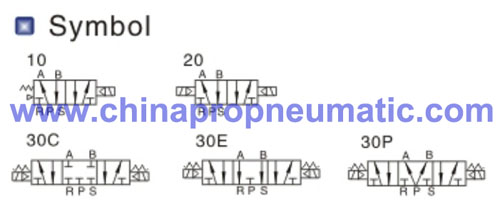 Dimension of 4V110-06 Solenoid Valve: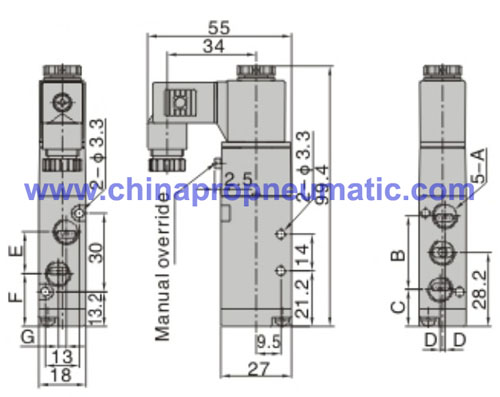 Flow Chart of 4V110-06 Series Solenoid Valve: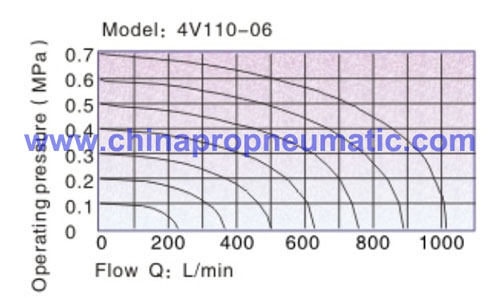 Structure of 4V110 Series Solenoid Valve: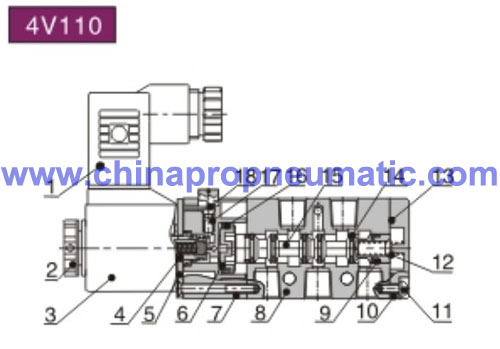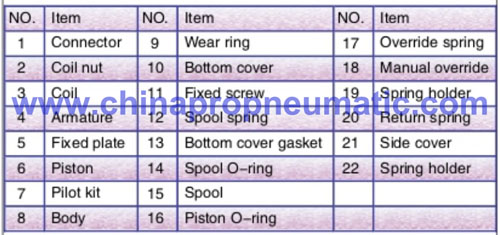 Application of Solenoid Valve: