Feature:
-Limiting of main or plate flow with two service ports
-Sandwich plate design
-Meter-in meter-out control

Functional Description, section:
Valves type Z2FS are double throttle/check valves in sandwich plate design. They are used to limit main or pilot oil flow at one or two service ports. Two symmetrically arranged throttle/check valves limit flow (by maens of adjustable throttle spools) in one direction and permit free return flow in the other direction.
Main flow limiting: fitted between the directional valve and the subplate
Pilot flow limiting: fitted between the main valve and the pilot valve.
Section of double throttle/check valves, Type Z2FS6
Ordering codes:

Technical data:
Size

6

16

22

Flow (L/min)

80

250

360

Operating pressure Mpa

To 31.5

To 35

Pressure Fluid

Mineral oil or Phospate ester

Viscosity range mm²/s

10~800

Temperature range ℃

-30~+80
Unit dimensions type Z2FS6 (dimensions in mm)
Unit dimensions type Z2FS16 (dimensions in mm)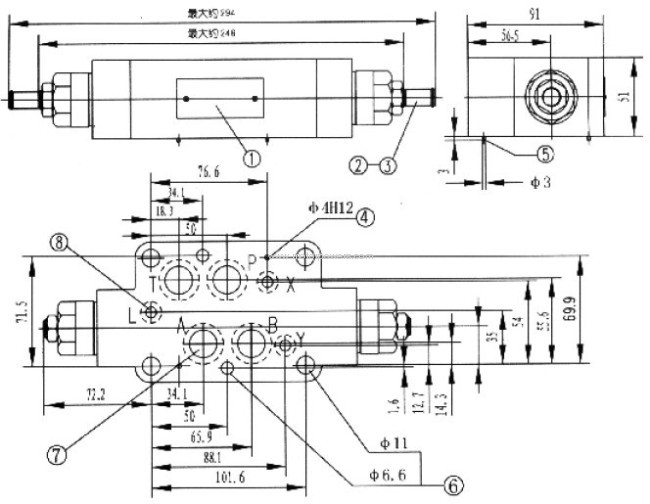 1.Name plate
2.Setting screw for alteration of flow cross section
3.Turn anti-clockwise=increases flow
Turn clockwise=decreases flow
4.Valves fixing holes
5.Ports A, B, P, T
6.O-ing plate
7.To change from meter-in to meter-out, rotate
the unit about the "X"-"X" axis
Unit dimensions type Z2FS22 (dimensions in mm)