14 Inch Heavy Duty Manual Wire Binding Machine CW360T






Descreption:

Work width:360mm
Punch tickness:35sheets
Pith:12.7mm
Disengagement punch pins:27
Number of punch pins:27
Binding thickness:450sheets
360mm work width accept larger than A4 size paper, such as 14"
Full 27 disengageable punch dies with hard steel for clean punch hole
A diameter sticker on the machine guide you to select the correct wire dimeter
Manual Punch & BindingMachine with two seperated handle,one for punching, one for binding
2:1 Wire Binding Machine
wire storage compartment
The paper load is horizontal and has a margin guide to assist the user with the work being done.
Maximum binding capacityup to 450 sheets with 2:1 wire,punch up to 35 sheets per time


Technology Data:


| | |
| --- | --- |
| MaxBind Capacity (20# paper) | 450Sheets |
| Max Punch Capacity (20# paper) | 35Sheets |
| Binding Format | Wire |
| Punching Method | Manual |
| Binding Method | Manual |
| Punching Format (Vertical/Horizontal) | Horizontal |
| Punch and Bind Capability | Yes |
| Max Punch Length | 360mm |
| Max Binding Length | 360mm |
| Number of Punch Pins | 25 |
| Disengageable Die Pins | 25 |
| Waste Compartment | Yes |
| Side Margin Control | Yes |



Products Detail:



Dcument masure:according to your files thickness to pick the right number of sheets to punch,don't exceed the maximum number of allowed





Knob of wire size: can be adjustable according to your sheet thickness and wire size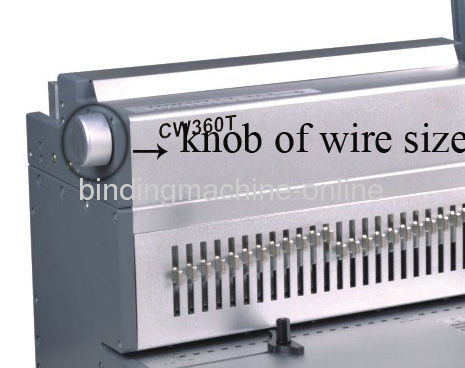 Punching &binding handle:ensure your sheets are on the same line and feed the sheet horizon ,push the binding handle




Select punch pins: disengagement punch pins made ofhard steel for a clean hole punch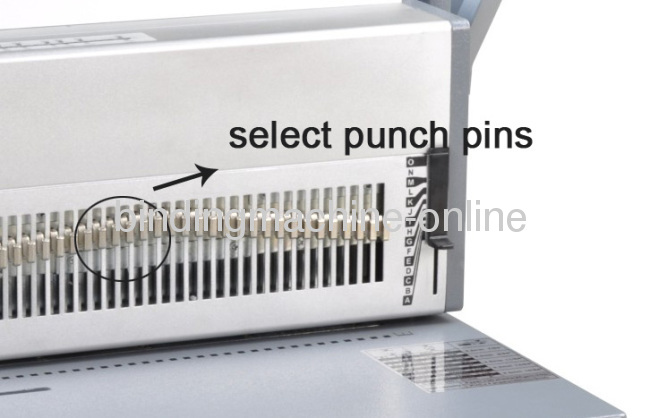 Selectable paper stop:
according to you files' zise, select paper positon ,keeping sheet aligning






Waste tray: large volume waste tray make you continuious work without empty punched times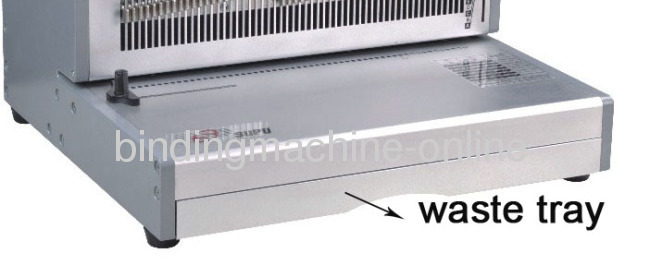 After long term use if it unbalance of closing bar , we will show you to fix it with a small tool in serveral simple steps as below:
1.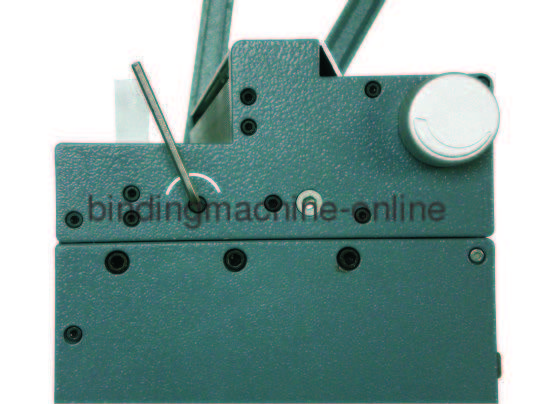 2.



3.


Loosen the two screws as indicated on the diagram a and b for one circuit only .
Check the unbalance of two closing bars by ruler or by eye then adjust the screw to left or right as
indicated on diagram accordingly .
Then test binding to check if the adjustment is ok or not .
If not perfect ,repeat as above until the perfect balance