Worm Drive Gasket Loaded Hose Clamp



Advantages of Worm Drive Gasket Loaded Hose Clamp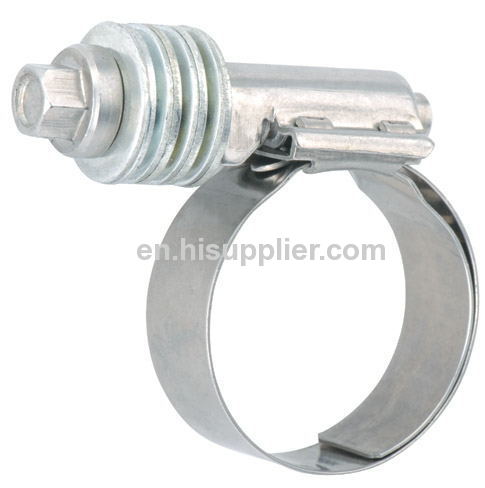 1.The outer edge of the band with smoothing and shaping treatment precludes the damage of the hose.
2.using high quality material and precise stamping molding, prevents thread stripping.
3.with precise design, uniform stress, good sealing ability, can be twisted smoothly, and used multiple times.
Applications of
Worm Drive Gasket Loaded Hose Clamp
Is widely used in automobiles, tractors, ships, gasoline engine,diesel engine, sprinkler and other mechanical equipment of oil, gas,hydraulic hose interface, as well as the building of the sewerinterface, etc., are all kinds of rubber hose interface first strongconnection accessories
More advantages of our products
1.Competitive Price:
(1) All the products aredirectly made by ourselves. It can save products' cost well
(2). We have a professional team making material marketresearch to purchase the best raw material at the best price.
2.High quality
(1)We use the imported equipment and the best material,professional technology and strict management to produce the fashionproducts.
(2) We have our own quality control system andprofessional quality inspectors.
(3) By the high quality, our products sell well inNorth America, Asia, European and other area.
3.Various Styles
(1) All the products are popular and modern style.
(2) Your own style requirements are also available
4.Large Supply Capacity
We specialize in hose clamps for 9 years. There is aprofessional team and advanced production lines. All these make our supplycapacity can easily reach the customer's requirements
5. We also do OEM for you according to your variousrequirements.
Our technical parameters
Industry Focus

Appliance/Automotive/ Agricultural

Electronics/Industrial/ Marine

Mining/Hydraulics/ Valves

Oiland Gas/ Electrical/ Construction

Shafts; Valve Components;

Intended Application

AutomaticDoor Components

Cable/Electronic Connector

FireSuppression System Components

Fittings/Fasteners; Gears/ Hardware;

Roller Bearings

Industry Standards

ISO 9001:2008

Additional Capabilities

CADDesign Services; CAM Programming Services

CoordinateMeasuring Machines (CMM)

Reverse Engineering

Equipment List

Fromsimple 2-axis turning to 7-axis,

turn-mill-drillCNC Swiss-type machines,

moldingmachines/ stamping machines

Automaticlathe machines/ spring machines

Testing equipment

Projector.Caliper,micrometer, plug gauge, ring gauge, thread gauge

Processes(SpecialCapabilities)

Broaching/ Hobbing / Slotting/tapping

Tolerance

±0.0002 in; ±0.0051 mm
If you are interested in our products or have any question, Please do not hesitate to contact with us. We will give you the reply promptly.