Mixed Metal Oxide Coated Titanium Anodes for Sewage Treatment


1. Substrate:

The titaniumsubstrate meets ASTM B265,Grade 1


1) Titanium ASTMB265 Grade 1

Composition

| | |
| --- | --- |
| C | max 0.08% |
| N | max 0.03% |
| H | max 0.015% |
| Fe | max 0.20% |
| O | max 0.18% |
| Residual | max each 0.1% |
| Residual | max total 0.4% |
| Ti | balance |

2) Coating Catalyst:Mixed Metal Oxide & Platinum

2. Application Environment


1)Density of Current<3000 Am/M2
2)Max content of Fluoride ion is 200PPM
3)Temperature < 60°C
4)PH value 1-14

3. Main Characteristics


1. Dimensionally stable.
2. MMO coating is insoluble.
3. Energy-saving and high efficient.
4. High current efficiency and catalytic.
5. Operating voltage is stable.
6. Long service life.
7. Light weight.

4. Quality Assurance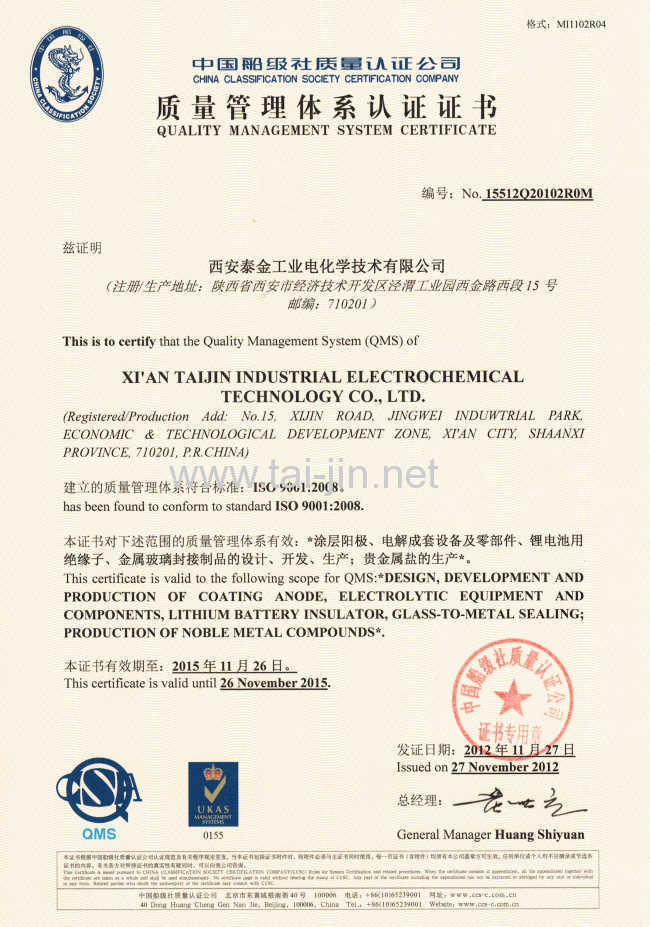 5. Projects & Patents

a) Projects:

1.High Effective and Energy Saving Titanium Anode Used for Hydrometallurgy
2.The Development of Green and Novel Glass-to Metal Sealing Product
3.The Research and Production of High performance of Titanium Anode Composite Materials
4.The Research and Production of the Cathode Drum Used in Electrolyzing Copper Foil

b) Patents

1.A Kind of Brushing Device Used in Production of Titanium Ribbon and Titanium Mesh Ribbon
2.Dipping solution of the Coordination Compounds of Platinum and Prepare the Platinum Coating with it.
3.A Titanium Anode Device Used in a hydrometallurgical Electrodeposition of Metals
4.The Method of Removing Titanium Anode Coating

6. The List of Products from Xi'an Taijin


1) Anode for Cathodic Protection
a) MMO Titanium Tube Anode/Platinized Titanium Tube Anode
b) MMO Titanium Disk Anode/ Platinized Titanium Disk Anode
c) MMO Titanium Rod Anode/ Platinized Titanium Rod Anode
d) MMO Titanium Sheet Anode/ Platinized Titanium Sheet Anode
e) MMO Wire Anode
f) MMO Titanium Mesh Ribbon Anode
g) MMO Titanium Ribbon Anode
h)Titanium Conductor Bar
i) MMO or Platinized Probe Anode
2) Titanium Anode for Hydrometallurgy
3) Titanium Anode for Electrolysing Copper Foil
4) Titanium Anode for Electrolysing Aluminum Foil
5) Titanium Anode for Sodium Hypochlorite and Seawater Electrolysis
6) Titanium Anode for Electrolysing Organic Synthesis
7) Noble Metal Compounds


7. Production Capacity


| | | |
| --- | --- | --- |
| Product | Product Capacity | Actual Amount Produced (Previous Year) |
| Titanium anode for cathodic protection | 8000m2 | 5000m2 |
| Titanium anode for hydrometallurgy | 15000m2 | 12000m2 |
| Titanium anode for copper foil | 5000m2 | 2000m2 |
| Titanium anode for aluminum foil | 5000m2 | 1000m2 |
| Lithium battery seals | 60,000,000pcs | 40,000,000pcs |
| Mil-spec connectors | 10,000pcs | 6,000pcs |
| High temperature high pressure bulkheads | 5000pcs | 3000pcs |
| Optical communication connectors | 100,000pcs | 50000pcs |

8. Company Development / Expansion Plans


Company Development / Expansion Plans

Item

Company Development Action

Timeframe

1

Developing new products and increasing twice in sales

Within 3 Years

2

To buy a new equipment (automatic coating production line)

Within 1 year

3

To get the certificate of Xi'an Enterprise Technology Center

Within 1 year

4

To pass the evaluation of Titanium electrodes engineering laboratory


9. Products